Reading Indoor Bouldering - All Abilities Welcome!
4 people attending
4 places left
Difficulty can be adapted depending on experience
Discover Bouldering: Climb, Connect, Conquer!
Bouldering, the art of conquering short climbing routes without ropes, is here to unleash your strength, technique, and problem-solving prowess.
Leave the gear fuss behind – all you need are climbing shoes and a drive to get to the top. If you've never scaled a wall before, bouldering is a gateway into the world of climbing. Join us and see what the fuss is all about!
All skill levels are welcome. New to climbing? We've got you covered with tailored guidance, boosting your skills and confidence while ensuring your safety on the wall.
Experienced boulderer? Dive in and embrace the challenges independently. Just remember to follow the center's rules for your own safety.
This will take place at The Climbing Hangar in Reading. 
If you have never climbed at the Climbing Hangar in Reading before, you must book an induction slot:
https://www.theclimbinghangar.com/locations/reading - follow instructions to book an induction slot around the time that this event starts.  
You also need to complete the waiver form that is linked in the confirmation email once you've booked an induction slot. 
IMPORTANT! - Participation Statement
You MUST complete a Participation Statement, in addition to booking your event space before attending an OutdoorLads event. You only need to complete this Participation Statement once, not for each event you attend.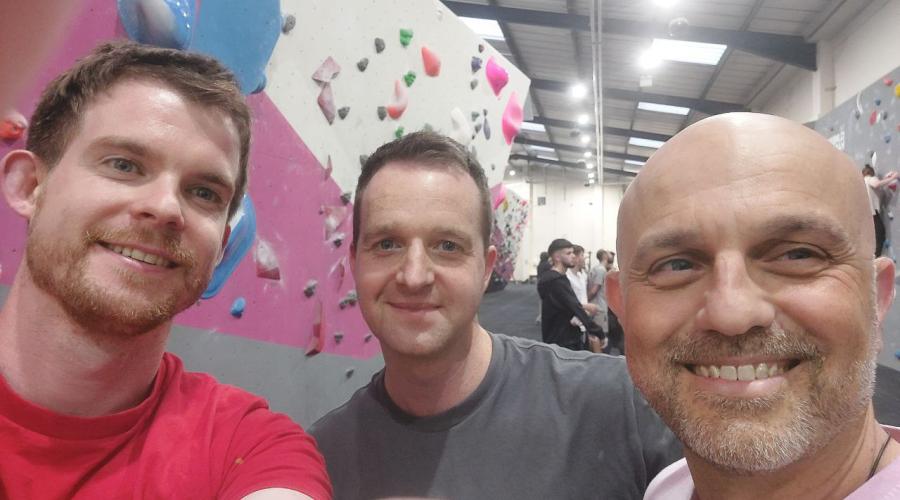 What to bring
The only specialist bit of equipment you need are climbing shoes. If you don't have your own, you can hire these from the centre for free. 
Lockers are also available however you will need your own padlock. 
Wear appropriate sports clothes: 
Shorts/tracksuits that are flexible and allow a range of comfortable movement.

Jewellery or accessories such as rings, watches, chains or bangles should be removed before beginning the session to prevent injury.
Food & drink
Bring a bottle of water - a water fountain is available to refill your bottle. We usually stop mid-way through the session for a quick snack, drink, and chat in the climbing centre cafe. 
Meeting & times
Sep 20 - pm