POSTPONED - Tour de Forth
8 people attending
0 places left
68km (43 miles) with 600m of climbing
Join us for a circular cycle ride around the Firth of Forth.
Starting off in the historic town of Linlithgow (conveniently accessible by train from both Glasgow and Edinburgh) our route of around 43 miles will take us through Grangemouth, across the Kincardine Bridge before following a section of the Fife Coastal Path through the village of Culross, noted for its many unique historical buildings, many of which are now maintained by the National Trust for Scotland. After crossing the Forth Bridge, we will complete the run with a ride through the Hopetoun estate and finish with a short section of the Union Canal towpath.
Much of the route will be on quiet minor roads or well-surfaced cycle paths.
Map of the propsed route: https://ridewithgps.com/routes/31366344
Picture Credits: -
Forth Bridges
Photo by Esteban on Unsplash
Kincardine bridge
cc-by-sa/2.0 - © James Allan - geograph.org.uk/p/2877207
Kincardine Clock Tower
Leader's own photo
Culross: The Palace and gardens
cc-by-sa/2.0 - © Martyn Gorman - geograph.org.uk/p/1250394
Hopetoun House
cc-by-sa/2.0 - © JThomas - geograph.org.uk/p/1693568
OutdoorLads Events Calendars
You can now go directly to our cycling events calendar by bookmarking the following link:-
New Event Notifications
If you'd like to hear about similar events in future then you can subscribe to our Social Media & Instant Messenger channels by clicking the links below:
Strava
For the more competitive riders we also have our Outdoor Lads Strava group here.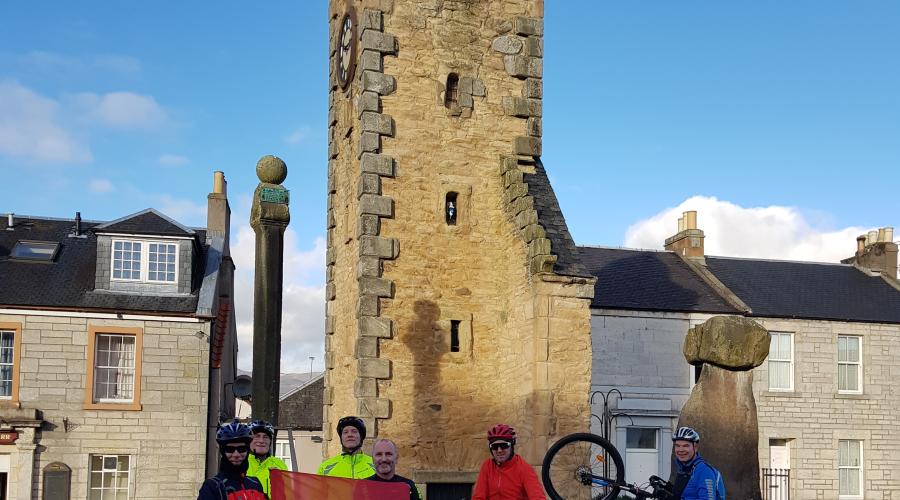 What to bring
Bike selection:
Suitable for most types of bike, but a road bike or hybrid would be best for this trip.
Cycle Clothing - Come prepared for wet weather in case it rains.
Apart from your bike, food and drink, remember the following:
Spare inner tube and tyre levers
Also any special tools that your bike needs.
Eye protection
Impact from a bee, grit or even a fly at speed is extremely unpleasant, sunglasses may do if not made of glass and not too shaded.
Clothing
Choose suitable clothes and footwear for the weather forecast and time of year. You will be exercising so lightweight layered clothing is best. Shorts are best even in rain, as they allow free movement of your legs. Jeans are useless if it rains but tracksuit bottoms need to be not too baggy or they may snag in the chain and cause an accident. You'll need trainers or similar with grippy soles for standard pedals.
Cyclist's helmet 
Outdoorlads policy asks you to wear a helmet on events.
Cycling water bottle
If you don't have one, you will only be able to drink when we stop and may get dehydrated. 
Food & drink
There will be chances to stop at tea shops/pubs for food. Though it is recommended that you bring food and drink to sustain yourself. You will be burning a lot of calories!
Meeting & times
Mar 22 - am