POSTPONED - Cameron Muir Trail Cycle
2 people attending
6 places left
77km (48 miles) with 717m of climbing
Who's Cameron Muir I hear you asking - maybe John Muir's brother? Well you'd be completely on the wrong track (so to speak), although our route for this 48 mile circular ride does take in a short section of the long-distance trail named after the latter!
Cameron Muir is in fact a small area of forest and moorland to the north of the Kilpatrick Hills, traversed by a short section of 'rough-stuff' - just about a mile or so in length. Apart from this, much of this trail ride will actually be on well surfaced paths or road - so still manageable on road bikes (and there is an optional diversion via Croftamie if you want to avoid the untarred bit pictured above).
Our route will start out along the path by the River Kelvin towards Milngavie before taking minor roads through Mugdock Country Park towards Strathblane, where we'll turn west to reach the Stockiemuir road. After taking our 'short-cut' across Cameron Muir we'll join the NCN route 7, following this for the remainder of the ride through Balloch and back to Glasgow.
A link to the planned route can be found by clicking here.
Photo Credits
Track over Cameron Muir
cc-by-sa/2.0 - © David Robertson - geograph.org.uk/p/462501
Balloch Castle
cc-by-sa/2.0 - © Lairich Rig - geograph.org.uk/p/6198079
View over Mugdock Reservoir and Group photo with Campsies backdrop are the leader's own pictures and permission is granted for use by other members.
OutdoorLads Events Calendars
You can now go directly to our cycling events calendar by bookmarking the following link:-
New Event Notifications
If you'd like to hear about similar events in future then you can subscribe to our Social Media & Instant Messenger channels by clicking the links below:
Strava
For the more competitive riders we also have our Outdoor Lads Strava group here.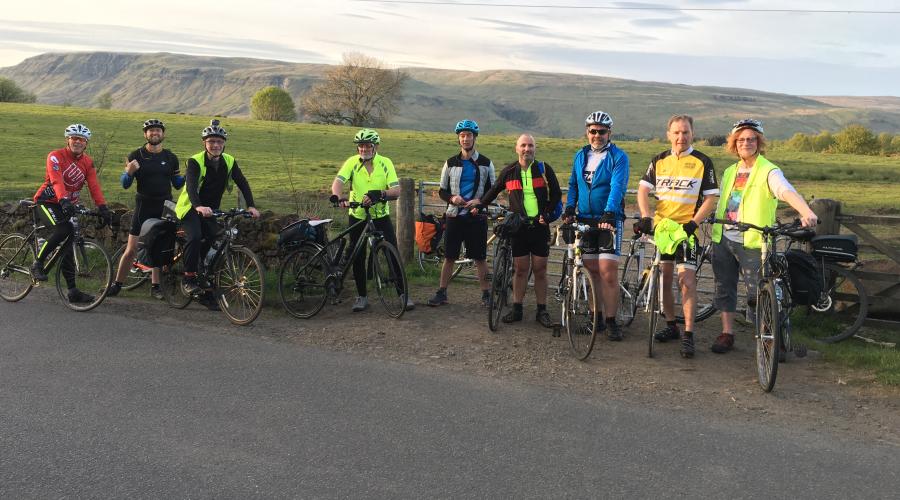 What to bring
Bike. Hybrids would be most suited to this ride, but it is also manageable with care on a road bike. A mountain bike would be ideal for the off-road sections, but you may have to work a bit harder to keep up on the tarmac stretches.
Puncture repair kit (or better still a spare inner tube) and tyre levers. Also any special tools that your bike needs.
Food - bring small snacks such as chocolate bars and energy foods.
Plenty of water (minimum 2lts)
Eye protection - impact from a bee, grit or even a fly at speed is extremely unpleasant, sunglasses may do if not made of glass and not too shaded.
Clothing: choose suitable clothes and footwear for the weather forecast and time of year. You will be exercising so lightweight layered clothing is best. Shorts are best even in rain, as they allow free movement of your legs. Jeans are useless if it rains but tracksuit bottoms need to be not too baggy or they may snag in the chain and cause an accident. You'll need trainers or similar with grippy soles for standard pedals.
Cyclist's Helmet - Outdoorlads policy asks you to wear a helmet to events.
Bag you will need a small day-sack (or panniers on your own bike) to carry essential clothing, water and an emergency snack.
Food & drink
Bring some snacks and plenty of water to consume during the ride. We plan to stop for lunch during the ride - probably at Balloch.
Meeting & times
Apr 25 - am
Location
55.859224623803, -4.288712753545