Outdoor Climbing - Kinder South, Edale
4 people attending
4 places left
Lead climbing on gritstone. Long, steep walk in.
Join us for a days climbing at the beautiful Kinder South. There are a good variety of routes at various grades, for more details check out the crag on UKC.
Kinder South consists of a scattering of cliffs that overlook the tranquil Edale Valley, and reflect the friendlier side of Kinder - big bulbous outcrops of coarse but clean rock that get all the sun that is going. Add this to the fine views and good routes and you have the classic ingredients for a great mountain day out.
To attend this event, you will need to have attended an indoor (or outdoor) climbing event with OutdoorLads before, and be competent in tying in with a figure 8 knot, and Lead-Belaying a climbing partner. If you are unsure about the difficulty of the event, or whether you have necessary skills & experience, please message the event leader with your questions.  
We will meet at 09:30am and go over arrangements for the day, walking up to the crag at 10:00am. This is earlier than usual start time is because a group of us will be camping the weekend nearby, if you would like to join us please sign up for the camp here. Please feel free to also join the event later, by making your own way to the crag to join up with us there. Again please message the event leader in advance if this is the case. 
Please note that this event is subject to change / cancellation depending on weather conditions so please check your messages in the days before the event for any message from the event leader, who will keep you informed of any changes.
DEPENDING ON AVAILABILITY OF LEAD CLIMBERS, THE NUMBER OF SECONDER CLIMBING PLACES MAY NEED TO BE INCREASED/DECREASED AND THIS WILL BE DONE ON A FIRST COME-FIRST SERVED BASIS. IF YOU ARE A SECONDER AND UNSURE, PLEASE MESSAGE THE EVENT LEADER. 
IMPORTANT! - Participation Statement
You MUST complete a Participation Statement, here, in addition to booking your event space before attending an OutdoorLads event. You only need to complete this Participation Statement once, not for each event you attend. 
Anyone with COVID-19 symptoms, even if they are extremely mild, or who has recently tested positive for Covid-19, is asked not to attend.
Please note that every person participating should be aware of (and accept) that those members perceived as 'in charge' or leading the event are not experts,  do not need to be experts, and are not regarded by OutdoorLads, or themselves as experts, but are amateurs with some experience in the event type and who are happy to impart their knowledge.  Any advice given should be considered with this in mind by the recipient.
By signing up to and attending an OutdoorLads event, you are confirming that you have read, understood and accept the content of this statement.
Please see our website for more information including an FAQ about our events.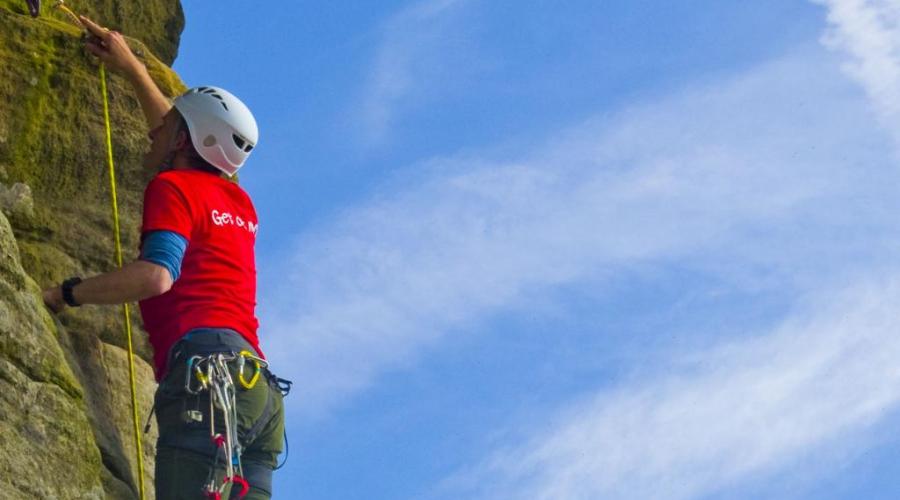 What to bring
Harness, Rock boots, Belay plate and Screw gate karabiner, and a Helmet. If you have ropes, and climbing gear, please do bring these too, but please check you're equipment if it's your first outing for a while. 
You will need BOTH a helmet & harness & rock boots to climb.
Good approach shoes or walking boots for the approach which is longer than some other crags.
Appropriate warm, preferably windproof, clothing will be needed. A waterproof jacket should also be bought in case of rain.
Sun lotion is best applied before leaving home, to avoid greasy hands on the crag. The crag is south facing so gets the sun all day. 
It can be advisable to use insect repellent to help ward off the midges! Again best applied before leaving so can wash hands after. 
Food & drink
You will need to bring lunch, snacks and enough water for the day.
Meeting & times
Sep 24 - am