Oasts and Ghosts in the Low Weald of Kent
5 people attending
5 places left
70km/44miles, 361m elevation in 4 hours
Join Richard & Dave on this fantastic introduction to the Low Weald of Kent, riding alongside the hop farms, oasthouses, woods and wineries that give this area it's distinctive style, coupled with a climb up the Green Sands Ridge for views over the High Weald & North Downs.
As the terrain is relatively flat with only 1 significant climb, we're aiming to ride at an average pace of around 14mph and so is easily manageable by most road cyclists. Note that this is an afternoon ride without a food stop, therefore you should ensure you have lunch before arriving at the start point.
Note this ride will be hosted by Richard on the day as part of his cycle leader assessment.
Route Overview
We will start in the village of Marden, and head out to the Kent Weald countryside. Keep an eye out for the distinctive oast houses, many of which have been converted into homes. These round or square building were used in the drying of the hops to make beer.
After a short ride beside farmland, a hop field and ancient woodland we will pass Hushy Heath Winery. The grapes here are grown on the same chalk ridges that extend to the Champagne Region of France.
We then continue east, skirting the village of Staplehurst, through the village of Frittenden and cross country to Bethersden.  Watch out for grass and grit in the centre of these narrow lanes and also be on the look out for tractors and people riding horses. There is a shop in Bethersden to get supplies if needed. This is just a 'short' afternoon ride so there is no cafe stop.
When we leave the village we head north on the slow steady incline to Pluckley. Pluckley sits on the Green Sands Ridge, that runs from Sevenoaks to the coast. This is rumoured to be the most haunted village in England, so keep an eye out for any ghosts!
We then ride along the Green Sands Ridge, you will see to the High Weald on the south side, and to the north the North Downs. When we get to the village of Egerton, we come down from the ridge and start to wind our way towards Headcorn.
We skirt the edged of Headcorn and make our way back to finish in Marden.
Post Event Eurovision Social
For those travelling from London, this ride has been timed to give you ample time to return home to change and make it to the evening ODL Eurovision Social in Kennington, where we will join up with members from the afternoon's bouldering and walking events.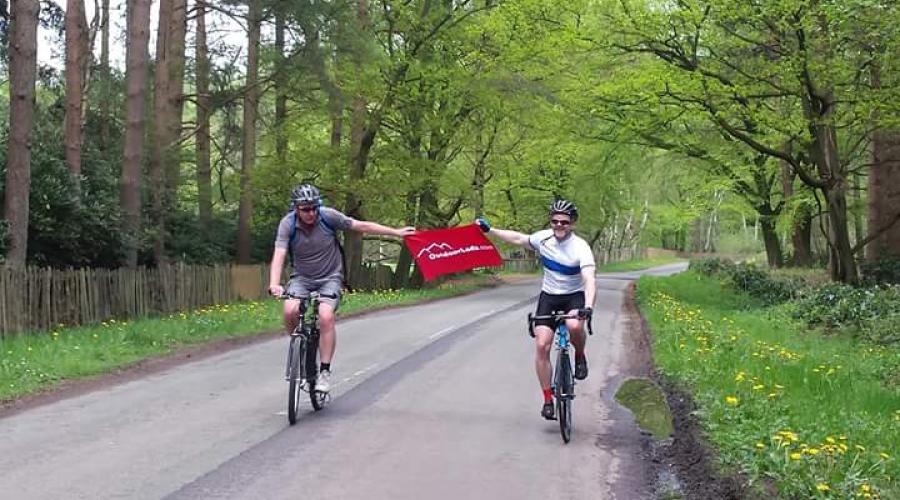 What to bring
Bike: a road or road hybrid bike
Helmet:  OutdoorLads requires you to wear one
Clothing: lightweight and layered, colourful and/or reflective clothing will make you more visible to other road users
Footwear: suitable for your bike and pedals
Gloves: cycle gloves help avoid blisters, and are good in the cold
Punctures: spare inner tube, bike tyre pump and tyre levers
Tools: any special tools that your bike needs
Small snacks: such as chocolate or energy bars
Plenty of water: in bottle/s on your bike or in a daysack/bladder
Medicines: if you have hay fever, diabetes, minor ailments etc.
Eye protection: avoid getting grit or insects in your eyes, sunglasses are OK if they are not made of glass and not too shaded
Sun cream: take care, even on overcast days
Bike lights: be seen and safe
Storage: small day-sack or a bag on your bike
Mobile Phone: keep it in a waterproof bag for use in emergencies
Food & drink
As this is an afternoon ride, please ensure you've eaten lunch before the ride starts. We'll look to complete the ride without significant stops so we're back for 5pm, 
Bring plenty of water and some snacks to keep your energy levels up during the ride.
There is a village store near the station if anyone needs to buy drinks or snacks for their return journey.
Meeting & times
May 18 - pm
Location
51.1753165, 0.49232140000004