21 people attending
5 places left
You can choose your difficulty, though the mountain walk will require a decent level of fitness
Have you ever thought, "ooooh, I'd like a hostel weekend, high in the fells, away from busy towns, with a log burner, in late autumn/early winter"?
Well, have I got news for you!
Join OutdoorLads for a late November hostel weekend near Keswick!
Perched at the top of Honister Pass, above the slate mines, from here you get a sense of remoteness with our the difficulty of getting there (easy to drive to!).  This hostel is an old accomodation block for the mines.
Given its location in the Lake District it is highly likely the walk on offer with be in the mountains, though this will depend on any additional leaders signing up.  Rich will aim to lead a walk from the hostel, up to Great Gable and back in a circular route. Lowland walks will require a short drive first, perhaps around Buttermere.
For those of you wanting a quiet weekend, you can visit the slate mines next door, or take a short drive to nearby Buttermere, Borrowdale or Keswick.
Included in your price are breakfast on Saturday and Sunday, and evening dinner on Saturday.  You will need to bring something to share for the Friday night buffet, and lunches on Saturday and Sunday. 
It is possible to arrive by bus from Keswick. Those wanting to travel by train will need to arrive in Penrith and get two busses, or arrange a lift with someone else. 
Driving is relatively straight forward. There are 6 parking spaces for the hostel, but the hostel can use the large national trust car park (free over night, paid for non-National Trust Members / free for members during the day) - so if you're a member, please bring your card!
This hostel is not suitable for dogs, sorry.
Photos used with permission of OutdoorLads leader lav_rich
IMPORTANT! - Participation Statement
You MUST complete a Participation Statement, in addition to booking your event space before attending an OutdoorLads event. You only need to complete this Participation Statement once, not for each event you attend.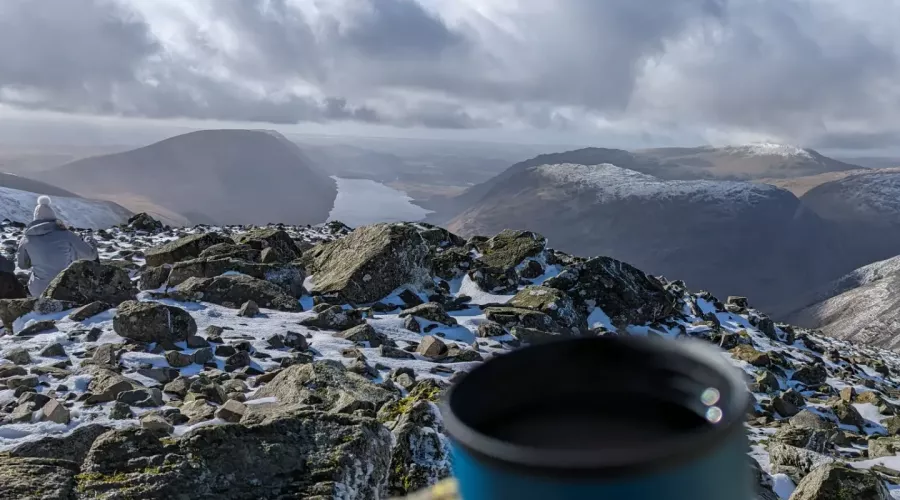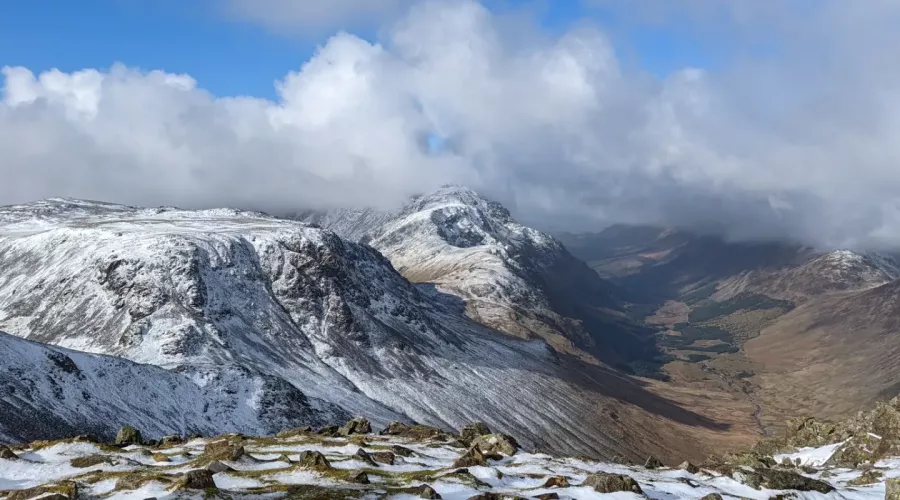 What to bring
You will need your toiletries, a towel, clothing and food (see above), plus any drinks you would like. I have copied below the standard kit list for mountain walks:
Hand sanitiser and a face covering: whilst we are living with Covid-19, please bring your own to events to help keep everyone safe
Water: bring at least two litres in a water bottle, or better still, a hydration bladder
Medicines: if you have hay fever, diabetes, minor ailments etc.
Day Rucksack: typically 20-30 litres, they are comfortable to wear and allow you to use your arms freely
Waterproof bags: keep spare clothing, electronics and anything else dry even when your rucksack leaks by using Ziploc type food bags or, better still, outdoor activity waterproof bags
Boots: waterproof and breathable hiking boots with good ankle support
Gaiters: recommended for wet weather or boggy conditions
Socks: proper walking socks will keep your feet dry and help prevent blisters, and carry a spare, dry pair
Walking Poles: always optional, love them or hate them, but give them a try and decide for yourself
Layered clothing: lets you quickly adapt to changes in the weather and body temperature. Go for a base layer (vest or t-shirt) and a mid layer (a micro fleece or shirt) and in cooler weather add an outer layer (a windproof jacket or thick fleece)
Trousers: no jeans as they become heavy and cold in the rain, breathable fabrics are more comfortable and dry and on warm days shorts are OK
Waterproof jacket: essential when hiking in all but the calmest of weather, breathable fabrics are more comfortable and dry.
Gloves: Windproof, or better still, waterproof gloves are the best choice, bring a spare pair if expecting rain.
Hat or cap: stay warm in winter and shaded in summer
Sunglasses: for any sunny day, even in winter
Sun cream: can be useful even on cloudy and winter days
Snacks: bring biscuits, energy bars, gels, bananas, chocolate or dried fruit for example and put them somewhere easy to get hold of
Lunch: bring a packed lunch unless otherwise stated
Emergency equipment: the walk leader will bring any emergency equipment required for the group, but you are welcome to bring any that you have, such as additional high energy food, a survival bag, a whistle, a medical kit, a torch and something to make fire (either storm proof matches or a firelighter
Map and compass: the walk leader will have these, but if you like map reading or want to develop your skills, bring yours along
Mobile Phone: keep it in a waterproof bag for use in emergencies, and a spare battery/charger is a good idea
Food & drink
Something to share for Friday night buffet. Individual lunches for Saturday and Sunday.
Other meals are included (breakfasts and Saturday evening meal).
Please ensure your dietary requirements are up to date.
Please bring any drinks you wish to have, tea and coffee are provided all weekend. 
Meeting & times
Nov 24 - pm