9 people attending
0 places left
16 miles/ 26km with 1217m of ascent
Commonly known as Braeriach, this giant sprawling lump of mountain translates somewhat unexcitedly as the brindled upland. This mountain has a large generally featureless plateau for a summit and the standout parts are the corries that drop precipitiously on the south side. Notably the River Dee bubbles up out of this plateau at the Wells of Dee and starts its journey to the North Sea. It is also the third highest mountain in the UK, after Ben Nevis and a neighbouring mountain of Ben MacDui.
Our route from the Whitewell car park heads south on the track down Gleann Eanaich, easing our muscles into the day as it gains only 200m of ascent over almost 10km of walking, just before we reach Loch Eanaich our path picks a route up through Coire Dhondail gaining 500m of ascent in little over 2km of distance.  The hardest part of the climb is over once the SW shoulder of the mountain is reached but there's still almost 300m of height to go.  The plateau itself is almost 3km long with the summit cairn at 1296m towards the eastern end, from here we continue to follow the edge of Coire Bhrochain before turning north and dropping down towards the Lairig Ghru then the Rothiemurchus forest and back to Whitewell.
This event is one that is celebrating the broadcast 30 years ago of 'The Munro Show'.  This STV programme was broadcast in 1991/92 with Muriel Gray at its helm, which was a series that was involved in bringing mountaineering and munro bagging into the modern mainstream. Braeriach is one of a handful of the 22 mountains covered that can be found on YouTube - https://www.youtube.com/watch?v=MzXTMSgQ8II
Please be aware that this event may be amended or cancelled in the event of a poor weather forecast - being in the high Cairngorms in poor weather is dangerous.
IMPORTANT! - Participation Statement
You MUST complete the Participation Statement,  here, in addition to booking your event space before attending an OutdoorLads event. You only need to complete this participation once, not for each event. 
Events – IMPORTANT, Please read the following before you sign up to this event:
Anyone with COVID-19 symptoms, even if they are extremely mild, or who lives or is in a support bubble with someone showing symptoms, is asked not to attend. This is in line with the government's coronavirus advice.
All are required to practice social distancing – staying 2m (not 1m) apart at all times, including the lunch stop.
Unfortunately, there won't be any planned pub / café stops en route or at the end, and please don't share sweets or snacks with others – we're sorry!
Please bring your own hand sanitising gel for your own use throughout the day. Use of face coverings is at your own choice, but please bring one with you just in case it's needed. 
Each person can only attend one OutdoorLads micro event a week. (Leaders to leave at least three days between events they lead.)
On walks, one person to hold open gates and allow everyone to walk through – so minimising surfaces that multiple people touch. 
Be aware that opportunities for toilet stops may be minimal if facilities are closed.
Please, please cancel at your earliest opportunity if you are unable to attend or are unwell, so that we can allow others to take up these valuable event spaces.
Much as it's difficult - no handshakes or hugs!
Events Participation Statement
OutdoorLads draws your attention to the fact that travelling and being away from home increases the risk of receiving and transmitting Coronavirus, whilst it is present in the UK. You are likely to choose not to participate in OutdoorLads events whilst there is a risk of Coronavirus transmission. However, should you choose to participate in OutdoorLads events whilst the risk is present, you must be aware of and follow the law and government guidelines, both when travelling to and from events as well as when participating in events.
Please note that every person participating should be aware of (and accept) that those members perceived as 'in charge' or leading the event are not experts,  do not need to be experts, and are not regarded by OutdoorLads, or themselves as experts, but are amateurs with some experience in the event type and who are happy to impart their knowledge.  Any advice given should be considered with this in mind by the recipient.
By signing up to and attending an OutdoorLads event, you are confirming that you have read, understood and accept the content of this statement.
Please see our website for more information including an FAQ about our micro events.
Photos were taken by AMD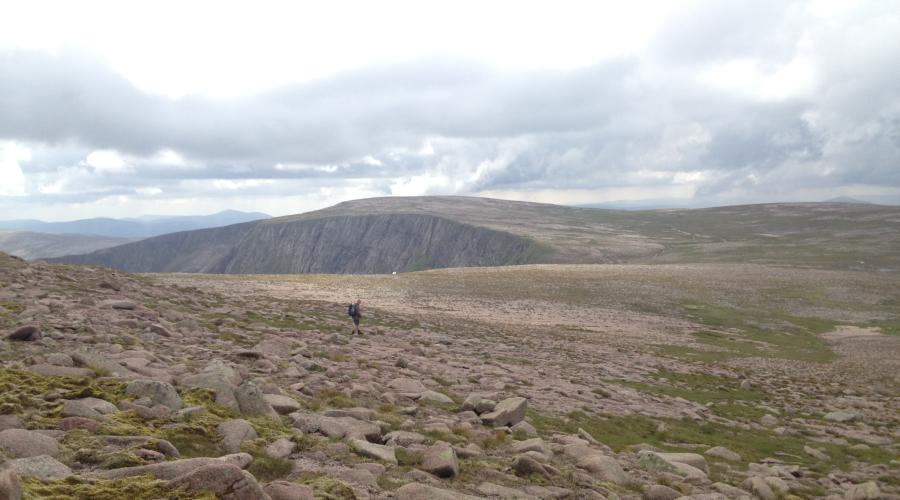 What to bring
Check the weather forecast the night before - we are going up onto a high and large plateau which is exposed to any weather in the area as even on a fine summers day the top of the mountain can be cold.  The list below is mandatory for coming on this walk.
Boots:  Hiking boots are arguably the most essential piece of kit when hiking just about anywhere.  Walker's should make sure that their boots are both waterproof and breathable, and provide good ankle support.  Boots should also be in good condition.
Socks: Walking socks are often overshadowed by those new to hiking, with many novices failing to invest in proper socks.  Good walking socks are essential in regards to keeping the feet dry, and in turn stopping the development of blisters.  Sports socks and other socks not designed for walking will often become waterlogged, or damaged which will in turn blister feet.
Gators:  Gators attach to the bottom of walking boots and extend to just under the knee.  They provide waterproofing for the bottom half of the leg, and are essential in keeping the feet dry.
Walking Trousers:  Walking trousers should be of a windproof design and made of a rip stop material, that will stand up to walking through ferns and undergrowth.  They should also ideally be water resistant, or at least not gain weight, and lose their insulation properties when wet.  Jeans are therefore to be avoided, as they are heavy when wet and provide no protection from the elements.
Waterproof Trousers:  Waterproof trousers are essential in keeping the legs dry, as water resistant trousers will not keep out any significant rainfall.  Walker's should look for waterproof trousers that are breathable, in order to avoid being soaked with sweat.
Base Layer: A breathable base layer should be chosen in order to let sweat escape from the body.  This should ideally consist of a breathable synthetic, specially designed fabric, though a cotton T-Shirt is sufficient.
Mid Layer: A Mid Layer goes on top of the base layer and should consist of a 100 weight micro fleece, or a rugby typed thick shirt.  The layering system is important as it allows walkers to quickly adapt to changes in the weather as well as body temperature.
Outer Layer: The outer layer should consist of a windproof jacket or a thick fleece.  This is the final layer and walkers should ensure that this layer provides ample warmth.
Waterproof Jacket:  A good waterproof jacket is one of the most important pieces of kit you will require when hiking.  Walkers should look for a jacket that is both waterproof and breathable in order for them to be protected from sweat.  Materials such as Gore-tex are often the best choices.
Hat: As most heat is lost through the head a good hat is essential.  The best hats are those of a fleece design, with wool also being acceptable.
Gloves: Gloves are essential in the colder months as walkers will require the usage of their fingers for various activities such as map reading.  Windproof or better still waterproof gloves are the best choice.
Rucksack: A good Rucksack that is comfortable to wear is essential, and required to carry your lunch and additional clothing.  In the event of wet weather a dry bag is recommended, with equipment being placed in the water proof bag inside the rucksack.
Mobile Phone: A mobile phone should also be brought and kept in a waterproof bag for use in emergencies.
Food & drink
You must bring a packed lunch, along with plenty of fluids and snacks for the whole day. You should consider that the day has an early start and will have an evening finish - so extra food must be considered.  Suggestions of things to bring include energy snacks or a flask with a hot drink or soup.
Meeting & times
Jun 12 - am
Location
57.156247627951, -3.7945641043953