Kilimanjaro via the Machame route
9 people attending
9 places left
Event booking closes on Jan 6 at 20:00:00
You will reach 5,895m 13 days in Africa
Kilimanjaro is the highest mountain on the African continent. It is situated in the Northern part of Tanzania on the border with Kenya. Moshi, our base for the trekking phase of the expedition is right at the base of the mountain and caters well to tourists with lively bars, comfortable hotels and good restaurants. 
OutdoorLads is offering the opportunity to climb this iconic mountain in early 2024. This trip includes all accommodation and transfers in Tanzania as well as a 2-day safari in the spectacular Ngorongoro crater reserve and Lake Manyara. This is a safari in a purpose made vehicle and includes all entrance fees. 
The cost of this trip is £2750 which includes all food on the mountain and also includes the safari. 
What is it like on the mountain?
The 7-day Machame route is a beautiful route that is highly recommended. Due to its ascent profile and longer duration it offers plenty of opportunity for acclimatisation. It has a high summit success rate and uses well equipped campsites.
We will hike across the spectacular Shira Plateau and pass the dramatic gorges that characterize the Western side of the mountain. This route offers unparalleled views across the mountain and to the plains beyond. It's versatility and gradual ascent gives teams the greatest chance of a comfortable and successful ascent of the greatest mountain on the African continent.
We will be fully catered in our camps by a team of chefs who will prepare all our food in a cook tent and serve us in a dining tent. We will be camping for six-nights and there will not be the opportunity for a shower during this time. You will be given two-person four season mountain tents for use on the mountain. All our equipment including your sleeping bag, mat and spare clothes is carried by a team of well-motivated porters.
Safari - Ngorongoro, Tarangire and Manyara Reserve
The Ngorongoro Conservation Area is a World Heritage site in the crater highlands of Tanzania. At the centre of the park is a breathtaking natural wonder, the Ngorongoro crater the largest unbroken caldera in the World. This is home to the densest known population of lions, black rhinos, elephants and thousands of wildebeests, zebras, eland and Thompson's gazelles. We will be taken through this conservation area by guides from the wildlife authority and given chances to spot the spectacular animals of the caldera. We will visit this park and the other famous National Parks of Northern Tanzania on a classic tented safari package. This package includes food and transport in a purpose made safari jeep. 
Itinerary 
Day One 21st Jan 2024 - Arrive at Kilimanjaro  Airport (JRO). Transfer to our hotel in Moshi. We will meet for a late evening meal. 
Day Two 22nd Jan -  Rest day in Moshi to recover from flights.and have to explore the town and prepare for our trek. Overnight in hotel
Day Three 23rd Jan - Transfer to Machame Gate then walk to Machame Camp 3,026m
Distance: 11 km
Day Four 24th Jan - Walk Machame Camp to Shira Camp 3,766m
Distance: 5 km
Day Five 25th Jan - Walk Shira Camp to Lava Tower  then to Barranco Camp 3,950m
Distance: 10 km
Day Six 26th Jan - Walk Barranco Camp to Karanga Camp 4,600m including the ascent of the Barranco wall
Distance: 8 km
 
Day Seven 27th Jan - Walk Karanga Camp to Barafu Camp 4800m our highest altitude camp
Distance: 5km
Day Eight 28th Jan (SUMMIT DAY) - we leave Barafu Camp very early in the morning to walk to the Summit then descend down to Mweka Hut 3,505m
Distance: 5 km ascent / 12 km descent
Day Nine 29th Jan - Mweka Camp to Mweka Gate. 2,895m Overnight hotel 5 hr walk
Day Ten 30th Jan - Safari Lake Manyara National Park home to the tree climbing lions, overnight hotel
Day Eleven 31st Jan - Safari Ngorongoro Crater World famous safari reserve, return to Moshi
Day Twelve 1st Feb - Return to UK from Kilimanjaro Airport (JRO) 
How to Book
Bookings and Deposits: The full price is £2750. To book your place on this trip (or secure a place on the waiting list) please pay a £400 deposit direct to Pride Expeditions. This will secure your place on the trip. 
PRIDE EXPEDITIONS Ltd
Starling Bank
Sort Code:60-83-71
Account Number 19166775
Please message the Event Leader with your full name and email address in order to receive further documents.
On receipt of your deposit a confirmation email will be sent. Attached will be a comprehensive medical form for you to fill in as well as booking terms and conditions. Once six people have paid a deposit the trip will be guaranteed and further payments can be made in instalments. If you cancel after the trip has been confirmed and bookings have been made in Tanzania you will lose your deposit. All monies must be paid by the 15th December 2023. Deposits are fully refundable until the trip is guaranteed and bookings are made at which point the terms and conditions will come into force.
Please be aware that it is the booking of the deposit that secures your place on the trip or waiting list, rather than booking onto the trip via the OutdoorLads site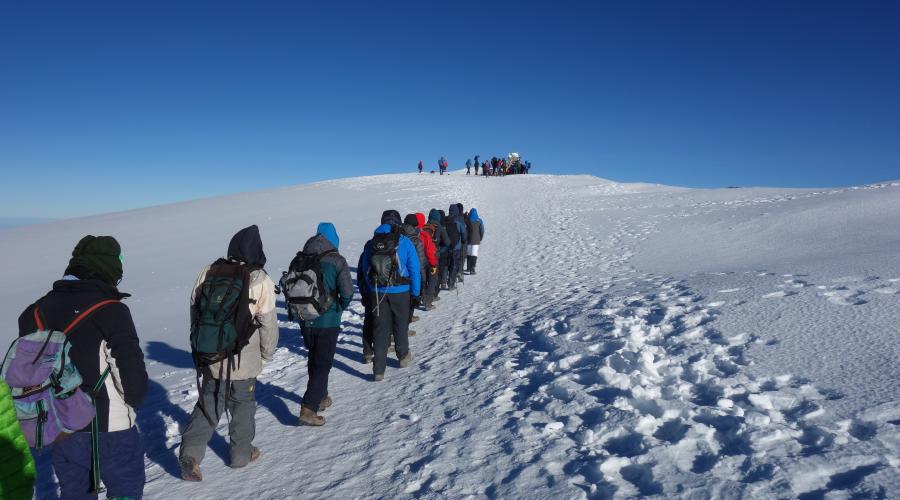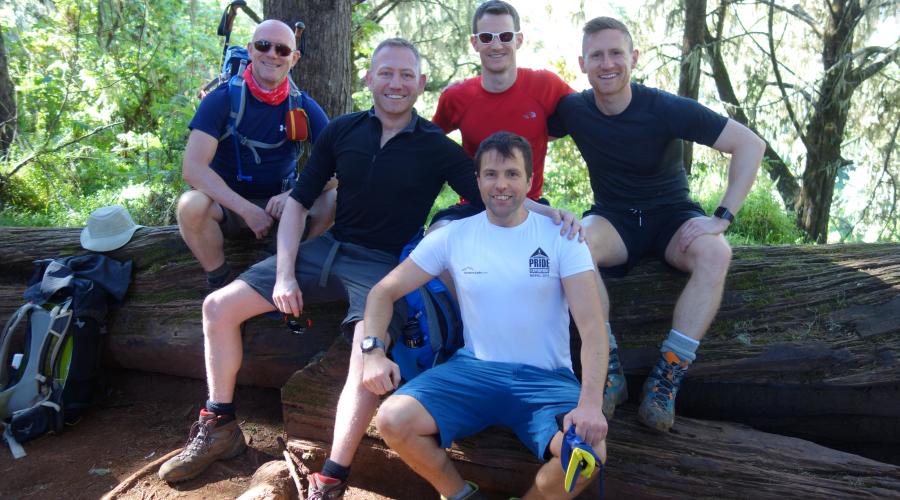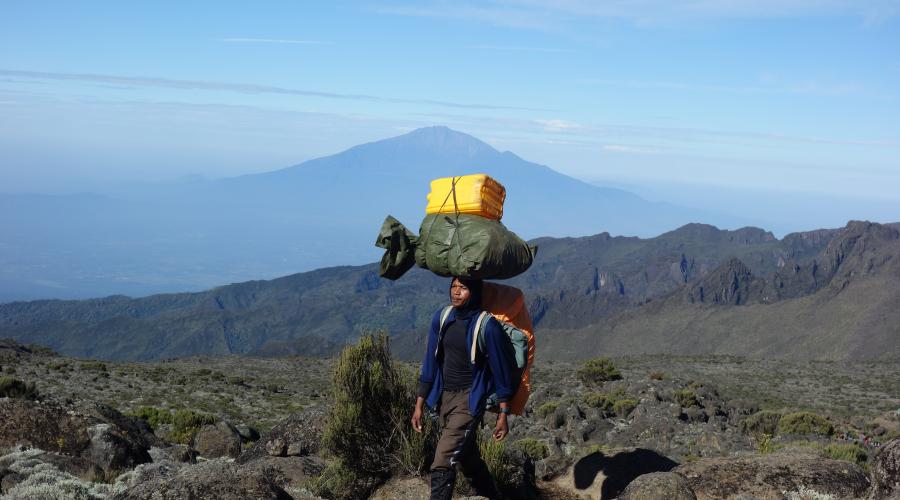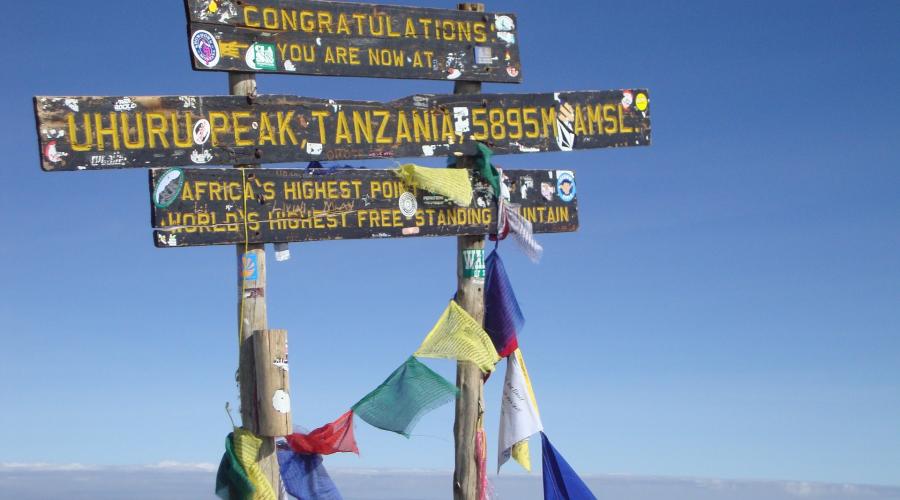 What to bring
A comprehensive kit list will be sent to you once the trip has been confirmed and you have received an Expedition Confirmation Notice. 
Your main bag will be carried by a porter while on the mountain. You will only need to carry a day bag including water, spare clothes and waterproofs.  
Food & drink
You will be provided with three sumptuous meals a day throughout the expedition and safari. The food is prepared by a team of trekking chefs who produce the food in a cook tent at our campsites on Kilimanjaro and whilst on the safari. We will be eating our food in a dining tent. On summit day you will be given a packed lunch to eat whilst trekking. 
Whilst in Moshi we will be eating our lunches and evening meals in restaurants. Five evening meals and four lunches will be eaten in local restaurants. You will need to pay for these meals. All breakfasts will be provided in the hotels and whilst trekking and on safari all food is provided. 
Meeting & times
Jan 21 - pm