Wellbeing Camping Retreat - now £20 OFF!
10 people attending
0 places left
Relaxed camping weekend including Yoga, Chi Kung and Meditation classes with a 6 mile walk
We invite you to join the OutdoorLads Wellbeing Camping Retreat offering a chance to escape the rat race, switch off your phone if you wish, and dedicate some time to your own personal nourishment. There are a number of classes included in this event led by a highly experienced and trained teacher of Yoga, Tai Chi and Chi Kung. All abilities are encouraged to join us, whether you're a beginner or more experienced.
It is worth mentioning early on in the event details that this Wellbeing Retreat is a dry weekend experience - this means you get to take a break from your favourite tipple(s) - apart from when we're on the walk and enjoy the pub lunch stop.
This is your opportunity to relax and indulge in 'self' for a weekend with your fellow OutdoorLads.
The weekend will flow as such...
Friday evening (from 5pm)
Members arrive and pitch their tents.  
We will have a Friday evening buffet together, similar to an ODL Hostel buffet, so please bring items of food with you for a picnic so we can all sit and enjoy the sunset together - enough food for 2-3 people will be a sufficient spread once everyone has contributed. Should the weather be less favourable, we have the private use of a barn to chillout in. 
Saturday
A full day of activities beckons to refresh the body and mind:
7.00 am - 8.00 am - our private barn will be home for our 2 days of self, starting with a mindfulness and meditation-style class to start the day the chilled out way.
8.30 am - 10.00 am - a mixed-ability Yoga class in the marquee.
10.00 am - 11.00 am - enjoy your breakfast camping style. Hot water, tea & coffee will be provided - the rest is up to you and your personal requirements.
11.00 am - 3.00 pm - An optional day walk around the local countryside of about 6 miles.  Our walk will include a pub lunch stop (menu choices will be required nearer the time). 
However, if you wish to relax in the fresh air with a book, take some personal time or enjoy some quiet reflection at the campsite, you are very welcome to do so. I can also provide other suggestions for slightly shorter wanders if you wish.
Please let me know if you wish to take advantage of the pub lunch as I will need to book a table.  
5.30 pm - 7.00 pm - A mixed ability class based on the art of Chi Kung and Mindfulness games including movement, relaxation and being present in the now.
7.30 pm - 9.00 pm - evening meal time.  As with breakfast, please bring what you wish to eat -  A charcoal BBQ will be available for those who want to use this.
Post evening meal - A campfire will be provided so we can sit, reflect, relax, socialise and chat about the day.
Sunday (start timings to be agreed by attendees the night before)
If the weather is kind to us, we'll do Yoga outdoors in the sunshine, if wet, we'll be in the barn. 
Breakfast - As Saturday, cook, boil, brew and enjoy it camping style
Post breakfast - A Goodbye Movement Meditation session - some calm before the road or rail then we clear down and leave the campsite and barn as we found it by 1.00 pm.
A few important things to consider...
As already mentioned, this is a dry campsite event, so no alcohol is needed while enjoying this weekend. Whereas OutdoorLads events often include a good old knees-up and a few sherries - which is great - that isn't what this event is about so please bear this in mind.  However, if you wish to enjoy a drink when we stop for lunch during the walk, you are very welcome.
The campsite is not exclusive to ODL - however, we will have our own campsite area and exclusive use of the marquee for the classes, the barn and food prep area and our own toilet & shower facilities.  Our only ask is that you are mindful of other campsite users, especially when arriving or leaving by car.
Parking - ample parking for all on site.
If you have any questions, please contact the event leader.
Some of the feedback from previous years:
Great weekend - lovely place and really good to try something different!
This event exceeded my expectations. I left feeling blissful after the yoga classes and wouldn't hesitate to book another weekend like this.
It was a bit different to the other ODL weekends, but it was really rewarding and everyone seemed to enjoy it. I think by setting out a weekend of this type it encouraged us to interact in more relaxed way too.
Dogs: This event is not suitable for dogs. 
Caravans, Campervans, Motorhomes: May be possible, at additional cost. Please contact support@outdoorlads.com to enquire before booking. 
OutdoorLads Foundation: If you'd like to attend, but circumstances are difficult, have you considered asking the OutdoorLads Foundation for assistance? If you qualify, we could cover the full cost for you. See the Foundation page under the About Us menu.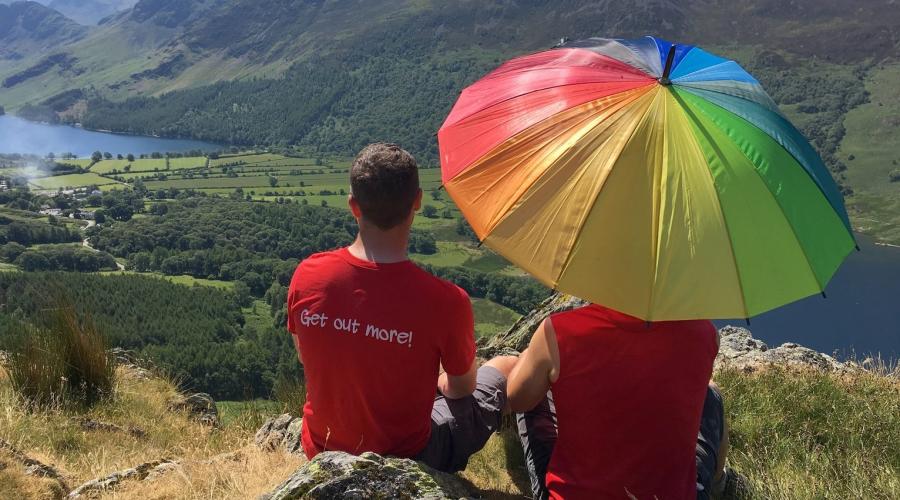 What to bring
You need to bring anything you would want and need for a weekend of camping; everything you would you want for walking; and for the classes, the suggestion is loose, comfortable clothing you can relax in. You may also want to consider bringing a blanket for any meditation or for keeping cosy around the camp fire.  Whilst in the barn and marquee for the classes, you may wish you to bring warm cosy layers and socks.
SUMMER CAMPING CHECK LIST
You don't need a lot to go camping with Outdoorlads – sometimes 'less is more'. The more clutter you bring the longer it takes to set up and pack up, and the less time you'll have to socialise. We are a friendly bunch and if you are new to camping and don't have things like a kettle or stove, you should find others around you are helpful and willing to share. The following is useful advice:
Your tent:
You get what you pay for with these. A cheap 'pop-up' tent may suffice in better weather, but a proper tent designed for regular use is a good long-term investment should you get the 'camping bug'. Nylon tents are light but can suffer condensation issues. Fabric tents stay warmer at night and cooler by day but are expensive. Alloy poles last longer than fibre-glass. A tent that goes up 'outer first' is very handy should you arrive in rain. Dark colours keep out the early summer dawn, but also attract heat in the day when you don't want it but then radiate it by night when you want to retain it.
Please keep in mind that space is sometimes restricted when we pitch up as a group. If you bring a tent big enough to sleep 6, but just for yourself, this may take up too much space. Also, we cannot always park cars right alongside tents so you may have to carry all your stuff a longish distance. The heavier your tent, the harder that will be.
If your tent is new or borrowed, it's a good idea to pitch it in advance to make sure you've got all the bits and you know what to do with them. You don't want to find out you can't or don't know how to pitch your tent when its dark, raining and windy! Essentials to have are outer, inner, poles and pegs. A rubber mallet is useful if the ground's a bit firm.
Your bed:
An absolute must is some sort of mat, this will insulate you from the cold ground and provide some comfort from bumps and lumps. These fall into three categories – rigid, blow up and self-inflating (SIM). Of the three the latter is the easier to use, most comfortable and durable, but can be the bulkiest.
Sleeping bags are chosen for the season and compactness. Pay more for a lightweight compact model that's also warm.  However, if you are coming by car and space isn't an issue you can always bring the duvet from home! Keep in mind that temperatures at ground level can dip to single figures. If your bedding is marginal some thermal undergarments will be much nicer than sleeping fully clothed.
A torch, headtorch, or lantern:
Once it is dark you'll need this to see what you are doing inside your tent, or for walking after dark on or off site. However, you don't want something so powerful it will wake up everyone else!
Something to eat from and with:
I.e. a plate, bowl, mug, cutlery. Again, if you are coming by car you can nick stuff from the kitchen at home, otherwise camping shops sell all manner of folding and stacking utensils. You will need something to clean it with. It's a good idea to have a tea towel and some washing up liquid (or know someone who has)!
Something to cook with:
You will need some sort of stove, and something non-stick to cook in – a couple of pans and a big spoon or two. Gas can work out expensive in the long run. If you are going to camp often by car, then a petrol-powered Coleman stove will outperform most others and be far cheaper in fuel to use.
By heating things that are pre-cooked in packets or tins you can have a nutritious meal in minutes with hardly any washing up.
Remember you'll need food for breakfast, the daytime activities, and your evening meals.
Other things:
Don't forget your wash kit, shaver, and a towel or two. Some items worth their weight in gold when camping: earplugs, insect repellent and sting relief cream, plastic bags, a kitchen paper roll, a piece of string 3m long to make a washing line for drying stuff, a few clothes pegs, a second pair of trainers or sandals for walking across wet grass or if your boots are all muddy, if you like a few beers of an evening and don't want a 100m walk to the toilet block at 2AM something to pee in ;-), last but not least a camping chair (otherwise you'll be sitting on the ground or standing!)
For your comfort and safety please be prepared for the anticipated weather and the terrain of the walk - keep in mind the following:
Boots:  Hiking boots are arguably the most essential piece of kit when hiking just about anywhere.  Walker's should make sure that their boots are both waterproof and breathable, and provide good ankle support.  Boots should also be in good condition.
Socks: Proper walking socks keep your feet dry, and help prevent blisters.
Gators: Gators attach to the bottom of walking boots and extend to just under the knee.  They provide waterproofing for the bottom half of the leg, and are essential in keeping the feet dry.
Walking Trousers: (ideally water resistant and windproof) will be more comfortable than Jeans which are heavy and cold when wet.  From April to October shorts can be a better bet, but check the weather forecast and consider the effect of bramble and nettles on bare legs!
Waterproof Over-Trousers:  essential in any significant rainfall.  Breathable ones are best.
Layered clothing: allows you to quickly adapt to changes in the weather as well as body temperature e.g. a base layer or a cotton T-Shirt; a mid-layer like a micro fleece, or a rugby type thick shirt and, in cooler weather, an outer layer consisting of a windproof jacket or a thick fleece. 
Waterproof Jacket: essential when hiking in all but the calmest of weather.  You get what you pay for with these. Breathable fabrics are advisable.
Hat: essential both in mid-winter to preserve heat and in summer to prevent sunburn and heatstroke. 
Gloves: essential in frosty weather.
Small Rucksack: One that is comfortable to wear is essential so that you can use your arms freely. Place valuables in water proof bags inside.
Sunglasses: April- Sept: comfortable sunglasses enhance your pleasure and keep insects out of the eyes
Water: even in winter one can lose a litre or more of fluid by perspiration. If you fail to make this up, you'll get dehydrated which can lead to headaches and other problems. A hydration bladder is easier to use than bottled water, but higher maintenance. Water is available at the campsite but you'll need containers to carry it to your tent and while out for the day on the walk.
Food: a packed lunch will be required unless otherwise stated. In addition, carry energy bars or similar to counter 'sugar lows'.
Medicines: If you have allergies, are diabetic, or have minor ailments don't forget these!
Change of Clothes:  A full change of clothes should be brought and kept in waterproof bags, as well as multiple pairs of socks.
Food & drink
A summary of food and drink:
Friday
Evening - please bring chilled food for a picnic - don't go mad.  Enough to feed a few mouths will do and we will enjoy it as a buffet together.
Saturday
Breakfast - Please cater for yourselves camping style - hot water, tea and coffee will be available in the barn.
Lunch - a pub lunch mid-walk, but you are welcome to bring a packed lunch.  The pub lunch will need to be selected in advance nearer the time - this is not included in the event cost.
Evening - Please cater for yourselves camping style - a charcoal bbq will also be available if you want to take advantage of this.
Sunday
Breakfast - Please cater for yourselves camping style - hot water, tea and coffee will be available.
Facilities:
The barn which we have private use of has good facilities.  We have access to a meal prep area, hot water for hot drinks, fridges, toaster and a microwave.
Meeting & times
Jun 28 - pm
Location
51.745640839908, 0.59585470032755