A Waterside Walk from Woking to Wisley by Way of the Wey
31 people attending
9 places left
Distance is 21 km (13 miles); total ascent is 107 m; relief is mostly flat with one small ascent towards the end; surfaces are dirt, gravel, grass and tarmac.
The Wey was one of the first rivers in England to be made navigable and the River Wey Navigation opened in 1653. On this circular route (which includes three kilometres walking through Woking's most salubrious suburbs), we'll walk about five kilometres along the navigation, passing five sets of lock gates as we do so. We'll also follow a stretch of the River Wey to Wisley Common for a change of scenery and a spot of lunch. We'll just skirt the Royal Horticultural Society's gardens before heading back, where the village of Pyrford, remarkably unaffected by the presence of Woking, might be of interest, likewise the ruins of Newark Priory and the house of the poet John Donne.
The sights:
Old Woking: The original centre of Woking and a market town in the C17. Now a forlorn place with some of the old houses demolished to make way for the A247. The Manor House is fine mid-C17, The Grange C18. St Peter's Church was originally Norman, but is now mostly C13. There is some character in the lane leading to it. Hoe Place is a former mansion which is home to the Hoe Bridge School Preparatory department. Early Victorian in appearance, it dates from 1680 and was a favourite retreat of Lady Castlemaine, a mistress of King Charles II. The school chapel dates from 1850.
River Wey Navigation: The River Wey and Godalming Navigations provide a 20-mile (32km) navigable route from the River Thames near Weybridge to Godalming. Both waterways are owned by the National Trust but managed by the Wey Navigation Trust. The five locks we'll see (Papercourt Lock has a stepped side channel and Walsham Gate has a weir where the River Wey itself joins) were refurbished in 2021 as part of a £9m programme across seven sites. At Walsham Lock there is also a fish pass to aid fish in spawning.
Newark Priory: The Priory was granted substantial lands in the late C12 during the reign of Richard I. Originally called Aldbury but changed to 'Newark' from the Latin for 'New Place' (novo loco). Dissolved in 1538 and given to the Master of the King's Horse. A cannon was employed from the top of Church Hill to bombard the buildings to provide building stone. Lord Onslow, the owner in the 1730s, decided to preserve what remained. A scheduled ancient monument and Grade I-listed. Located on private land so cannot be reached at closer proximity than the Wey path.
Pyrford Place: Grade II-listed, considered C17. The big square summerhouse overlooking the Wey bears a plaque claiming that John Donne, the metaphysical poet, soldier and Dean of St Paul's lived there from 1600 to 1604, but it is more likely he lived in a main house nearby. The Wey Navigation was completed in 1653 (here not the natural river), so it seems likely the building post-dates this. 
Ockham Mill: A five-storey polychrome brick water mill, dated 1862, Grade II-listed.
Wisley: The C12 church, farm buildings and a handful of cottages have been spoilt by the presence of the M25 and a sewage works, so we'll omit them. Wisley Common is heathland, a valuable habitat. We'll edge around RHS Wisley and see some of it from the public footpath. We'll have our lunch on the Common by the mere at about 13.30.
Pyrford: St Nicholas' Church is humble, unaltered and in the centre of a loose grouping of brick cottages. It is intact Norman and Grade I listed. Fine wall paintings. Pyrford Court is Neo-Georgian, 1910. We'll have a drink at The Anchor pub at Pyrford Lock at about 14.30.
The route (please click the link to see the route at the Ordnance Survey website):
We'll follow White Rose Lane south and east away from the station and then Hoe Stream through its nature reserve. At Hoe Bridge we'll take the B382 and go south then west to Old Woking. After a short distance along the A247's pavement, we'll head southeast across Broad Mead. Much of the outward-bound route will now be on the Fox Way and along the River Wey Navigation towpath which we'll leave at Ockham to take a footpath to Wisley. After lunch at Wisley Common, we'll walk northwest along Wisley Lane before turning southwest at the church to use footpaths to go to Pyrford Lock and the pub stop. We'll then walk south along the Wey Naviogation but turn west at Manor Farm to use footpaths to go to Pyrford village. We'll then use Church Lane northwards to Pyrford Court where we'll pick up a footpath through the woods called the Rough. We'll emerge into suburbia at Maybury and use Park Road to get back to the station. 
Dogs:
I love having dogs on my walks and this walk is ideal for them, although there may be some fields with livestock and will be some B-roads to cross. A dog off the lead must be obedient.
IMPORTANT! - Participation Statement
You MUST complete a Participation Statement, in addition to booking your event space before attending an OutdoorLads event. You only need to complete this Participation Statement once, not for each event you attend.
Anyone with COVID-19 symptoms, even if they are extremely mild, or who has recently tested positive for Covid-19, is asked not to attend.
(All pictures were taken by the leader in October 2022. OutdoorLads is welcome to reuse them.)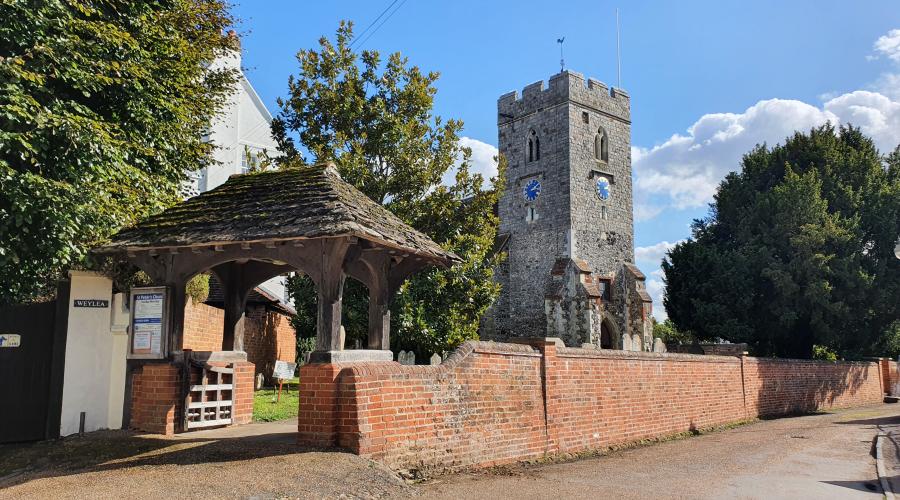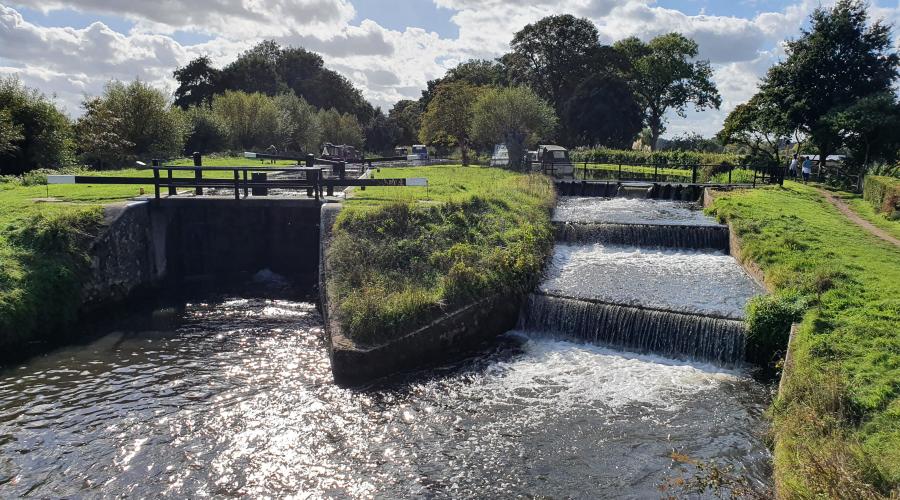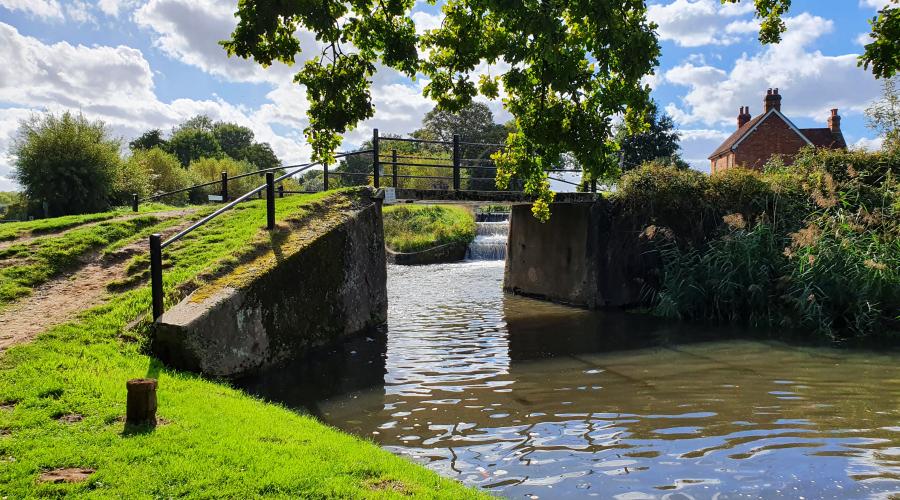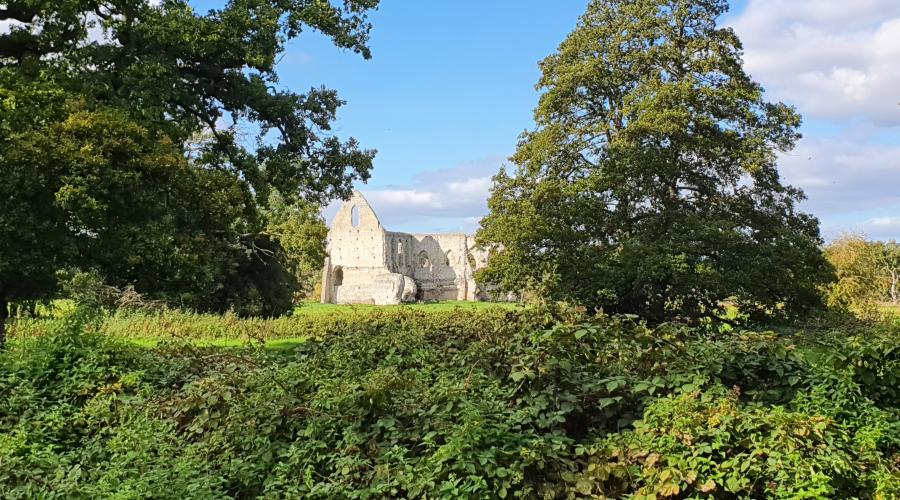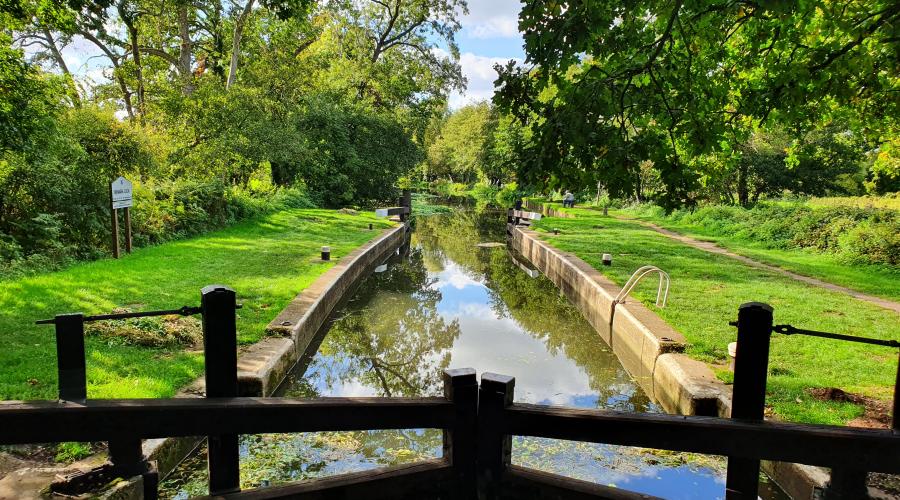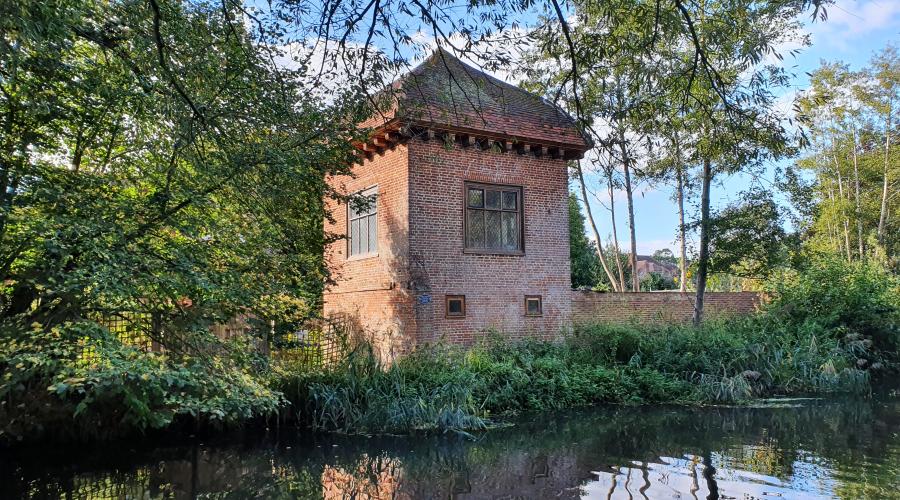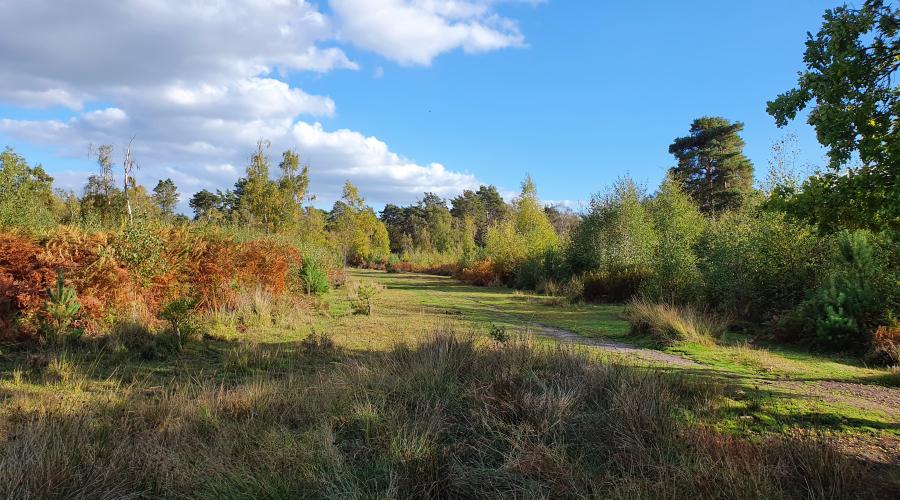 What to bring
Wear walking boots or shoes, (boots if the autumn has been wet). Bring or wear a coat if rain is forecast. 
Food & drink
Please bring a packed lunch and plenty to drink. If you need to get these in Woking, please leave time to get them, perhaps at the M&S beside the station. We will have a pub stop at The Anchor at Pyrford.
Meeting & times
Oct 15 - am