6 people attending
6 places left
Join us for a series of regular meetups on the virtual cycling platform Zwift. We will be able to see each other in the virtual world and chat during the ride. 
The event route will be confirmed on Discord. We usually ride for about an hour. You can join us for as long as you like.
Whenever you are reading this, please join Discord now, as there are many other impromptu events that we do not publish, there might be one today! 
How to Join
Already on Zwift?
Firstly, please install Discord on your phone, and join our server here:
This allows us to message and use voice chat, which Zwift itself doesn't offer. The voice chat is, in a sense, the OutdoorLads event!
Message us on Discord with your Zwift name and we will invite you to our next event. If you can 'add' me, David Sharpe (34, UK flag) and Thomas Haywood (Scottish Flag) in the companion app under 'find Zwifters' that will also help us to find you. 
Then, in Zwift:
Accept the event invite on the Zwift home screen or in the Zwift companion app. You must do this otherwise you can't join the event. 
When ready to start the event, enter any game world, you must be in a game world to join the event.
Once inside the game you will see automatic countdown to the event and you'll be teleported to the right place if needed. Click join event to speed it up. 
We will guide you through steps 1-3 if you message us on Discord. 
Not on Zwift?
Getting in to Virtual cycling is quite an investment but it's well worth it. OutdoorLads run virtual rides every winter about twice a week. 
You will need:
A smart trainer. This is a specialist device that makes your bike into a periferal for your computer, tablet, etc and provides resistance to your back wheel according to the virtual gradient. 

A PC, laptop or tablet positioned in front of your trainer, as well as strong fan, water and a towel, and your mobile phone on your bars (mounted or loose)

The Zwift app on your PC or tablet and also the companion app on your phone, as well as a Zwift account and subscription (£12/mo)

A headset to listen to the voice call, we suggest doing this on your phone with the cheap mobile in ear headset that comes with your phone but you can set it up in lots of different ways eg bluetooth headset on the PC. Big earphones will get too sweaty however and having multiple bluetooth devices (eg the trainer) can cause interference and drop outs. 
We strongly suggest setting up your trainer and getting the Zwift apps working in advance of attending an event. It's a bit of a technological faff but once set up it's great fun!

Keep in Touch

If you'd like to hear about our cycling events as soon as they are published, then subscribe to our Social Media & Instant Messenger channels:
You can chat with our members on Facebook and Telegram, and join our Strava club
Main image by Wilco Stekkinger.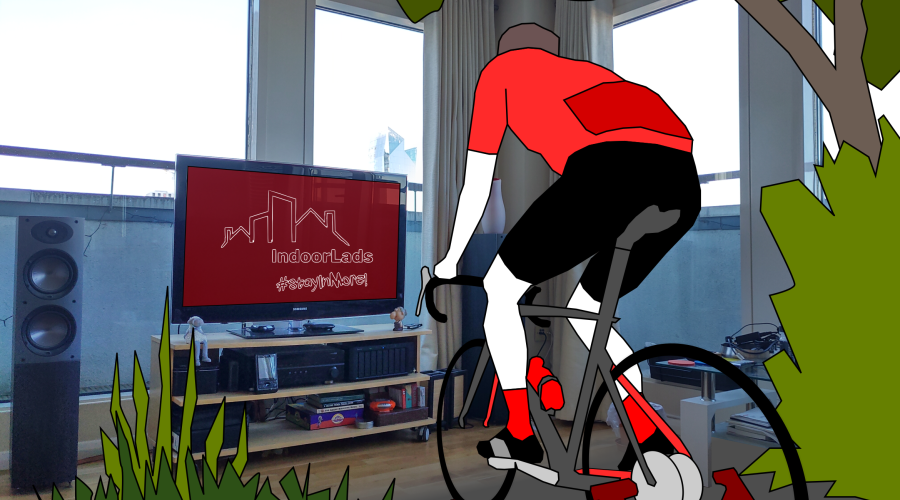 What to bring
See event description for requirements
Food & drink
Yes, you'll need some water on this one... 
Meeting & times
Feb 22 - pm
Location