Summer Hiking in a Remote Lakeland Vale
20 people attending
0 places left
1 person waitlisted
Event booking closes on Aug 18 at 16:00:00
Hostel weekend but with plenty of hills to climb!
St Johns in the Vale is a small, delightful valley in the Northern Lake District. Though only a few miles outside Keswick, the area is tranquil and the hostel has unspoilt views of Blencathra, Skiddaw and the Helvellyn range
This is a beautiful, remote and rugged location but Keswick is only four miles away and Penrith (M6 and direct trains to London) just a 20 minute drive.
The centre where we will be staying is ideally located for days out on Helvellyn, Skiddaw, or Blencathra, or simply bimling about some of the the lower hills around Thirlmere, exploring the old church, or Castlerigg stone circle. 
We will be staying in an old School House, now converted to a youth centre, which has a decent kitchen and common room. You must bring you own sleeping bag, pillowcase and towel etc. 
Also, a mini Orienteering course has been set up in the vicinity of the Centre, suitable for all ages and can be used as a daytime or evening activity #mapreadinggains!!
Dogs: There are two dog places available on this event. Both have now been taken. 
Photos: All photos are taken by OutdoorLads member Peter Walter and used with full permission. 
IMPORTANT! - Participation Statement
You MUST complete a Participation Statement, here, in addition to booking your event space before attending an OutdoorLads event. You only need to complete this Participation Statement once, not for each event you attend. 
COVID-19 – IMPORTANT, Please read the following before you sign up to this event:
Anyone with COVID-19 symptoms, even if they are extremely mild, or who lives or is in a support bubble with someone showing symptoms, is asked not to attend. This is in line with the government's coronavirus advice.
You must also immediately self-isolate and not attend the event if you or someone in your household or support bubble shows coronavirus symptoms or tests positive. You can find the NHS self-isolation guidance here.
This event takes place after 21 June 2021, which is currently the earliest date by which the Government hopes that we will have entered Step 4 of the Roadmap out of lockdown. At step 4, the Government hopes to have removed all legal limits on social contact. 
It is possible that Step 4 takes place at a date later than 21 June 2021 and could affect this event. We will review the situation as things change and will advise members signed up to the event if there are changes necessary to ensure compliance with restrictions in place at the time of the event. 
If the event is unable to proceed sue to Covid-19 restrictions, a replacement date will be offered, or a full refund. 
We must all remember that COVID-19 remains a part of our lives. We are going to have to keep living our lives differently to keep ourselves and others safe. We must carry on with 'hands, face, space'. Comply with the COVID-Secure measures that remain in place. Meet outdoors when we can and keep letting fresh air in. Get tested when needed. Get vaccinated when offered. If we all continue to play our part, we will be that bit closer to a future that is more familiar.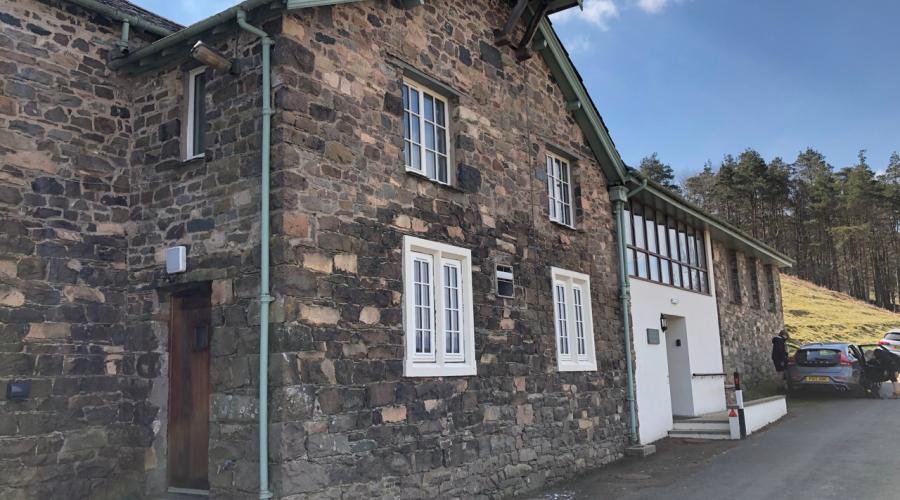 What to bring
As well as your hill-walking kit (see below), You should bring sleeping bag, pillow-case, and towel, as well as comfy clothes for the evening. A head torch is a good idea too. The venue doesn't supply tea towels or toilet roll - someone please remind the leader and / or come prepared just in case!
It's summer, so there's always the chance we might get to use our swimmers too.
For Walking:
Boots:  Hiking boots are arguably the most essential piece of kit when hiking just about anywhere.  Walker's should make sure that their boots are both waterproof and breathable, and provide good ankle support.  Boots should also be in good condition.
Socks: Walking socks are often overshadowed by those new to hiking, with many novices failing to invest in proper socks.  Good walking socks are essential in regards to keeping the feet dry, and in turn stopping the development of blisters.  Sports socks and other socks not designed for walking will often become waterlogged, or damaged which will in turn blister feet.
Gators:  Gators attach to the bottom of walking boots and extend to just under the knee.  They provide waterproofing for the bottom half of the leg, and are essential in keeping the feet dry.
Walking Trousers:  Walking trousers should be of a windproof design and made of a rip stop material, that will stand up to walking through ferns and undergrowth.  They should also ideally be water resistant, or at least not gain weight, and lose their insulation properties when wet.  Jeans are therefore to be avoided, as they are heavy when wet and provide no protection from the elements.
Waterproof Trousers:  Waterproof trousers are essential in keeping the legs dry, as water resistant trousers will not keep out any significant rainfall.  Walker's should look for waterproof trousers that are breathable, in order to avoid being soaked with sweat.
Base Layer: A breathable base layer should be chosen in order to let sweat escape from the body.  This should ideally consist of a breathable synthetic, specially designed fabric, though a cotton T-Shirt is sufficient.
Mid Layer: A Mid Layer goes on top of the base layer and should consist of a 100 weight micro fleece, or a rugby typed thick shirt.  The layering system is important as it allows walkers to quickly adapt to changes in the weather as well as body temperature.
Outer Layer: The outer layer should consist of a windproof jacket or a thick fleece.  This is the final layer and walkers should ensure that this layer provides ample warmth.
Waterproof Jacket:  A good waterproof jacket is one of the most important pieces of kit you will require when hiking.  Walkers should look for a jacket that is both waterproof and breathable in order for them to be protected from sweat.  Materials such as Gore-tex are often the best choices.
Hat: As most heat is lost through the head a good hat is essential.  The best hats are those of a fleece design, with wool also being acceptable.
Gloves: Gloves are essential in the colder months as walkers will require the usage of their fingers for various activities such as map reading.  Windproof or better still waterproof gloves are the best choice.
Rucksack: A good Rucksack that is comfortable to wear is essential, and required to carry both food and equipment.  Day sacks should have a capacity of around 30 litres with equipment being placed in water proof bags inside.
Emergency Equipment: A number of items should be taken in case problems occur whilst walking in the hills.  Emergency equipment becomes of greater importance the further from civilisation walkers are.  Equipment should include spare food stuffs of high energy, a survival bag, a whistle, a medical kit, a torch and something to make fire, either storm proof matches or a firelighter.
Food & Water:  At least two litres of water should be brought for each day hiking, with more being taken if cooking is required.  Enough food for the duration of a walk should also be taken.  Food should be of the high energy variety, with hot food being able to be eaten raw if necessary.
Map & Compass: A map of the area being walked in is essential as well as a compass.  The map should be in a waterproof bag or be of a waterproof design.
Mobile Phone: A mobile phone should also be brought and kept in a waterproof bag for use in emergencies.
Food & drink
Friday Evening: Arrive, meet the group and socialise. We'll be having a traditional OutdoorLads buffet for the evening meal, followed by a welcome meeting and a possible evening activity.  Please bring a buffet item to share.
Saturday Day: After breakfast (which is included in the event cost), we'll head out into the local hils for a good walk, perhaps with a stop off on the way for some refreshment in one of the local pubs, depending on the walk route! Be sure to bring plenty of food to keep you going on your day on the hill.
Saturday Evening: Hearty meal will be provided by event leader. Volunteers welcome for prepping and serving.
Sunday: After breakfast (also included in the event cost), we'll tidy up the hostel and then you are free to head out for a second day in the hills (you drove all this way!), or just a lazy Sunday lunch (not provided), before heading home.
Meeting & times
Aug 20 - pm