19 people attending
10 places left
Steep mountainous terrain.
Welcome to the oldest hostel in Wales in the stunning Ogwen Valley. This is the perfect place to explore the mountains of northern Snowdonia - we literally hit the footpaths right from the door. Tryfan, The Gldyers, Devil's Kitchen, The Carneddau; it's a proper roll-call of some of the biggest rocky attractions in the national park.
Our weekend here is dedicated to full-on mountain days, giving you the chance to get the most from this amazing landscape and push your own limits. You will encounter steep and uneven rocky paths, precipitous rocky steps, some high degrees of mountain exposure and potential discomfort if the weather is not kind to us. Your reward will be to conquer some of the finest, most beautiful mountains in the UK.
And when we've done all that during the day, there will be the chance to do it in the dark all over again in the evening, because we'll be leading a 2 hour night navigation walk, providing the chance to feel the full majesty of the mountains with none of the distractions of the daylight.
Later, back in the hostel, to mark the fact it is Valentines Day, we have developed a potentially award-winning party game; it could be a hoot.
There may be an extra leader willing to offer a low-level walk, but that's not really the point of coming to this location at this time of year, so don't bank on it. If you're really stuck for things to do, there is plenty to see by car - we're ideally placed for checking out the villages, castles and attractions of northern Snowdonia.
On the Sunday there will the option to do a another (shorter) walk, making the most of our weekend in this jawdroppingly divine place.
Dogs: Please note this event is not suitable for dogs.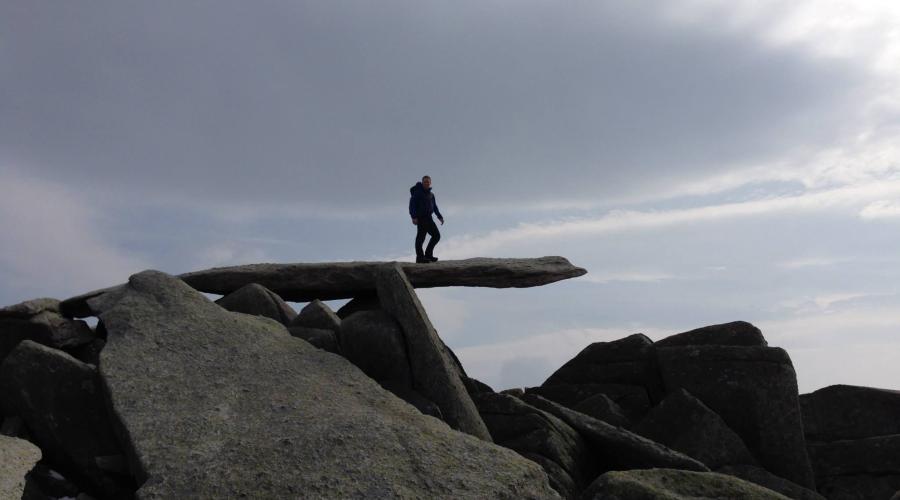 What to bring
Bedding is provided, but you will need your own towel, and of course clothing, wash kit etc for the weekend.
Walking from this hostel is in the mountains of Snowdonia, so you will need appropriate boots and clothing, bearing in mind that cold and wet weather may well play their part.
Here is our standard "mountain walks" kit list, to get you started:
Water: bring at least two litres in a water bottle, or better still, a hydration bladder
Medicines: if you have hay fever, diabetes, minor ailments etc.
Day Rucksack: typically 20-30 litres, they are comfortable to wear and allow you to use your arms freely
Waterproof bags: keep spare clothing, electronics and anything else dry even when your rucksack leaks by using Ziploc type food bags or, better still, outdoor activity waterproof bags
Boots:  waterproof and breathable hiking boots with good ankle support
Gaiters: recommended for wet weather or boggy conditions
Socks: proper walking socks will keep your feet dry and help prevent blisters, and carry a spare, dry pair
Walking Poles: always optional, love them or hate them, but give them a try and decide for yourself
Layered clothing: lets you quickly adapt to changes in the weather and body temperature. Go for a base layer (vest or t-shirt) and a mid layer (a micro fleece or shirt) and in cooler weather add an outer layer (a windproof jacket or thick fleece)
Trousers: no jeans as they become heavy and cold in the rain, breathable fabrics are more comfortable and dry and on warm days shorts are OK
Waterproof jacket: essential when hiking in all but the calmest of weather, breathable fabrics are more comfortable and dry.
Gloves: Windproof, or better still, waterproof gloves are the best choice, bring a spare pair if expecting rain.
Hat or cap: stay warm in winter and shaded in summer
Sunglasses: for any sunny day, even in winter
Sun cream: can be useful even on cloudy and winter days
Snacks: bring biscuits, energy bars, gels, bananas, chocolate or dried fruit for example and put them somewhere easy to get hold of
Lunch: bring a packed lunch unless otherwise stated
Emergency equipment: the walk leader will bring any emergency equipment required for the group, but you are welcome to bring any that you have, such as additional high energy food, a survival bag, a whistle, a medical kit, a torch.
Map and compass: the walk leader will have these, but if you like map reading or want to develop your skills, bring yours along
Mobile Phone: keep it in a waterproof bag for use in emergencies, and a spare battery/charger is a good idea
Food & drink
The event cost includes breakfast on Saturday and Sunday, dinner on Saturday evening and tea/coffee throughout the weekend.
For Friday night you are asked to bring a contribution to the buffet. Further details will follow from the event leader in due course.
You will need to bring items for your packed lunch on Saturday, plus any other drinks you'd like.
Meeting & times
Feb 14 - pm
Location
53.123476460924, -4.020191444683