Mount Triglav trekking and adventure week, Slovenia
10 people attending
4 places left
Event booking closes on Aug 28 at 16:00:00
8 action packed days including a 4-day trek
OutdoorLads is offering the opportunity to visit the beautiful country of Slovenia for a week of trekking and activities in the stunning Julian Alps. An action-packed week for just £1150 including all accommodation, activities, food and transport. This trip is being run by OutdoorLads Event Leader and International Mountain Leader, Nick Read along with an experienced Slovenian guide.
Our main objective will be to climb Mt Triglav, Slovenia's highest mountain and to trek in the surrounding Triglavski National Park. There are also lots of adrenaline filled activities planned for our last few days in the country. 
Slovenia lies in Eastern Europe bordering Austria and Italy to the North and Croatia to the South. The Slovenia Adventure Week offers all the best outdoor activities that Slovenia has to offer. Triglav is a low altitude peak (2864m) that involves some scrambling to reach the summit. The ridge is equipped with an iron walkway called a Via Ferrata to help us reach the top securely. A good head for heights and good walking fitness is required. During this four day trek we will be staying in mountain huts, similar to hostels and eating local cuisine.
After the four day trek in the stunning Julian Alps we will travel to Bovec to raft on the famous emerald Soca river. This river runs through Slovenia and Italy and eventually drains into the Adriatic Sea near Trieste. Our final night will be spent in a hostel in Ljubljana where there will be the opportunity to do some sightseeing in the capital of this friendly little country. 
This price for this action-packed week is only £1150 which includes 7 nights accommodation in hostels and mountain huts, all transfers and the activities listed in the itinerary and all food in the mountain huts. 
ITINERARY
Day 1  Arrival 9th September 2023
Transfer from Ljubljana Airport directly to Bled. Dinner in a local restaurant with traditional Slovenian food or Pizza. Accommodation at a hostel in Bled. 
Day 2 10th September
We will be canyoning in Bled & Bohinj area in Jereka gorge (easy) or Grmecica gorge (moderate level) near Bled. Upon return there will be time for lunch and a relaxing afternoon in Bled. Tonight we will have dinner in a traditional restaurant in Bled. 
 Day 3 11th September - Bled to Kredarica Hut (2500m)
After breakfast we will travel by bus to the Krma Valley.  We hike into the Krma Valley and onwards to Kredarica Mt Hut. It is a four-hour walk so we will eat lunch at the hut and rest.  
Day 4 12th September – Kredarica Hut to Triglav Lakes Hut (1685m)
After breakfast we will via ferrata climb to the top of Mt Triglav and then descend to lunch at Dolič Hut. After some rest and photos we will walk to Triglav Lakes Hut. Have dinner at the hut and overnight. 6-8hrs walking.  
Day 5 13th September - Triglav Lakes Hut to Krn Lakes Hut
We will walk from Triglav Lakes to Komna mountain hut. This is where we will stop for lunch before continuing through the Bogatin area and onwards to Vratca saddle. After crossing the saddle we descend to Krn lakes hut. This is where we will have dinner and spend the night.  5-6 hrs walking.
Day 6 14th September - Krn Lakes hut to Lepena valley and onwards to Bovec
We walk down from Krn Lakes into the stunning Lepena Valley. After visiting a few historical sites from WW1 we will be picked up and transferred to Bovec for white water rafting on the emerald Soca River. In the evening we eat and have a few drinks and our evening meal in Bovec. 
Day 7 15th September Bovec - Ljubljana
We will be transferred from Bovec to Ljubljana (3-4hrs) where we will be staying in a boutique hostel in the Metelkova district of Ljubljana. You will have some time to visit the imposing castles and pretty bridges of downtown Ljubljana before our final meal in Slovenia. The hostel will be in walking distance of the city centre. 
Day 8 16th September - Ljubljana to Home
We will be transferred to the airport to connect with your flight back to the UK. 
HOW TO BOOK
Bookings and Deposits: The full price is £1150. To book your place on this trip (or secure a place on the waiting list) please pay a £300 deposit direct to Pride Expeditions. This will secure your place on the trip. 
PRIDE EXPEDITIONS Ltd
Starling Bank
Sort Code:60-83-71
Account Number 19166775
Please message the Event Leader with your full name and email address in order to receive further documents.
On receipt of your deposit a confirmation email will be sent. Attached will be a comprehensive medical form for you to fill in as well as booking terms and conditions. Once six people have paid a deposit the trip will be guaranteed and further payments can be made in installments. If you cancel after the trip has been confirmed and bookings have been made in Slovenia you will lose your deposit. All monies must be paid by the 2nd of July 2023. Deposits are fully refundable until the trip is guaranteed and bookings are made at which point the terms and conditions will come into force.
Please be aware that it is the booking of the deposit that secures your place on the trip or waiting list, rather than booking onto the trip via the OutdoorLads site. 
We will meet in Ljubljana airport on the 9th September. The best flights are from London Stanstead with Wizz Air and are around £150 
IMPORTANT! - Participation Statement
You MUST complete a Participation Statement, in addition to booking your event space before attending an OutdoorLads event. You only need to complete this Participation Statement once, not for each event you attend. 
Anyone with COVID-19 symptoms, even if they are extremely mild, or who has recently tested positive for Covid-19, is asked not to attend.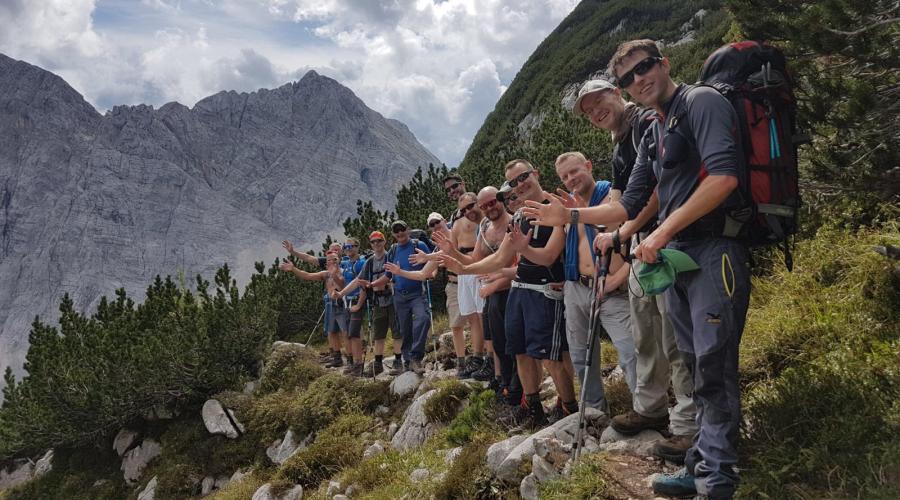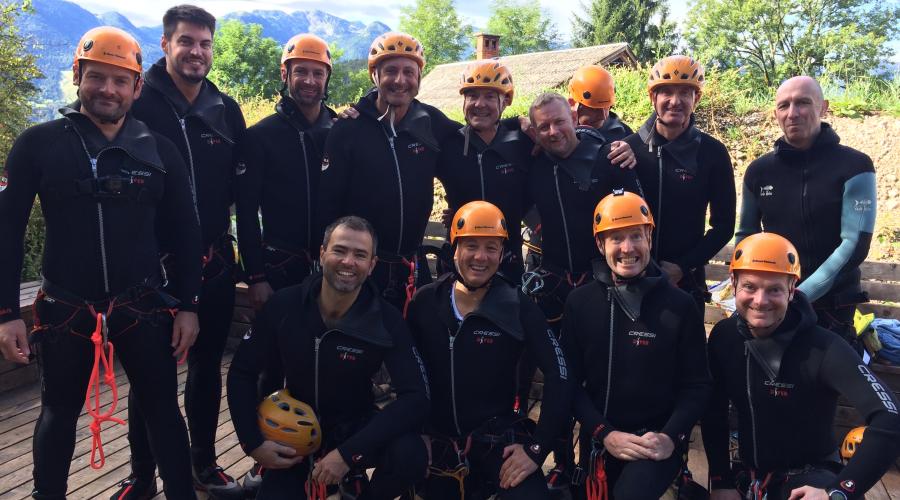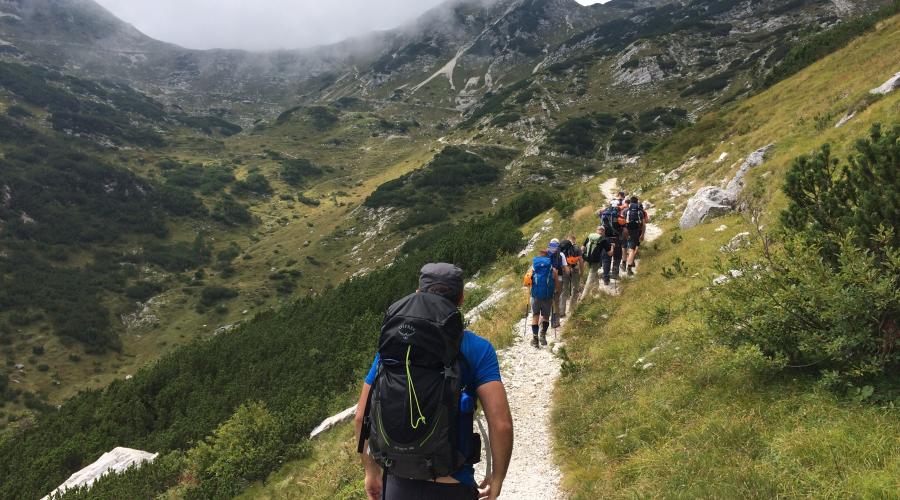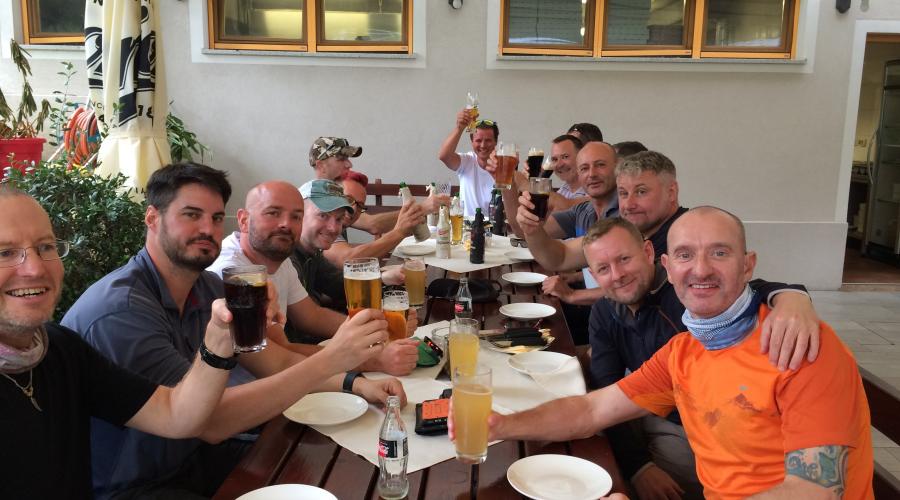 What to bring
All bedding is provided. Please bring adequate clothing for all the activities listed and your own towel. Wetsuits will be given to you for the canyoning and the white water rafting. You will need to carry a small bag containing your personal items and toiletries on the trek. A comprehensive kit list will be emailed to you once you have signed up for this trip. 
Food & drink
Most food is included in the price of this trip apart from lunches and the final meal at the end of the trip . We will be eating in local restaurants in Bled and Ljubljana and having food cooked for us in the mountain huts. 
Meeting & times
Sep 09 - pm