Micro Event: Devil's Chimney & Cloberley
10 people attending
0 places left
4 people waitlisted
Event booking closes on Apr 24 at 21:00:00
Distance is 13.8 km (8.6 miles); total ascent is 333 m; surfaces are dirt, grass and tarmac.
Current restrictions will need to change by the date of the event in order for it to go ahead. We will update closer to the time. 
We will start at Leckhampton hill, overlooking the spa town of Cheltenham, and walk up towards Devil's Chimney. It is a unique limestone formation above one of the disused quarries on the Hill. Named after its shape, the crooked and twisted chimney is one of the most visited local landmarks but its origin is shrouded in mystery, with the most probable cause being that it was a joke by the quarry workers in the 18th century.
Following the Cotswold Way we will make our way through Chatcombe Wood and onto Coberly. Originally founded in the medieval times it has been the site of many excavations in the roman villa in the valley to the north. Notably excavated in 2007 by C4's Time Team (S15-E11) where they found evidence of the Mosiac floor and some roman coins.
After Coberly we make our way back through the grounds of the National Star college before arriving back at the Leckhampton Hill carpark.
Dogs: Dogs under close control are welcome on this event, so long as owners are able to lift them over locked gates and high stiles.
IMPORTANT! - Participation Statement
You MUST complete the Participation Statement,  here, in addition to booking your event space before attending an OutdoorLads event. You only need to complete this participation once, not for each event. 
Micro Events – IMPORTANT, Please read the following before you sign up to this event:
Anyone with COVID-19 symptoms, even if they are extremely mild, or who lives or is in a support bubble with someone showing symptoms, is asked not to attend. This is in line with the government's coronavirus advice.
All are required to practice social distancing – staying 2m (not 1m) apart at all times, including the lunch stop.
Unfortunately, there won't be any planned pub / café stops en route or at the end, and please don't share sweets or snacks with others – we're sorry!
Please bring your own hand sanitising gel for your own use throughout the day. Use of face coverings is at your own choice, but please bring one with you just in case it's needed. 
Each person can only attend one OutdoorLads micro event a week. (Leaders to leave at least three days between events they lead.)
On walks, one person to hold open gates and allow everyone to walk through – so minimising surfaces that multiple people touch. 
Be aware that opportunities for toilet stops may be minimal if facilities are closed.
Please, please cancel at your earliest opportunity if you are unable to attend or are unwell, so that we can allow others to take up these valuable event spaces.
Much as it's difficult - no handshakes or hugs!
Micro Events Participation Statement
OutdoorLads draws your attention to the fact that travelling and being away from home increases the risk of receiving and transmitting Coronavirus, whilst it is present in the UK. You are likely to choose not to participate in OutdoorLads events whilst there is a risk of Coronavirus transmission. However, should you choose to participate in OutdoorLads events whilst the risk is present, you must be aware of and follow the law and government guidelines, both when travelling to and from events as well as when participating in events.
Please note that every person participating should be aware of (and accept) that those members perceived as 'in charge' or leading the event are not experts,  do not need to be experts, and are not regarded by OutdoorLads, or themselves as experts, but are amateurs with some experience in the event type and who are happy to impart their knowledge.  Any advice given should be considered with this in mind by the recipient.
By signing up to and attending an OutdoorLads micro event, you are confirming that you have read, understood and accept the content of this statement.
Please see our website for more information including an FAQ about our micro events.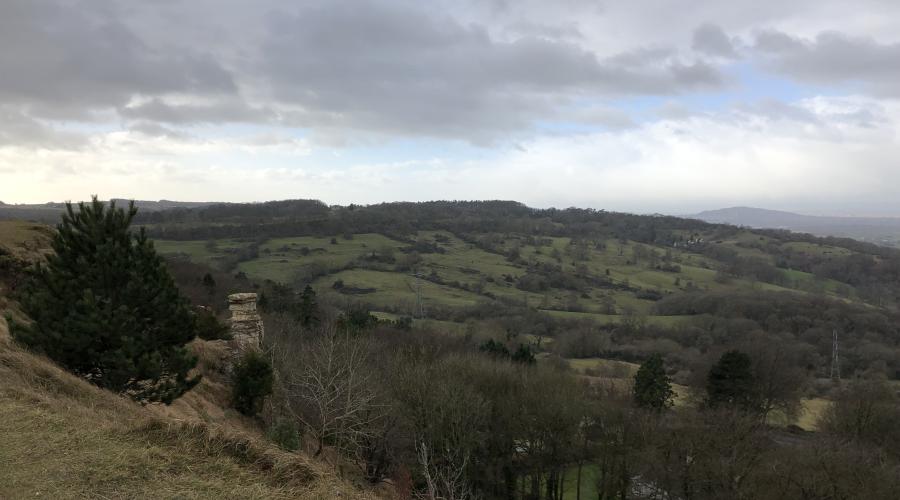 What to bring
Well-fitting, waterproof walking boots/shoes with thick socks are essential as there will be some mud.
If rain is forecast wear a coat, and if serious rain is, waterproof trousers. Consider wearing gaiters too. Avoid wearing jeans as they become heavy and chafing when wet.
If the weather is cold, bring a hat, scarf and gloves as appropriate and employ layering with a base layer, secondary layer, fleece and coat, perhaps insulated. The hill can get cold and very windy so please expect that and plan accordingly.
Food & drink
Please pick a packed lunch, we will decide on the day when and where we want to have it.
Please bring plenty of drinks and snacks as needed.
Meeting & times
Apr 25 - am