Longdown-Lyndhurst Circular
20 people attending
0 places left
2 people waitlisted
Distance is 19 km (12 miles); total ascent is 164 m; terrain is gently undulating; surfaces are dirt, grass, gravel and tarmac.
This walk will have the richest colour palette. The bracken will be bronze, the birch leaves saffron, the pine trees emerald, and the moss, well, moss. We'll set out across the Forest over crunching leaves and bubbling bogs to see this mysterious and magical medieval hunting ground in its seasonal splendour. All of the New Forest's landscapes will be seen: from bog and stream to heath and wood, from grazed grasslands and enclosed parklands to oak thicket and pine plantation, while at the centre of it all, and at half-time and lunchtime, we'll see the 'capital' of the Forest: Lyndhurst. 
The first half of our route involves heading west to Lyndhurst. We'll walk through Longdown Inclosure, over the railway line, across Matley Heath and along a path parallel with the Beaulieu Road over White Moor to the beauty spot on Bolton's Bench which is just outside the built-up area of Lyndhurst. This stretch of the walk contains some of the best scenery in the Forest. 
Lyndhurst is the administrative and cultural focus of the Forest. The lower High Street has abundant Victorian mock-Tudor buildings in rich red brick and timber-framing, while the upper High Street has many fine Georgian ones. The Arts and Crafts church of St Michael and All Angels stands on a hill, its 50 metre high spire surveying the scene. Built by William White in polychrome brick, its fittings include windows designed by William Morris and Edward Burne-Jones and a fresco by Frederick Leighton showing the Parable of the Wise and Foolish Virgins, with biblical characters said to be modelled on local people. 
However, it is the Queen's House (formerly the King's House) that is the most important building in the village. Owned by the Crown since the early middle ages, it contains the Verderers' Hall, home of the ancient Verderers' Court (which settles disputes between commoners in the Forest) and the headquarters of the Forestry Commission. The building has been repeatedly rebuilt with much of the present structure dating from the time of Charles II. 
After an hour for lunch in Lyndhurst in which we can (if possible) eat at a pub or a café or have a picnic on a bench, we'll set off back through the Forest, southeast along Beechen Lane, east through Park Hill, across Denny Wood and over Black Down, then north along the pens for animals being shown at the New Forest show (we could stop at The Drift Inn nearby), under the railway line, east along Withycomb Shade (the upper course of the Beaulieu River), and then north back to the car park. 
Dogs are welcome to join us on this event but we do ask the following: please ensure you adhere to the Countryside Code at all times (see Keeping Dogs Under Effective Control) If your dog is uncontrolled and strays in open land frightening other animals or livestock, the leader is supported by the OutdoorLads board of trustees to ask you to leave the event as this is not acceptable behaviour.
COVID-19  – IMPORTANT, Please read the following before you sign up to this event:
Anyone with COVID-19 symptoms, even if they are extremely mild, or who lives or is in a support bubble with someone showing symptoms, is asked not to attend. This is in line with the 

government's coronavirus advice.

You must also immediately self-isolate and not attend the event if you or someone in your household or support bubble shows coronavirus symptoms or tests positive. You can find the

NHS self-isolation guidance here.

The main symptoms of COVID-19 are a high temperature, a new continuous cough, and a loss or change to your sense of taste and/or smell.

You may be subject to local lockdown restrictions, which you must fully comply with. Details of the location of these restrictions can be found here for

England,

Scotland

,

Wales,

and

Northern Ireland. 

 

We do not encourage car sharing to events during the pandemic. Please comply with the safety travel guidance for

England

,

Wales

, and

Scotland.

Face coverings should be worn on public transport.

OutdoorLads will support the tracing systems in place across the UK  and attendance at an OutdoorLads event is considered permission to use contact details for this purpose if requested by the appropriate authority.  

All are required to practice social distancing – staying 2m (not 1m) apart at all times, including the lunch stop. Remember: Face, Hands, Space.

Unfortunately, there won't be any planned pub / café stops en route or at the end, and please don't share sweets or snacks with others – we're sorry!

Please bring your own hand sanitising gel for your own use throughout the day. Use of face coverings is at your own choice, but please bring one with you just in case it's needed. Please bring any other PPE items required. Bring a disposable bag for any used PPE.

Members are advised to bring their own small first aid kit for personal use..

Be aware that opportunities for toilet stops may be minimal if facilities are closed.

Please, please cancel at your earliest opportunity if you are unable to attend or are unwell, so that we can allow others to take up these valuable event spaces.

Much as it's difficult - no handshakes or hugs!
COVID-19: Events Participation Statement
OutdoorLads draws your attention to the fact that travelling and being away from home increases the risk of receiving and transmitting Coronavirus, whilst it is present in the UK. You are likely to choose not to participate in OutdoorLads events whilst there is a risk of Coronavirus transmission. However, should you choose to participate in OutdoorLads events whilst the risk is present, you must be aware of and follow the law and government guidelines, both when travelling to and from events as well as when participating in events.
Please note that every person participating should be aware of (and accept) that those members perceived as 'in charge' or leading the event are not experts,  do not need to be experts, and are not regarded by OutdoorLads, or themselves as experts, but are amateurs with some experience in the event type and who are happy to impart their knowledge.  Any advice given should be considered with this in mind by the recipient.
By signing up to and attending an OutdoorLads event, you are confirming that you have read, understood and accept the content of this statement.
Please see our website for more information including an FAQ about our events.
(Image credits: Track on White Moor by Hugh Venables; Denny Inclosure, gate by Mike Faherty; Trees on the heath near Deerleap car park, New Forest by Jim Champion; New Forest track near Longdown Inclosure by David Martin; Forest track, Deerleap Inclosure by David Martin; Sunlight through the trees by David Martin; Autumnal oaks on Matley Heath, New Forest by Jim Champion; High Street, Lyndhurst by G Laird; St Michael & All Angels, Lyndhurst - Sanctuary by John Salmon; Park Ground Inclosure, forestry track by Mike Faherty; Matley Heath by Mike Smith; Cattle near Longdown car park, New Forest by Jim Champion. All pictures are attributed to their copyright holders and are licensed for re-use under Creative Commons BY-SA 2.0. Remaining pictures were taken by the leader.)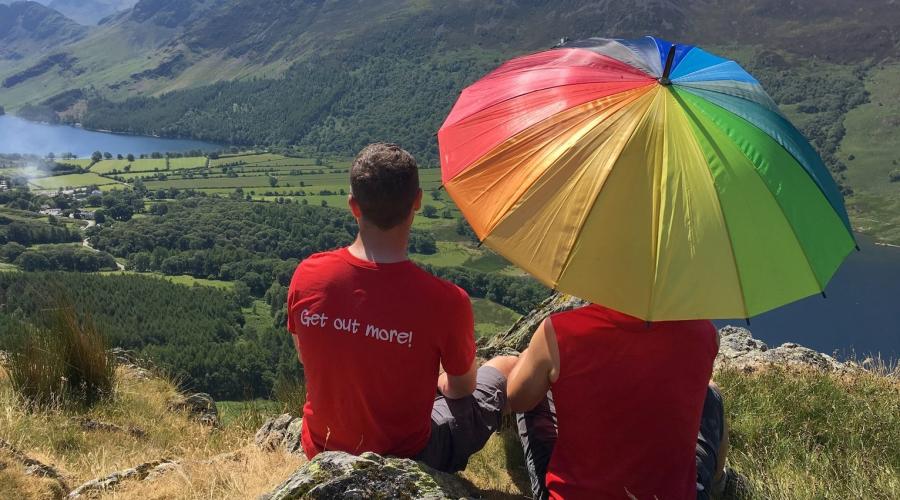 What to bring
For your comfort and safety please be prepared for the anticipated weather and the terrain of the walk - keep in mind the following:
Boots: hiking boots that are both waterproof and breathable, and provide good ankle support, are important as soon as you encounter any mud. Stout waterproof walking boots are essential as some of the forest may be boggy. 
Socks: proper walking socks keep your feet dry, and help prevent blisters.
Walking trousers: (ideally water resistant) will be more comfortable than jeans which are heavy and cold when wet.  From April to October shorts are usually a better bet.
Waterproof over-trousers: essential in any significant rainfall. Breathable ones are best.
Layered clothing: allows you to quickly adapt to changes in the weather as well as body temperature. E.g. a base layer or a cotton T-Shirt; a mid layer like a micro fleece, or a rugby type thick shirt,  and in cooler weather an outer layer consisting of a windproof jacket or a thick fleece.
Waterproof jacket: essential when hiking in all but the calmest of weather.  You get what you pay for with these. Breathable fabrics are advisable.
Hat: essential in summer to prevent sunburn and heatstroke.
Small rucksack: one that is comfortable to wear is essential so that you can use your arms freely. Place valuables in water proof bags inside.
Sunglasses: April-Sept: comfortable sunglasses enhance your pleasure and keep insects out of the eye.
Water: even in winter one can loose a litre or more of fluid by perspiration. If you fail to make this up you'll get dehydrated which can lead to headaches and other problems. A hydration bladder is easier to use than bottled water, but higher maintenance.
Food: lunch can be brought along or bought in Lyndhurst In addition carry energy bars or similar to counter 'sugar lows'.
Medicines: if you have allergies, are diabetic, or have minor ailments don't forget these!
Food & drink
Please bring with you or buy in Lyndhurst a packed lunch, or have lunch at a café or pub in the village if these are open. We will have an hour for lunch. There is also The Drift Inn on the Beaulieu Road in which we could have a pint.
Meeting & times
Oct 24 - am