Late Summer Camping in Snowdonia
9 people attending
1 place left
Easy camping but a relatively challenging 11 mile / 18km walk with plenty of elevation gain is planned - suitable for anyone with a good level of fitness.
** We can still accommodate extra attendees beyond the current limit of 10 - Join the waiting list and message the leader to confirm your place **
In 1832 the poet Richard Llwyd wrote of Snowdon that, at its summit, you are a bit closer to heaven:
We are now on the summit of Snowdon,
"Yn nês i'r nèn, ac uwch ben byd."
Approaching heaven, and above the world.
Join us for late summer weekend camping in heart of Snowdonia.
At the head of Llyn Gwynant lake, in magnificent surroundings right below Snowdon itself, the Llyn Gwynant campsite is a perfect base for exploring the summits Snowdonia.
The main event on the Saturday will be a relatively challenging walk to the summit of Mt Snowdon (Yr Wyddfa) via Yr Aran, Allt Maenderyn (the South Ridge) and the narrow Bwlch Main as we near the summit of Snowdon - several big summits in one day walk, with some short sections that require the use of your hands!  This walk is suitable for anyone with a decent level of fitness. 
For those who don't need to rush away on Sunday, a shorter walk around Beddgelert, taking in Cwm Bychan and Llyn Dinas, is on offer, or perhaps a paddle.  
Kayaking and Canoeing
Llyn Gwynant campsite is bounded by lake and river and is ideal for paddling fun. Kayaks or Canadian canoes can be hired by the hour, so a paddle on the lake would make a great early evening activity after walking, or on Sunday.   
Campsite Facilities
Llyn Gwynant is a well-equipped campsite with above average facilities, although it can get busy in summer months.  For more information on the campsite facilities, please review the "What to Bring" section below. We will have sole use of the group pitch called "Pen Helen West", in the SW corner of the campsite, next to the river.
For information on externally catered breakfasts and / or evening meal options (pizzas) - for those who'd prefer not to cook - see the "Food and Drink" section below.
ITV "COAST & COUNTRY" FILMING
An ITV journalist named Susan Ridd and cameraman will be joining us on our day walk on Saturday 7 September to film for ITV Wales' "Coast & Country" programme, a 30 minute programme that covers all sorts of outdoor life in Wales. The plan is for Susan to chat to a number of attendees as we go along, hearing your stories - why you joined ODL and what you get out of it.  She will be focussing on the mental and physical health benefits of getting outdoors. Susan is really personable and I think she'll make everyone feel comfortable, but, obviously, if anyone doesn't wish to be filmed or interviewed, that's perfetcly fine - just let Skip know when you arrive on the Friday.
Campervans, motorhomes and caravans:  
Cannot be located on the tent camping field and will need to be pitched on a separate hard standing area. To enquire about availability, contact the OutdoorLads office on support@outdoorlads.com. There will be an additional cost involved. 
Four-legged friends
Well behaved dogs are allowed as long as they are kept on a lead and are looked after by their owners at all times. A £2.00 fee per night is payable for each dog.
Image credits: Photo 1 and 2 - Leader photos used with permission; Photo 3 - Yr Aran a'r Grib Ddeheuol o gopa'r Wyddfa - Aran and South Ridge from Snowdon Summit © Parc Cenedlaethol Eryri / Snowdonia National Park and licenced for reuse under this Creative Commons Licence.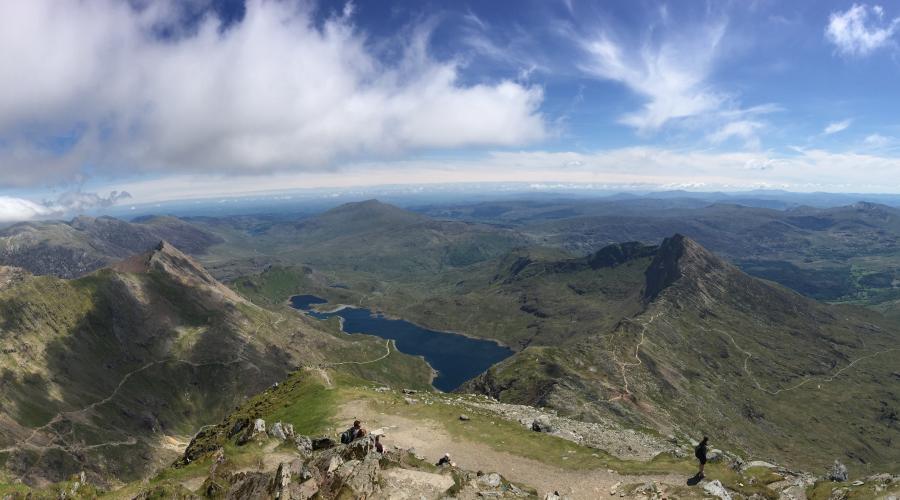 What to bring
Walking Kit:
As ever, even though it's late summer, the weather may be unpredictable. Please ensure you have adequate layers to keep warm and waterproofs to keep you dry.  Although the paths themselves mostly are well-trodden and maintained, it may be a little wet and muddy underfoot after rain, so you'll need decent boots.
Please review the information provided on the My First Walk Event page on the ODL website for more information on walking kit. 
Note that this is only a guide and you will need to consider the weather forecast. 
Tent:
A tent is, of course, essential!  You should make sure that you have pitched the tent previously, and have all parts, such as poles and pegs. The tent should also be able to stand up to the changeable weather.  A 3-season tent is recommended to provide a minimum levels of protection.  The event leader has a spare 1-2 person tent (and a sleeping bag) that you can borrow if you're keen to camp but don't yet have a tent.
Sleeping Bag / Mat:
You should look for a sleeping bag that provides adequate warmth, below the temperature that you may expect.  A decent sleeping mat is also essential – a 'thermarest' inflatable mat or a thick rubber yoga-style mat is essential to insulate you from the cold of the ground.
Cooking / Eating Equipment:
Campers should bring some kind of cooking equipment so that they can cook hot meals and prepare a decent cuppa.  Check you have fuel for your camp stove and you know how it works.  The bare minimum for eating is a mug, bowl or plate and cutlery.  Additional equipment such as chopping board, sharp knife, grater, wooden spoon, etc. depending on what you plan to cook.
Even if you plan to drive to the pub to eat, it's worth having some cooking equipment to prepare breakfast and hot drinks.
Washing-up Equipment:
Sponge / scourer, detergent and tea towel
Don't forget a torch, or better still, a head torch
If you're unsure about any of the items in the kit list, or wish to borrow a tent, please contact Skip. 
Campsite Facilities:     
The campsite consists of several camping fields beside a lake and a stream.
Facilities on site include:
Flush toilets
Wash basins with hot water
Shower facilities
Washing up points with hot water
Waste bins and recycling
Drinking water is readily available
Campfires are allowed, as long as they are on the steel fire-pits available onsite (so as not to damage the grass) and are with wood bought from the campsite wardens. The use of the fire-pits is free.
More information on campsite facilities is available on the Llyn Gwynant Campsite website.
Food & drink
As this is a camping event, please bring all your own food and drink for the weekend.
At the very least you will need food for two breakfasts at the campsite and also a packed lunch for Saturday's walk.
You may choose to cook at your tent, alternatively you may wish to make use of the onsite catering options for evening meals (see below).  Note that no pubs are within walking distance from the campsite. Beddgelert is 5 miles away and Capel Curig a little further in the opposite direction. 
Breakfast Option: Cegin Gwynant
Cegin Gwynant (Gwynant Kitchen) withi the campsite offers breakfast, lunch and packed luch packs every day in the summer, from 7.00 am till 2.30 pm, with espresso coffee and tea, fresh warm rolls and pastries as well as baps and other hearty breakfast options available.
Evening meals: Jones Pizza Co.
Jones Pizza Co has been selling their famous wood-fired pizzas from the campsite since 2012. They are made with imported Italian flour and follow a traditional Neapolitan recipe. These authentic Italian pizzas are made in a large oven and sold from one side of Cegin Gwynant, the new building that replaces previous gazebos and tents. 
Pizzas: On offer are freshly made pizzas, which range in price from £7.95 for a vegetarian Margherita (tomato, vegetarian parmesan, mozzarella & fresh basil, through to £9.95 for a Napolitana (tomato, tomato, vegetarian parmessan, mozzarella, anchovies, kalamata olives & fresh basil), to £11.45 for The Boss, (tomato, vegetarian parmesan, mozzarella, Tealy Farm free range salami, Rhug Estate free range ham, & fresh basil) with many other options in between, see the full menu for more: Jones' Pizzas menu
Evening meals are served from 6.00 pm, finishing at 8.30 on quiet days and 10 pm when the campsite is busy.
Note:  the leader will confirm the availability of the various food options in the pre-event briefing message one week before the event.
There are no shops near the campsite, alhtough the campsite shop in reception stocks fresh milk, eggs, butter, cheese and bread as well as some fresh fruit and vegetables.  The closest shops of any consequence are in Beddgelert and Betws-y-Coed.
Meeting & times
Sep 06 - pm
Location
53.051739150558, -4.017391204834