The Glen Creran Munros - Day 1
12 people attending
0 places left
1 person waitlisted
Event booking closes on Jul 31 at 22:30:00
13km (8 miles) with 1240m of ascent
Join us for the first of two mountain walks in the beautiful Glen Creran area of Argyll.
Saturday's walk will take us up Beinn Sgulaird (937m) - a solitary Munro climbed from almost sea level with some relatively straightforward scrambling along the way. With its multiple tops we'll be very glad when we finally see that summit cairn!
Flanked by Glen Creran to the NW and Glen Etive to the SE, its commanding position overlooking Loch Linnhe and the Firth of Lorn will afford some fine views of the islands of Lismore and Mull as well as a less than usual aspect of the Glencoe mountains.
Why not make a weekend of it and join us on Sunday too to climb its north-eastern neighbour Beinn Fhionnlaidh? There are a number of campsites or B&Bs along the coastal stretch between Connel and Ballachulish or youth hostels slightly further afield in Oban and Glencoe.
OutdoorLads Events Calendars
You can now go directly to our Scottish events calendar by bookmarking the following link:-
New Event Notifications
If you'd like to hear about similar events in future then you can subscribe to our Social Media & Instant Messenger channels by clicking the links below:
Photo Credits: -
Summit cairn, Beinn Sgulaird
cc-by-sa/2.0 - © Peter S - geograph.org.uk/p/5424102
Beinn Sgulaird and the Glens
cc-by-sa/2.0 - © Adam Ward - geograph.org.uk/p/6361533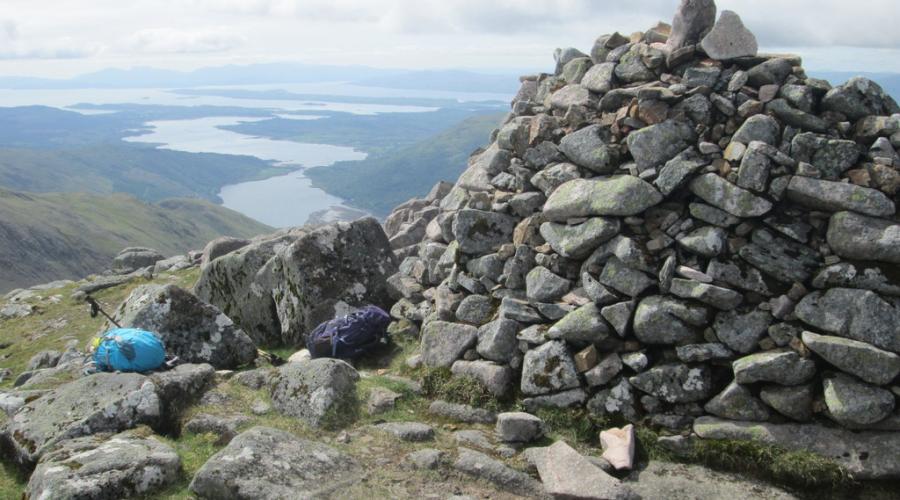 What to bring
In Short:
Please pack according to the weather. The route may be muddy in places, hiking boots, waterproofs, warm clothing, a small rucksack, food and drink are recommended.
More Detail:
Boots:  Hiking boots are arguably the most essential piece of kit when hiking just about anywhere.  Walkers should make sure that their boots are both waterproof and breathable, and provide good ankle support.  Boots should also be in good condition.
Socks: A good comfy pair of walking socks is essential really; they keep your feet warm and drier than normal socks.
Gaiters:  Gaiters attach to the bottom of walking boots and extend to just under the knee.  They provide waterproofing for the bottom half of the leg.  They are not essential to have but you will feel the difference if you have them when walking through muddy or boggy ground - which is almost guaranteed in Scotland.
Walking Trousers:  You should have a suitable pair of trousers for walking in, jeans are not suitable as they take on water when wet and will make you cold.  The same goes for jogging pants/tracksuit clothing.
Waterproof Trousers:  Waterproof trousers are essential in case of wet weather. They are also good to be worn as a second layer as they can act as a windproof barrier, keeping the legs warm.
Base Layer:  A breathable base layer should be chosen in order to let sweat escape from the body.  This could be a cheaper sports top or you could go top of the range with a merino wool top. Avoid cotton T-Shirts as these will become damp and uncomfortable when climbing a mountain.
Other Layers:  On top of your base layer, you can have a variety of options such as a micro fleece, a fleece jacket or a rugby/sports top can sometimes be good.  Having one or two additional layers gives you flexibility when the weather is changeable – the more layers, the more flexible you can be in adapting to the weather.
Waterproof Jacket:  A good waterproof jacket is one of the most important pieces of kit you will require when hiking.  Walkers should look for a jacket that is both waterproof and breathable in order for them to be protected from sweat.  Materials such as Gore-tex are often the best choices but they can be expensive unless you shop sensibly, don't forget your OutdoorLads discount for Full Members at Cotswold outlets.
Hat:  As most heat is lost through the head a good hat is essential. Consider carrying a second one in case your first blows away (it happens).
Gloves:  Gloves are essential in the colder months, windproof or better still waterproof gloves are the best choice. Consider carrying a second pair in case your first ones get wet or blow away.
Rucksack:  A good Rucksack that is comfortable to wear is essential, and required to carry both food and equipment.  Day sacks should have a capacity of around 30 litres.  As an option you could store your items in waterproof bags inside just in-case or ensure the bag has a waterproof bag to pull over the top.
Emergency Equipment:  The leader of the group will normally carry some emergency items, but you are welcome to bring your own such as spare energy food, survival bag, personal first aid kit, head torch and a whistle.  It is not essential that you bring all or any of these items but it will do no harm if you do bring.
Map & Compass:  If you want to learn to be a leader or you just like to know where you are, then you can bring a map that covers the area.  If you are not sure which map to bring, just message the leader.  It is best to bring your map either in a map case or purchase maps which are waterproof.
Mobile Phone:  If you choose to bring your phone, then you are well advised to buy a waterproof bag or if that is not possible a simple food/freezer bag will suffice.
Food & drink
Bring a packed lunch and ensure you also have plenty of water and spare food in your rucksack.
Meeting & times
Aug 01 - am
Location
56.555209342353, -5.2416222827612