BIRMINGHAM Indoor Bouldering - LGBTQ+ Friday
4 people attending
4 places left
There are no rope skills to learn! Suitable for all abilities.
This really sociable event is for anyone who identifies in the LGBTQ+ community, or their allies. It is a social session facilitated by the Depot Birmingham staff team.
The centre start with a 'Meet & Greet' session in the reception area (with a free cup of tea or coffee) for anyone who is joining the session & would like to meet other members of the community! So, feel free to come along for that, or if you'd prefer to just come for climbing, that will start shortly after 7pm. The night aims to create new friendships & build community.
These 2-hour sessions are led by the staff team at Depot, so you can be sure to pick up some tips & tricks from the team & each other, as well as climb with a safe community. This is a space for those who identify as well as allies! You can do as much, or as little, climbing (or chatting) as you want!
Indoor climbing centres offer the challenges of climbing that you'll find on natural rock crags - simply indoors! These days, indoor climbing & bouldering are also a separate sport in themselves. It's a fun way to stay fit, make new friends & develop your climbing skills.
Depot Climbing Birmingham
The Depot Climbing Centre in Birmingham is an indoor bouldering centre that has over 1000 square metres of climbing surfaces graded from V0 to V10 as well as a dedicated beginner's area & separate upstairs training area with equipment like circuit, campus, peg & wall boards, Beastmakers & much more! The centre also has a dedicated climbing shop & café.
If you haven't been before, please take a look on the Depot Climbing Birmingham website.
What is Bouldering?
Instead of tackling long high routes, the 'problems' (as they are referred to) are shorter & focus on technique, balance, body positioning & sometimes power. With the different emphasis, bouldering doesn't have the hassle of climbing with ropes, so it's an excellent (but not necessarily easier) activity for newcomers to the sport. Bouldering is often regarded as the 'purest' form of climbing.
If you're a seasoned climber you won't need convincing about the benefits of bouldering, but for those who've never climbed more than a staircase, the benefits are wide ranging. Improved physical strength, muscle tone, balance, power, coordination, mental problem solving, focus, concentration, body awareness, sense of achievement & feeling like body & mind are working together perfectly are just some of the benefits you might get!
Bouldering can be a very social sport where you can hang out with like-minded people & each have a go at the various problems as you feel - regardless of what level you currently climb at! In the words of Theodore Roosevelt: "comparison is the thief of joy"!
New to Bouldering?
If you have never tried bouldering before, then this event is ideal for you as these 2-hour sessions are instructor-led, so you can be sure to pick up some tips & tricks from the Depot Birmingham team, as well as climb with a safe community. The instructor(s) will go through everything you will need to know to boulder safely before joining in with the rest of the group.
Experienced at Bouldering? 
If you enjoy working on the problems together or learn from watching other climbers, then this event is perfect for you, & is a great way to pick up some tips & tricks whilst meet new people to climb with; both within Outdoorlads & also within the wider LGBTQ+ community!
The event ends around 9pm, but the centre is open until 10pm if you have the energy to do a bit more! 
To come along, you will need to register via this event page!
To climb at Depot Climbing Birmingham you will need to:
Watch the Online Induction Video.
Read the Conditions of Use before completing a registration form.
Complete an Adult Unsupervised (18+) Climber Registration Form.
Optionally pay the Annual Membership Fee (currently £5, saves money on entry & is valid across all Depot sites). When you register, you'll also be given a swipe tag for check-in/check-out & for gaining security door entry.
Pay an Entry Fee directly to the climbing centre:

Member Entry is £10 / Non-Member Entry is £11.
Concession Entry & Monthly/Annual Passes are also available.
A ten-admission Punchcard is £85 (no time limit on use).
Please see their website for current prices & note that prices are subject to change.
It is essential that all members sign up through the event page to make sure the event leader has all information of the members attending.
If you have any questions or need any more information just get in touch with the event leader by clicking on their profile below, or take a look at the My first bouldering event page for more information.
IMPORTANT NOTES FOR NEWCOMERS:
You'll need to fill in a quick digital form before you climb. The easiest way to do this is online before you visit. Alternatively, you can use the iPad at reception when you arrive.

When you get to the centre, the staff will ask if you have watched this Online Induction Video & will ask you a series of questions about the video to check that you have understood the contents. You will be able to ask questions at this point.

Adults can complete the Adult Unsupervised (18+) Climber Registration Form once they have watched the video & read the Conditions of Use poster.

Please watch the Induction Video, read the Conditions of Use & complete the Registration Form at home [prior to the event where possible] to save time.
PLEASE NOTE: Every person participating should be aware of & accept that those members perceived as 'in charge' or leading the event are not necessarily qualified, do not need to be qualified & are not regarded by Outdoorlads, or themselves, as 'technical experts' but are amateur boulderers with some experience & who are happy to impart their knowledge. Any advice given should be considered with this in mind by the recipient. 
All those attending the event must also be aware of the climbing centre's own terms & conditions of participation & abide by them, along with any instructions given by the centre's staff. Everyone must also take responsibility for their own safety while participating in Indoor Bouldering events.
Photos: Photos taken by Kevin Jones & used with permission.
IMPORTANT! - Participation Statement
You MUST complete a Participation Statement, in addition to booking your event space before attending an OutdoorLads event. You only need to complete this Participation Statement once, not for each event you attend.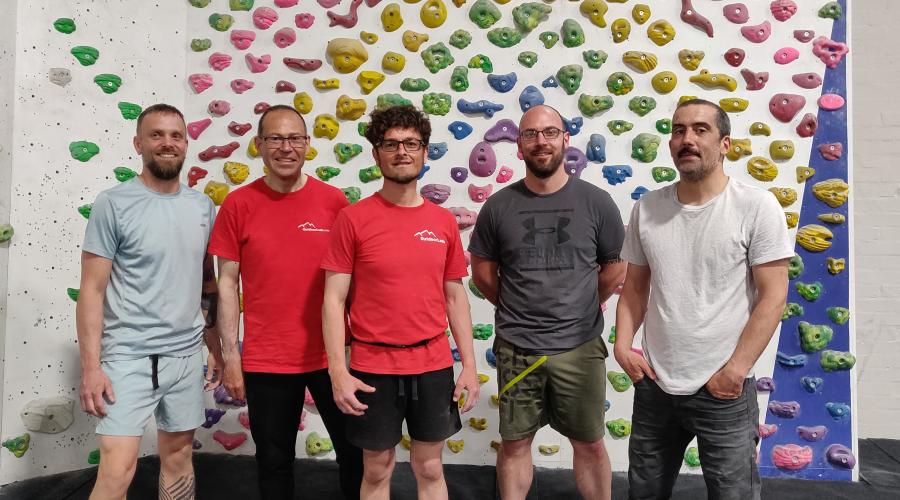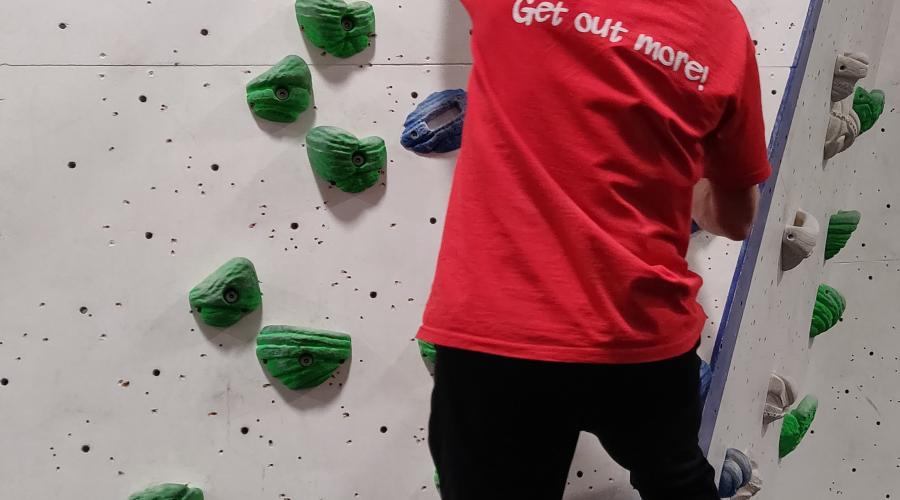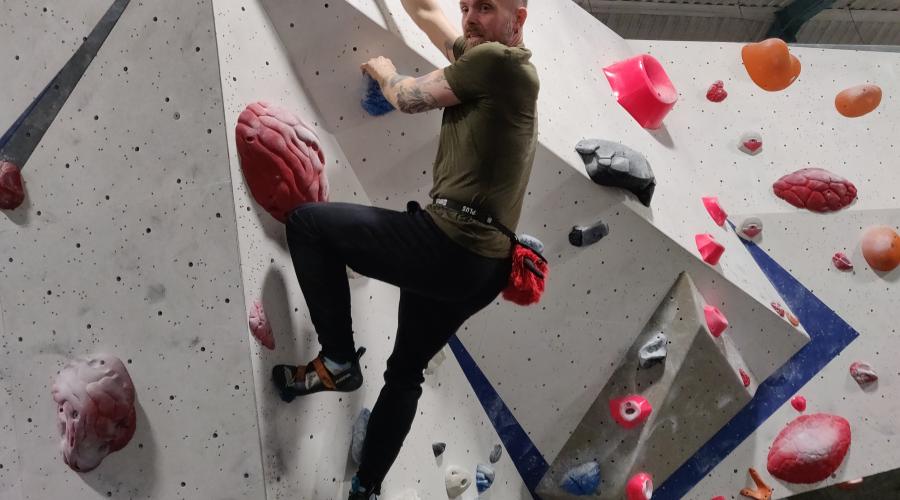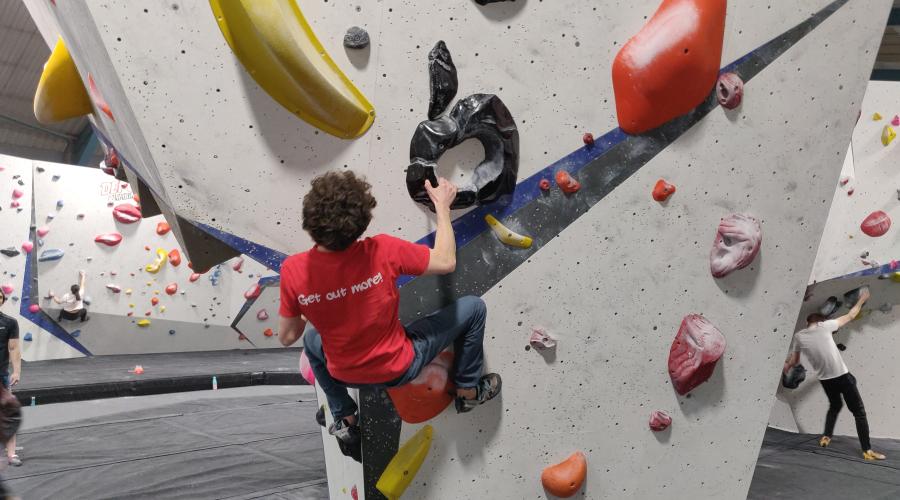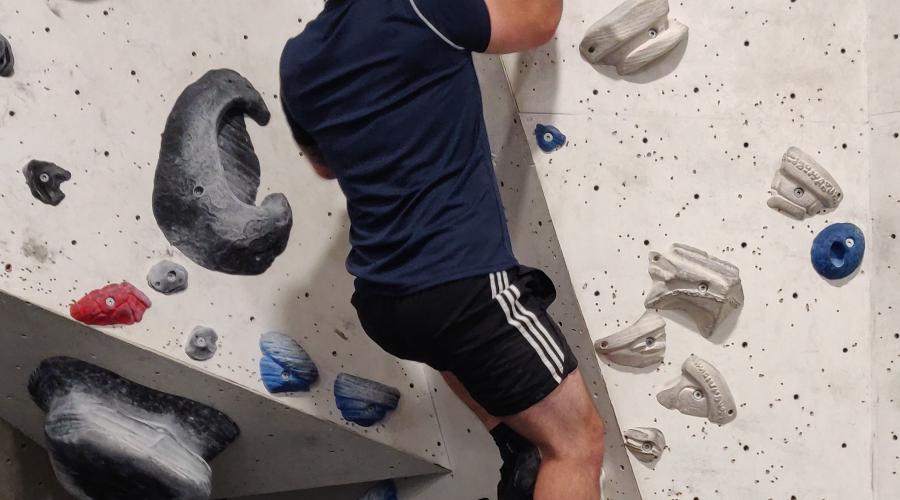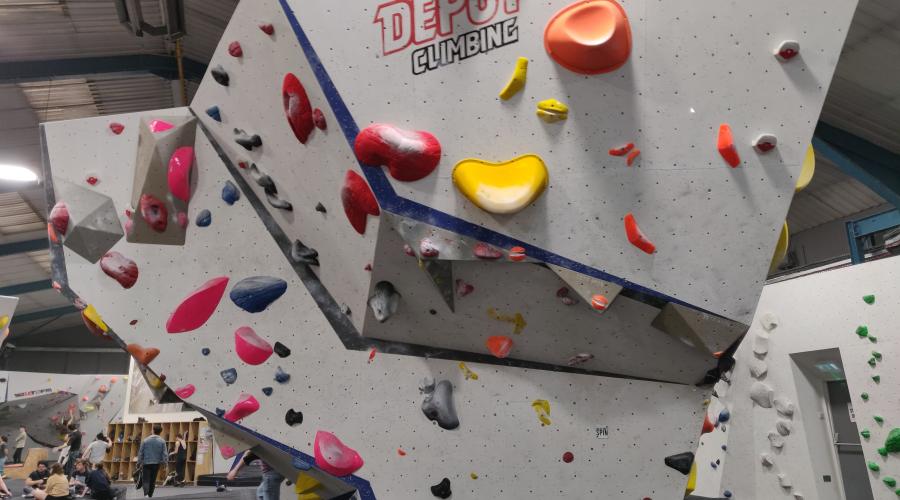 What to bring
BOULDERING EQUIPMENT
You don't really need much equipment to get started in bouldering! At minimum you will need the use of a pair of rock climbing shoes. If you do not have your own, you will be able to hire some rock climbing shoes directly from Depot Climbing Birmingham for £3.50. Please see its website for current prices (prices are subject to change).
WHAT TO WEAR
There is a changing area with lockers available (bring your own padlock) downstairs. Alternatively, you can use the shelving units available in the main climbing area to store your belongings (please note that all property is left at your own risk). There is also one shower in the disabled toilet should you wish to use that afterwards!
It is best to wear shorts, combats or tracksuit bottoms & a t-shirt or vest (preferably ODL branded!). Avoid tight fitting clothing which hampers movement. All jewellery (such as rings, watches, chains or bangles) should be removed before climbing in order to avoid injury to yourself or other climbers. 
During the colder months of the year, it might be best to bring additional layers to keep you warm in-between climbs as climbing centres are not the warmest places during winter.
Rock shoes are best worn barefoot & should fit snuggly. However, if you are using hire shoes, you may wish to wear socks with these for hygiene purposes!
Food & drink
Depot Climbing Birmingham has a café that sells a selection of snacks & drinks. There are water fountains available near the toilets & changing rooms.
Meeting & times
Dec 01 - pm