Between the Sea & the Mountains
14 people attending
0 places left
Event booking closes on Sep 21 at 22:00:00
The walk is likely to involve hills/mountains, but is optional of course.
Join us for a small, late summer camp (2 nights) on the North Wales coast, on the edge of the Carneddau mountain range. Our campsite is on a restored Victorian farm in the village of Llanfairfechan. we have the village shops on our doorstep, the railway station is only a 10 minute walk away and, most importantly, we are at the foot of the largest area of continuous upland south of Scotland.
Coastal and mountain walks are options for us, including the renowned and beautiful Aber Falls. The Aber Falls distilliary is also nearby. The intention will most likely be to offer a full day's walking on Saturday and a shorter walk/lunch stop on Sunday morning.
We will have exclusive use of this small, peaceful campsite. There are the usual toilets and showers, as well as a covered barn area for us to shelter in if the weather is against us, and facilities for campfires.
           ***The site is able to offer 12 tent spaces. If any attendees will be sharing tents,  please mention this in the comments and it may then be possible for us to increase the numbers. ***
The site has space for one campervan, which will be allocated on a first come first served basis. Please check with the OutdoorLads office before booking to ensure that the space is still available if you are intending to bring a campervan.
Dogs are allowed on the campsite. However, if you are bringing a dog it will be your responsibility to ensure that it remains well behaved and under control, and that it does not bother other members (bearing in mind that not all our members are as fond of dogs as you).
IMPORTANT! - Participation Statement
You MUST complete a Participation Statement, in addition to booking your event space before attending an OutdoorLads event. You only need to complete this Participation Statement once, not for each event you attend. 
Anyone with COVID-19 symptoms, even if they are extremely mild, or who has recently tested positive for Covid-19, is asked not to attend.
Photogrpahs
Lanfairfechan (Nigel Homer); aber Falls (Darren Glanville)
Used in accordance with Creative Commons license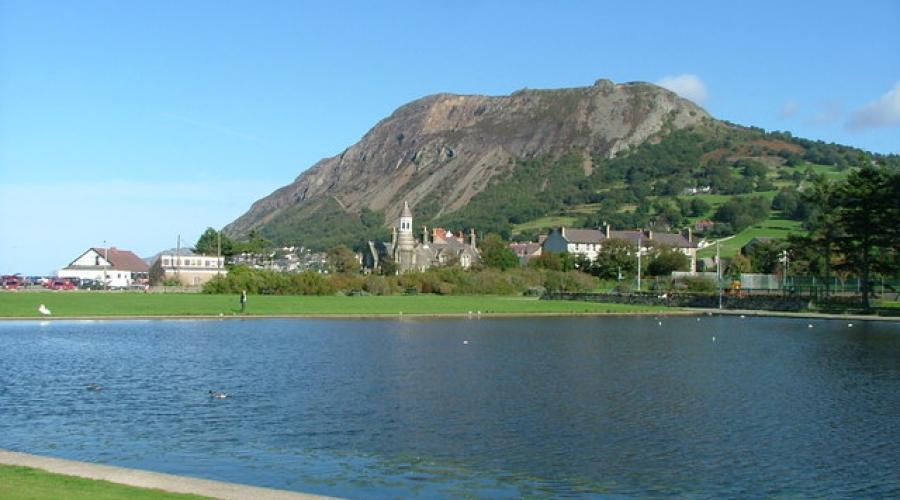 What to bring
You will need your usual camping gear for sleeping and cooking etc. If you have any questions about what might be suitable, feel free to message the leader.
In addition you will need walking gear for the Saturday. The standard walking kit list is set out below as a reminder:
Hand sanitiser and a face covering: whilst we are living with Covid-19, please bring your own to events to help keep everyone safe
Water: bring at least two litres
Medicines: if you have hay fever, diabetes, minor ailments etc.
Day rucksack: typically 20-30 litres, they are comfortable to wear and allow you to use your arms freely
Boots:  waterproof and breathable and designed for hiking, trainers are OK if the ground is dry and there's little chance of rain
Gaiters: recommended for wet weather or boggy conditions
Socks: proper walking socks will keep your feet dry and help prevent blisters
Layered clothing: lets you quickly adapt to changes in the weather and body temperature. Go for a base layer (vest or t-shirt) and a mid layer (a micro fleece or shirt) and in cooler weather add an outer layer (a windproof jacket or thick fleece)
Trousers: ideally no jeans as they become heavy and cold in the rain, breathable fabrics are more comfortable and dry and on warm days shorts are OK
Waterproof jacket: essential when hiking in all but the calmest of weather, breathable fabrics are more comfortable and dry
Gloves: Windproof, or better still, waterproof gloves are the best choice, bring a spare pair if expecting rain
Hat or cap: stay warm in winter and shaded in summer
Sunglasses: for any sunny day, even in winter
Sun cream: can be useful even on cloudy and winter days
Snacks: bring biscuits, energy bars, gels, bananas, chocolate or dried fruit for example and put them somewhere easy to get hold of
Lunch: bring a packed lunch unless otherwise stated
Food & drink
As with most of our camping events, you will be responsible for your own food arrangements. However, the leader may organise a collaborative buffet on Friday and/or a pub vist at some point over the weekend. Details to follow in due course.
Meeting & times
Sep 23 - pm