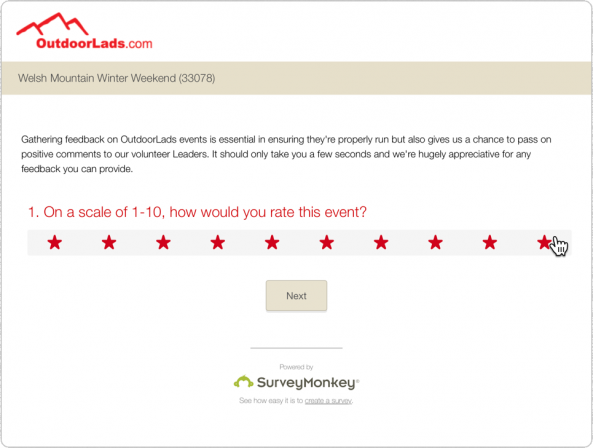 Have you seen our new, simpler event surveys? We send them out after every hostel or camping weekend and to a random selection of other events such as day walks, indoor climbing or cycle rides. We do this to ensure our events are properly run but also to gather positive comments to pass on to our volunteer Leaders! Here's just a few from this week's survey results:
"The countryside was lovely but I hardly noticed, completely absorbed chatting with the friendly lads. Having just come out, it was good to be surrounded by my own kind for once. The event was well organised, from the directions on the website to the leadership on the day. Thanks."
"This was my first event and I thought it was really well planned and everyone made me feel really welcome."
"A really pleasant walk with good company. Everyone made the effort to mix and Owen had planned a pleasant route for us."
"Great event - leader did an excellent job - friendly and positive attitude, great food - really spoilt us and attentive"
"This was my first hostel event, I was made to feel very welcome, the event leader was enthusiastic, warm and very approachable and kept us informed about what was happening and when"
"Simon was fantastic as always! Really fun, relaxing atmosphere with gorgeous activities!"
"Simon always leads great events and this was no exception :-) The walk route was so beautiful! Food was good too! Thanks!"
"Great location, fantastic scenery. Event was well led and food and company were great."