Scenic Sussex Downs Camp and Hike 2019
3 people attending
17 places left
Grab your camping gear and come along to this incredibly scenic part of the South Downs, with the opportunity to witness iconic downland views, and camp within a few minutes' walk of the beautiful village of Alfriston with a choice of pubs and tearooms.
Alfriston is a traditional East Sussex village, not far from Eastbourne and Lewes, which lies on the South Downs Way and the River Cuckmere. It is home to the Alfriston Clergy House, which is the first built property to be acquired by the National Trust in 1896 for £10. The characterful Star Inn was originally a religious hostel for pilgrims and monks built in 1345, becoming an inn in the 16th century. It has a beautiful village green and a Grade I listed church that was built in the 1370s, and is known as the 'Cathedral of the Downs'.
The main highlight of the weekend will be a day walk on the Saturday that will be approximately 11-13 miles in length, to include views from the top of the Downs of surrounding areas, and may include a pub stop for drinks. There will also be opportunities to explore the local area, including the attractions offered by Alfriston. On Sunday, there may be a group expedition involving a shorter walk, to explore the area further.
The campsite is large and sits within a beautiful setting, nestling in a lush and tranquil green valley close to the South Downs Way and a quiet and pleasant 15-minute walk from the village. Facilities are standard for a campsite, but be aware that showering facilities are a bit limited in number and likely to be around 400 metres' walk from where we are pitched. Good modern toilets are much nearer (about 50-100 metres).
Dogs: This site accepts dogs, at no additional cost, but they must be booked in advance. Please contact the OutdoorLads office on 0161 420 0001 or support@outdoorlads.com. 
Campervans, Caravans, Motorhomes: Would not be able to pitch near our group on this site. However if you'd like a pitch booking on the understanding you'd be separate from the group, please speak to the office on 0161 420 0001 or support@outdoorlads.com
Photo credits:  [Image 1 cc-by-s.a./2.0 - Alfriston Church, East Sussex by Kevin Gordon - geograph.org.uk/p/847592]  [Image 3 cc-by-s.a./2.0 - George Inn, Alfriston by N Chadwick - geograph.org.uk/p/1818120]  [Image 4 cc-by-s.a./2.0 - Alfriston Camping Park by Simon Carey - geograph.org.uk/p/3279457]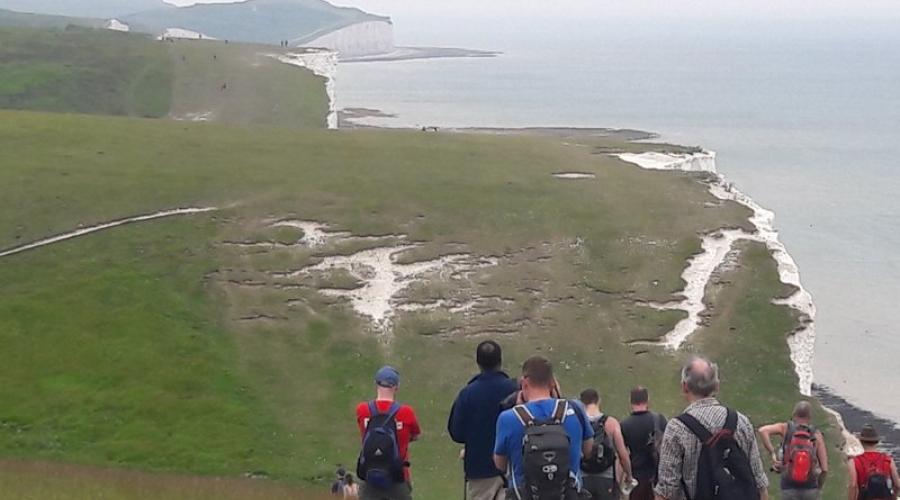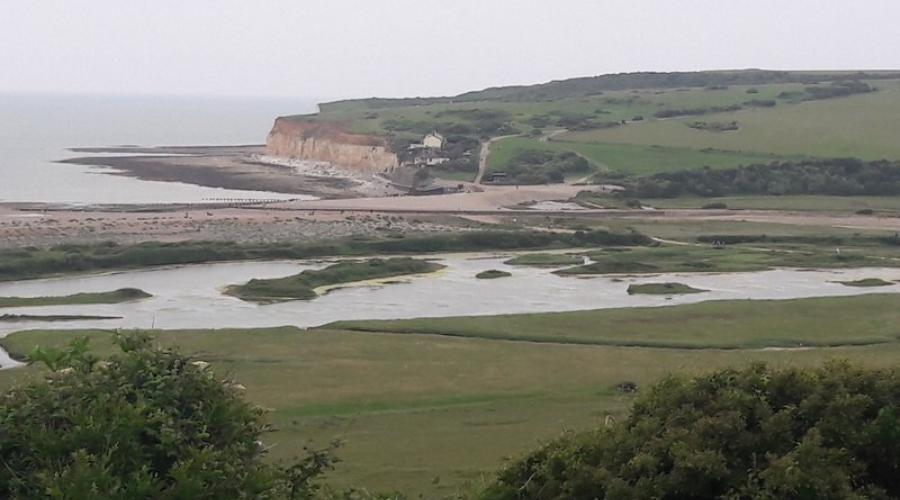 What to bring
Please contact the Leader if you are unsure about any of this below.
As a minimum you will need:
Tent
Sleeping mat or mattress
Sleeping bag
Cooking equipment and plates, cups, cutlery
Food if you're going to cook for yourself, and drinks
Walking boots and socks
Waterproofs
Base layer, Fleece (it is only April after all!)
Small day pack for use on the walk, to carry your lunch and anything else for the day out.
Towel, washing kit
Torch or headtorch
Optional extras to make the weekend more comfy:
Camping chair/stool or outdoor rug/blanket
Clothes to wear in bed (it is only April after all - again!)
Waterproof trousers and gaiters in case the ground is very wet
Enough changes of clothes in case you get wet
Warm clothes to wear around the campfire.
Food & drink
You will need to supply all your own food and drink on this weekend as per a traditional camping event.
The Village Store is advertised as open until 7 pm Mon-Sat and until 5 pm Sun. Expect to find baguettes and upmarket deli produce; it is also an off-licence. There are supermarkets and convenience stores in Seaford approximately 4 miles away. There is no shop on the campsite itself.
There will be the option of a pub meal on the Saturday; the event leader will seek a group booking nearer the time at one of the local pubs for those who choose this option. See the village website www.alfriston-village.co.uk for information on pubs and eateries in the village.
Meeting & times
Aug 30 - pm
Location
50.8045813, 0.14962170000001