Kielder Forest Mtb trails (Medium difficulty)
6 people attending
19 places left
Event booking closes on Oct 18 at 10:00:00
A bit more technical trails, but they're completely rollable
🔁 around 21mi
📍 Kielder is rugged mountain bike heaven. Come and experience some of the best single tracks in the UK with breathtaking views. Home to northern Europe's largest man-made lake and England's largest forest
🧭 We will be riding off-road paths and bridleways that are aimed at intermediate riders. We will have to contend with technical uphills but be rewarded with speedy descents, through mystical forests and wonderful moorland landscapes.
⚫️ We will offer the group a split to do a more challenging section towards the end of the ride, for those that want to push their boundaries a little bit. (Full face helmet required.)
⛺️ By Kielder castle is a campsite, along with a small pub and cafe. If you stay at the campsite, parking would be free. If you're looking for a B&B then why not stay at The Pheasant Inn. More accommodation options are available here. The closest supermarket is the Co-op in Bellingham, which is best visited on your way to Kielder.
🚲 Bike hire is available from the main car park at Kielder Castle, pre-booking is advised
~~~
Want to make a weekend of it? Then clink on the links for further details:
Kielder Sunday Medium (This event)
~~~
OutdoorLads Events Calendars
You can now go directly to our events calendar pages by bookmarking the follow links:
Looking for LGBTQ+ mountain biking groups in the UK? Read our full guide on gay mountain biking groups
~~~
IMPORTANT! - Participation Statement
You MUST complete the Cycling Participation Statement in addition to booking your event space before attending a cycling event.
~~~
Photo Credits: Taken by Mark and Henry. OutdoorLads have permission to use these photos.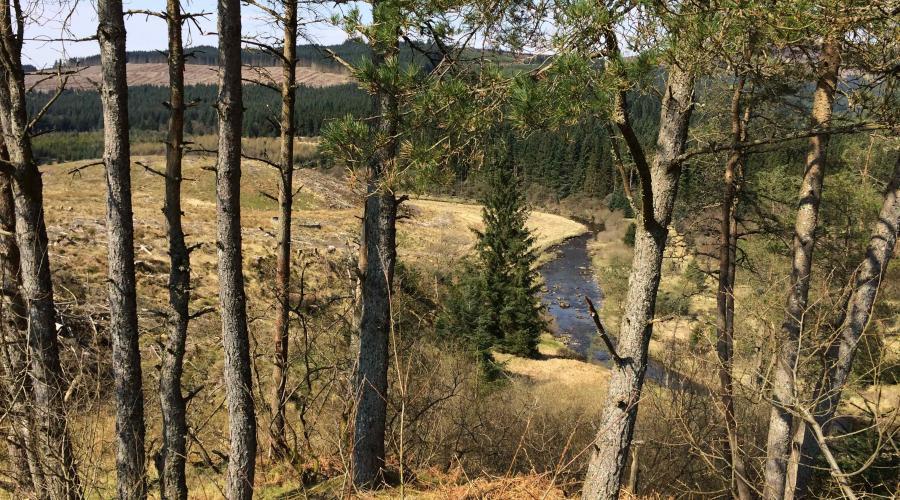 What to bring
✅ Please make sure your bike is in good working order to avoid disappointment on the day
Apart from your bike remember the following:
Puncture repair kit (or better still a spare inner tube) and tyre levers. Also any special tools that your bike needs.

Food - bring small snacks such as chocolate bars and energy foods.

A cycling bottle attached to your bike and plenty of water (minimum 2lts)

Eye protection - impact from a bee, grit or even a fly at speed is extremely unpleasant, sunglasses may do if not made of glass and not too shaded.

Clothing: choose suitable clothes and footwear for the weather forecast and time of year. You will be exercising so lightweight layered clothing is best. Shorts are best even in rain, as they allow free movement of your legs. Jeans are useless if it rains but tracksuit bottoms need to be not too baggy or they may snag in the chain and cause an accident. You'll need trainers or similar with grippy soles for standard pedals.

Helmet - Outdoorlads policy asks you to wear a helmet events.

Bag you will need a small day-sack to carry essential clothing, lunch, snacks and drinks. 
Food & drink
Bring plenty of food and drink (at least 1.5l of water) to last you the day. After the ride, food is available in the cafe, pub and small shop.
Meeting & times
Oct 20 - am