Isle of Wight Pride & Beach Party 2020
16 people attending
24 places left
Event booking closes on Jul 17 at 19:00:00
Pride & Summer social weekend
Isle of Wight Camp & Pride festival 2020
Join in the fun on the glorious island and celebrate Pride, fighting for LGBT rights across the globe.
The Isle of Wight needs our support on Saturday 18th July.
After us making a huge impression in the parade for the last 3 years, this is now becoming an ODL favourite; not only to walk within the parade but having a great beach party afterwards.
Beach Party Tickets
You must purchase a ticket to gain access to the beach party, these will sell out fast
Make a weekend of it: Friday 17th  - Sunday 19th July
This year why not make a whole weekend of it and join us on Friday early evening for a social in Shanklin,  followed by Saturday Pride and beach party. .
I would suggest to camp at Whitefield forest camp site in Brading near to Ryde.
It is a great camp site for camping, caravans and motor homes. When you book, put into the comment box that you would like to be put near plot 100.This campsite will fill very quickly so try to book ASAP. if you book directly with Red Funnel you should get a ferry discount.
Also, there are plenty of B&B's within Ryde and surrounding areas.
The pride event will be a social event, wearing our Red T-Shirts, giving out ODL Flyers
Once the parade has finished, feel free to enter the beach party arena (remember your towels, sun cream and trunks). Information on how to obtain beach tickets check the link below
Isle of Wight Pride
Once you have visited the Isle of Wight, you'll realise that there is something for everybody. People from around the world visit this Island time and time again – and Isle of Wight Pride aims to build a legacy that will encourage LGBT visitors to our shores all year round. The word is out about Isle of Wight Pride and people can't wait to join us for the celebrations on July 18th– and many are looking forward to making a weekend of it. Come and share the secret.
The Golden Sands of Ryde
Situated on the stunning golden beaches of Ryde, IW Pride will include a colourful parade through the heart of a Victorian seaside town, information stalls, art opportunities for everyone to get involved with and a party on the beach. All the fun of a festival, whilst importantly raising awareness of the thriving LGBT community situated here and the vital contribution they make to the Island's rich heritage.
Travel:
Easy access from Portsmouth via Wightlink or Hoover travel (Check for discounts via iwpride.org)
If travelling to Portsmouth by train:
Buy a return ticket from your station of origin to Ryde. The ticket includes mainland rail travel, ferry travel and Island Line rail travel. The discount from any railcard used applies to the ferry as well.
The recommended trains for the 09:40 sailing to Ryde are:
From London: At London Waterloo catch the 07:58 train to Portsmouth Harbour from Platform ?. Alight at Portsmouth Harbour at 09:34. This train departs Clapham Junction at 08:05.
From Brighton and Hove: At Brighton, catch the 08:02 train to Portsmouth Harbour from Platform 2. This departs Hove at 08:06. Alight at Portsmouth Harbour at 09:22.
From Southampton: Catch the 08:27 service to Brighton from Platform 3A. Alight at Havant at 09:09 and go to Portsmouth Harbour.
All images are from Martiebear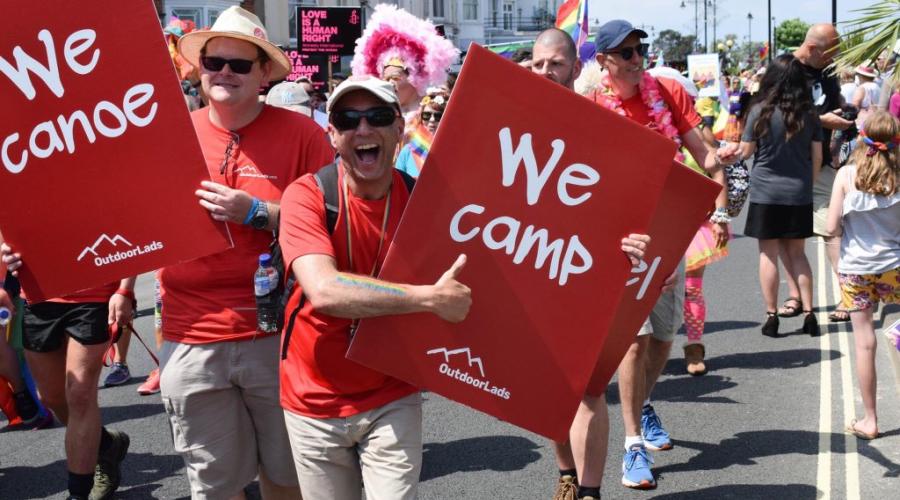 What to bring
ODL Red T Shirt-if you have booked on campsite ,Tents etc
Food & drink
Snacks and Water or buy from local shops
Meeting & times
Jul 18 - am
Location