Bygone Byways to Hidden Hamlets: A Southwest Surrey Survey
20 people attending
0 places left
27 people waitlisted
Event booking closes on Jan 23 at 10:00:00
Distance is 22 km (13 miles); total ascent is 306 m; terrain is undulating with a few modest ascents and descents; surfaces are dirt, sand, grass and tarmac.
This event is in Tier 4 as at 4/1/21 - the tier would need to change prior to the event date for the event to be able to proceed. We will update with the situation nearer the time. 
The only real climb on this walk will be a little one, and right at the start. The view will show us what awaits us: a pleasant if passed-over pattern of pastures and copses on sandy soils where western Surrey meets West Sussex. Led by a convenient combination of tarmac lanes and gravel tracks (plus also some sloppy paths), we'll walk between hamlets and villages of tiled, timbered and bargate stone-built cottages. We'll walk from hilly, woody Hambledon to two villages that surround large greens: Chiddingfold (almost urban and so typically Surrey) and Dunsfold (spacious and scattered like a Sussex village). In the latter we'll have our packed lunches, or, if permitted, pub lunches.
The sights:
Hambledon: A pretty, piecemeal village with a church and farmhouse by themselves. Hambledon Common is heathland, somewhat elevated. Heavy Victorian tile-hung houses all around, but Lower Vann is a mixture of C16, C17 and early C20 'all melted together with creeper to form a perfect prototype for Lutyens's Houses' (Ian Nairn) while Marepond Farm has weatherboarded barns. 
Dunsfold: A spacious village, built around an enormous green. Mostly brick and tile-hanging. Near Dunsfold Aerodrome (which we won't see as there are no paths there and around it). The church is to itself and surrounded by sturdy Wealden farms, tiled and weatherboarded, the oldest being C15. St Mary and All Saints is a rarity: a complete village church of 1270 built by royal masons that may have worked on Westminter Abbey, hence the quality of the carving. The C13 pews are a highlight. For Simon Jenkins, one of England's thousand best churches. St Mary's Well is a spring with a carved wooden spring head. Healing properties were ascribed to the water (its chemistry is near-identical to the more famous well of St Mary, at Lourdes).
Lagfold Copse: Mixed woodland with some Forestry Commission pine plantation beside the River Lox.
Chiddingfold: A large, pretty village with a loose array of attractive houses arranged around a triangular green. Rustic, timbered cottages are mixed with urbane, symmetrical Georgian houses and picturesque, tile-hung Victorian ones. The Crown Inn is big, half-timbered, C15, possibly earlier as there is a record of a house in the village being let as an inn in 1383. St Mary's Church is C13, but almost all character was swept away by a restoration of 1869. Plaque to Sir William Bragg who used to live nearby. He invented the iron lung (the Bragg-Paul pulsator) in 1933.
The route (please click the link in red to be taken to the route at the Ordnance Survey website. This will also show you the elevations and climbing):
We'll head east, cross the busy A283 and reach Hambledon where we'll climb the common. We'll then walk round one part of the village and continue east along Vann Lane to Upper Vann Lane where we'll cross arable land towards Loxhill where we'll meet Hookhouse Road. This will take us south to Dunsfold, and after a tiny detour to see the church and the well we'll reach Dunsfold proper for lunch. We'll then head southeast along Knightons Lane, then head southwest along Hurlands Lane to cross Plaistow Road. Crossing in a westerly direction Lagfold Copse, we'll reach High Street and then pick up White Beech Lane to find Vann Lane again and head west to Chiddingfold. Heading north through suburban Chiddingfold we'll come off the road and cross Yewen's Hanger to pick up the road to Wormley and Witley Station.
 Dogs:
I love having dogs on my walks and this walk is suitable for them. It is of moderate length, but there will be fields with livestock and a number of stiles and roads to negotiate and lanes to walk along. A dog must be obedient if it is off the lead. 
COVID-19 - IMPORTANT: Please read the following before you sign up to this event:
Anyone with COVID-19 symptoms, even if they are extremely mild, or who lives or is in a support bubble with someone showing symptoms, is asked not to attend. This is in line with the government's coronavirus advice.
You must also immediately self-isolate and not attend the event if you or someone in your household or support bubble shows coronavirus symptoms or tests positive. You can find the NHS self-isolation guidance here.
The main symptoms of COVID-19 are a high temperature, a new continuous cough, and a loss or change to your sense of taste and/or smell.
You may be subject to local lockdown restrictions, which you must fully comply with. Details of the location of these restrictions can be found here for England, Scotland, Wales, and Northern Ireland.   
We do not encourage car sharing to events during the pandemic. Please comply with the safety travel guidance for England, Wales, and Scotland. Face coverings should be worn on public transport.
OutdoorLads will support the tracing systems in place across the UK  and attendance at an OutdoorLads event is considered permission to use contact details for this purpose if requested by the appropriate authority.  
All are required to practice social distancing – staying 2m (not 1m) apart at all times, including the lunch stop. Remember: Face, Hands, Space.
Unfortunately, there won't be any planned pub / café stops en route or at the end, and please don't share sweets or snacks with others – we're sorry!
Please bring your own hand sanitising gel for your own use throughout the day. Use of face coverings is at your own choice, but please bring one with you just in case it's needed. Please bring any other PPE items required. Bring a disposable bag for any used PPE.
Members are advised to bring their own small first aid kit for personal use..
Be aware that opportunities for toilet stops may be minimal if facilities are closed.
Please, please cancel at your earliest opportunity if you are unable to attend or are unwell, so that we can allow others to take up these valuable event spaces.
Much as it's difficult - no handshakes or hugs!
COVID-19: Participation Statement
OutdoorLads draws your attention to the fact that travelling and being away from home increases the risk of receiving and transmitting Coronavirus, whilst it is present in the UK. You are likely to choose not to participate in OutdoorLads events whilst there is a risk of Coronavirus transmission. However, should you choose to participate in OutdoorLads events whilst the risk is present, you must be aware of and follow the law and government guidelines, both when travelling to and from events as well as when participating in events.
Please note that every person participating should be aware of (and accept) that those members perceived as 'in charge' or leading the event are not experts, do not need to be experts, and are not regarded by OutdoorLads, or themselves as experts, but are amateurs with some experience in the event type and who are happy to impart their knowledge. Any advice given should be considered with this in mind by the recipient.
By signing up to and attending an OutdoorLads event, you are confirming that you have read, understood and accept the content of this statement.
Please see our website for more information including an FAQ about our events.
(Images are: Chiddingfold Green by Charlesdrakew; Hambledon Heath by Humphrey Bolton; Farm buildings on Hookhouse Road by Shazz; The Holy Well Dunsfold by Dave Spicer; St Mary and All Saints Church, Dunsfold: churchyard (5) by Basher Eyre; Oak Tree Cottage by N Chadwick; Rainbow over Dunsfold by Ben Gamble; Dunsfold Common Road by Alan Hunt; Icy morning by Shazz; Footpath junction near Burningfold Manor; Vann Lane in the snow January 2010 by Nicola; Houses on Pockford Road near Chiddingfold by Shazz; Coxcombe lane passing Chiddingfold Pond by Dave Spicer; Chiddingfold, Crown Inn by Colin Smith; Bend in the road the A283 at Chiddingfold by Stefan Czapski; All photos are copyrighted but are above credited to their copyright holders and are licensed for further reuse under Creative Commons Attribution-ShareAlike 2.0 Generic (CC BY-SA 2.0).)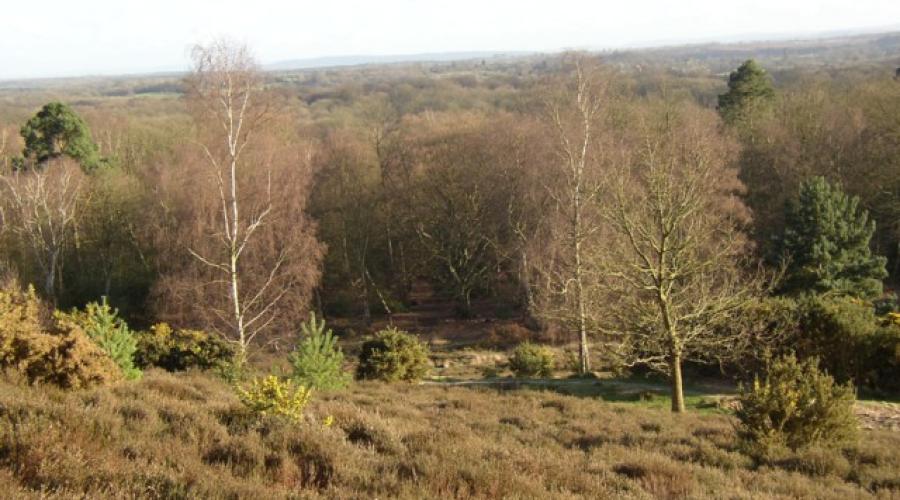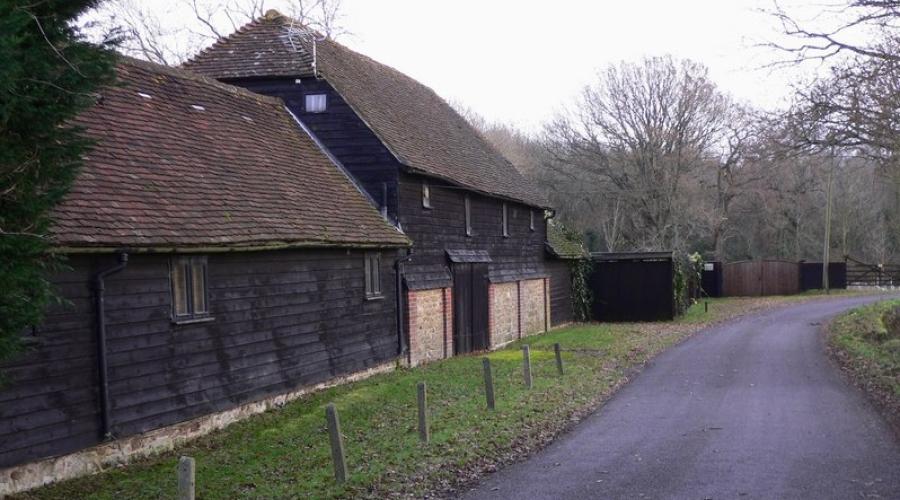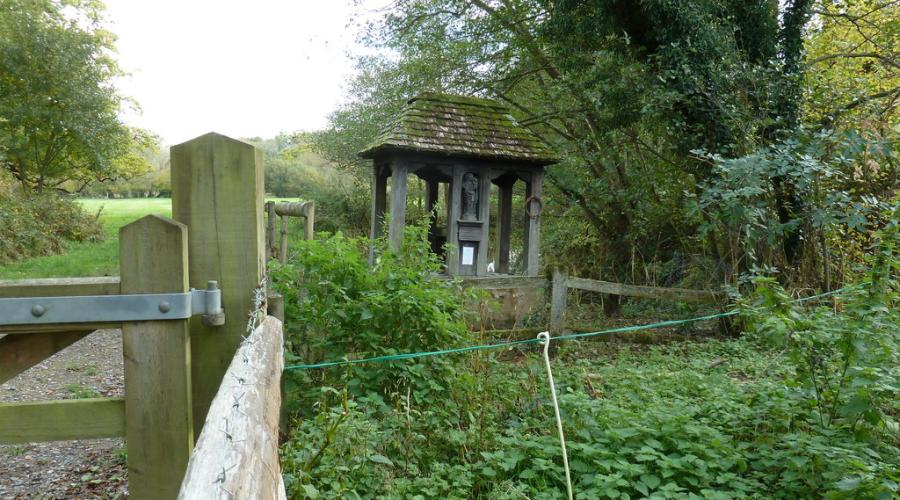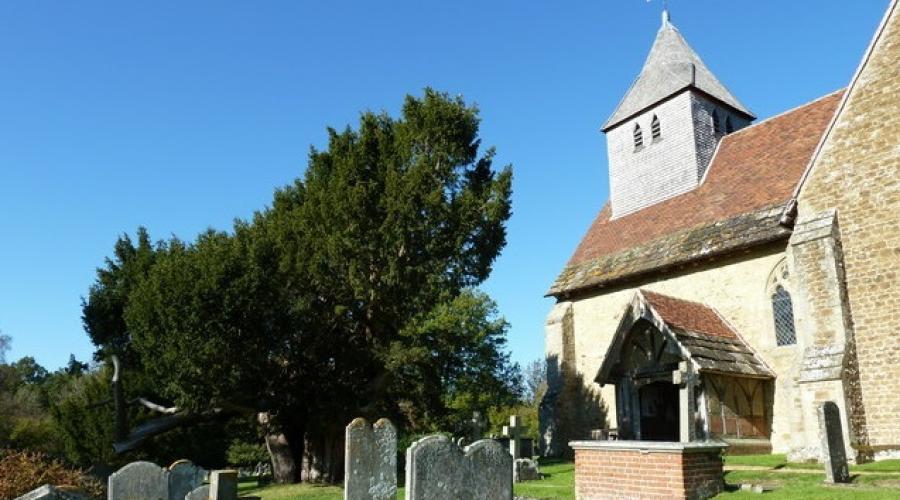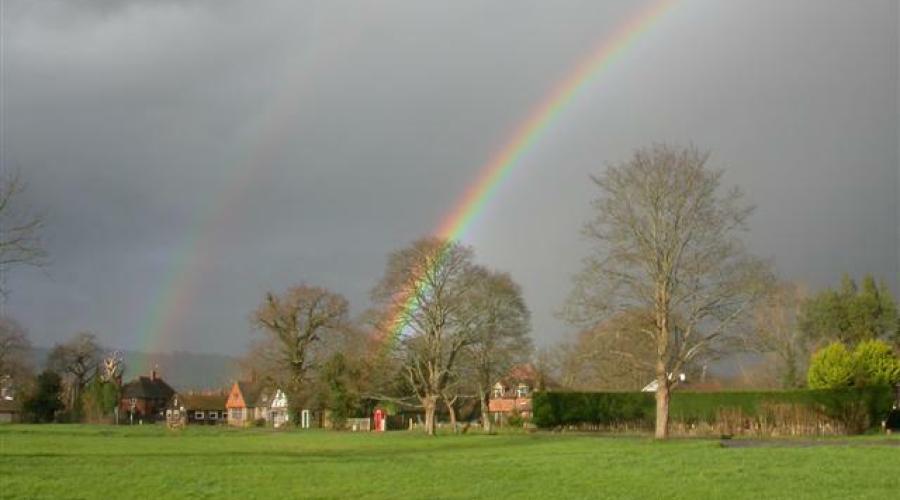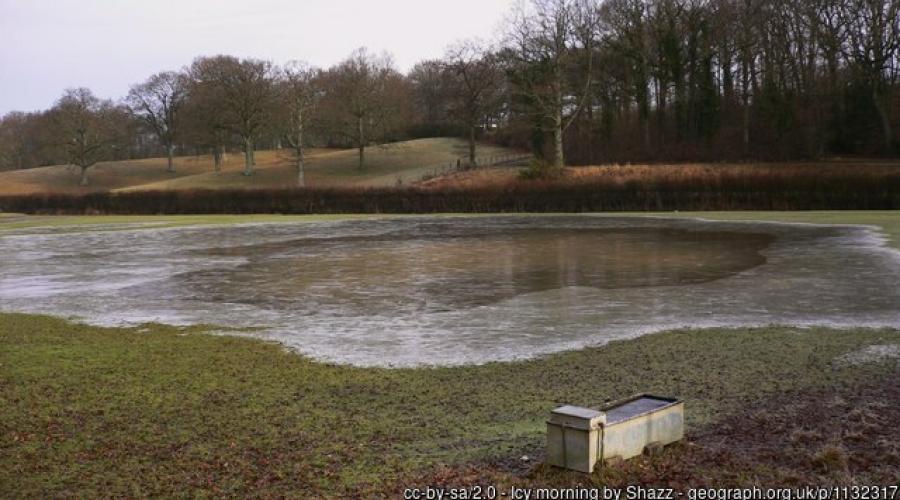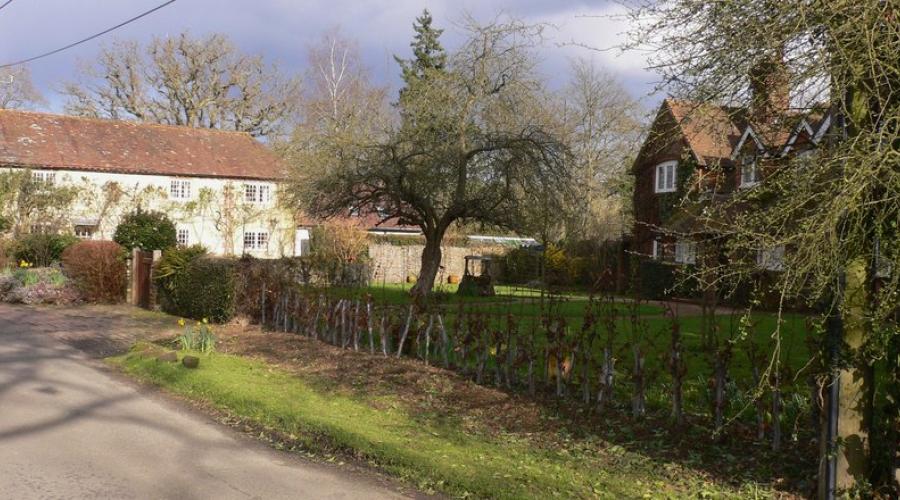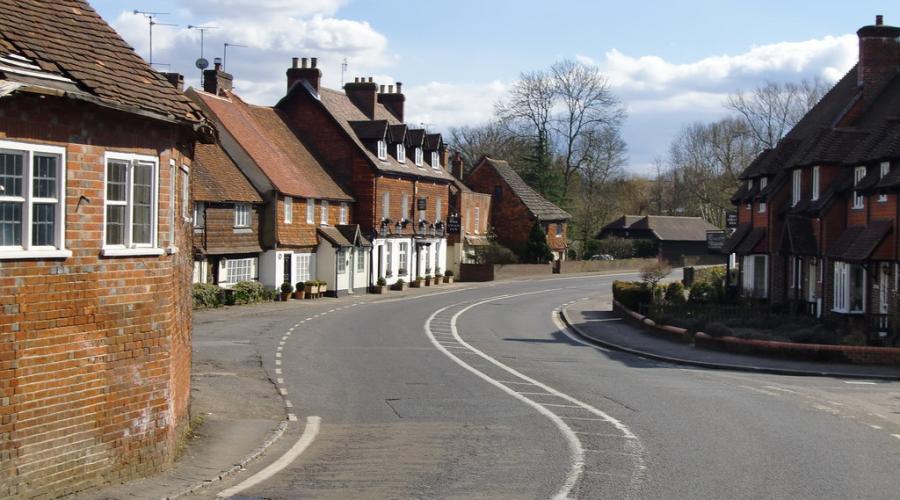 What to bring
Walking boots are essential to cope with some slippery paths. Wear clothing appropriate to the weather including warm kit in case of cold weather and waterproof kit in case of rain. Gaiters might be an option too if conditions are muddy. Almost all of the walk will be on tarmac lanes, but some off-road tracks will inevitably have mud.
Food & drink
Please bring a packed lunch and plenty to drink. There are no shops until Chiddingfold near the end of the walk.
Meeting & times
Jan 23 - am
Location
51.133154356865, -0.64583301544189