COVID-19: Current Situation
The below is an overview on the current situation for OutdoorLads events in relation to the coronavirus pandemic. We have also includes our most recent statement on the issue below that. 
For our previously issued statements, please visit our Archive Page.
Coronavirus Update - 9 November 2020
With the 'Firebreak' lockdown ending in Wales today we would just like to clarify which OutdoorLads activities may proceed in each of the nations in which we operate.
While we're unable to run any in-person events in some areas, check out our great range of StayInMore events! Anybody can create and lead these events. Just get in touch with support@outdoorlads.com to get started!
England
England entered a national lockdown on Thursday 5th November which lasts until Wednesday 2nd December. Accordingly, OutdoorLads will not be able to run events until the national lockdown has ended. Members living in England must not travel to events taking place in Wales and Scotland during this time.
Wales
People in England or Scotland should not be entering Wales, and similarly, those in Wales should not be entering Scotland or England for OutdoorLads events.
In Wales, while it is legally permitted for organised activity groups like ourselves to run walking events for up to 30 people, we are limiting this to 15 (12 for mountain walks).
OutdoorLads cycling events are limited to four members in Wales. CyclingUK are advising that only 4 should cycle together, and we must follow their advice.
Up to 15 members are permitted to take part in an organised group activity indoors, however, we will limit this to 12 for OutdoorLads indoor climbing events.
You can find up-to-date advice from gov.wales.
Scotland
People living in England and Wales should not attend our events in Scotland, which under current guidelines are for those living in Scotland only.
Scotland now operates a Levels system, with Levels 0 – 4. Currently, all of Scotland is in Levels 1, 2, or 3. You can check which Level a place is in here: https://www.gov.scot/check-local-covid-level/
Those living in Level 3, which is in the main the "central belt" should not travel out of their area, and others should not travel into the area. In Level, we will be able to run some outdoors events but these will be restricted to six people maximum, and should be attended only by those living locally, and also in a Level 3 area.
In Levels 2 and Level 1, we will run events of six people. However, if a leader wishes there is an exemption for outdoor sport which allows us to have up to twenty people on an event. Events in Levels 1 and 2 should not be attended by people living in Level 3, or England or Wales.
We'll continue to keep this page updated with the current situation as things evolve. In the meantime, lets all keep connected to our OutdoorLads friends and make new ones through our programme of virtual #StayinMore events!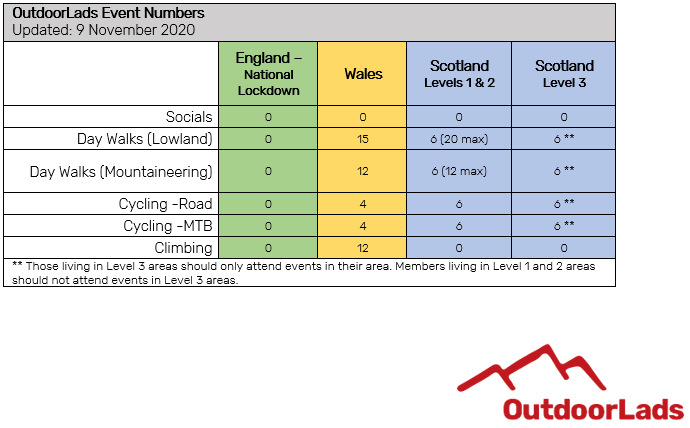 Anyone with COVID-19 symptoms, even if they are extremely mild, or who lives or is in a support bubble with someone showing symptoms, is asked not to attend. This is in line with the 

government's coronavirus advice.

You must also immediately self-isolate and not attend the event if you or someone in your household or support bubble shows coronavirus symptoms or tests positive. You can find the

NHS self-isolation guidance here.

The main symptoms of COVID-19 are a high temperature, a new continuous cough, and a loss or change to your sense of taste and/or smell.

You may be subject to local lockdown restrictions, which you must fully comply with. Details of the location of these restrictions can be found here for

England,

Scotland

,

Wales,

and

Northern Ireland. 

 

We do not encourage car sharing to events during the pandemic. Please comply with the safety travel guidance for

England

,

Wales

, and

Scotland.

Face coverings should be worn on public transport.

All are required to practice social distancing – staying 2m (not 1m) apart at all times, including the lunch stop. Remember: Face, Hands, Space.

Unfortunately, there won't be any planned pub / café stops en route or at the end, and please don't share sweets or snacks with others – we're sorry!

Please bring your own hand sanitising gel for your own use throughout the day. Use of face coverings is at your own choice, but please bring one with you just in case it's needed. Please bring any other PPE items required. Bring a disposable bag for any used PPE.

Members are advised to bring their own small first aid kit for personal use.

On walks, one person to hold open gates etc and allow everyone to walk through – so minimising surfaces that multiple people touch. Please avoid sharing equipment.

Be aware that opportunities for toilet stops may be minimal if facilities are closed.

Please, please cancel at your earliest opportunity if you are unable to attend or are unwell, so that we can allow others to take up these valuable event spaces.

Much as it's difficult - no handshakes or hugs!
COVID-19: Events Participation Statement
OutdoorLads draws your attention to the fact that travelling and being away from home increases the risk of receiving and transmitting Coronavirus, whilst it is present in the UK. You are likely to choose not to participate in OutdoorLads events whilst there is a risk of Coronavirus transmission. However, should you choose to participate in OutdoorLads events whilst the risk is present, you must be aware of and follow the law and government guidelines, both when travelling to and from events as well as when participating in events.
Please note that every person participating should be aware of (and accept) that those members perceived as 'in charge' or leading the event are not experts,  do not need to be experts, and are not regarded by OutdoorLads, or themselves as experts, but are amateurs with some experience in the event type and who are happy to impart their knowledge.  Any advice given should be considered with this in mind by the recipient.
By signing up to and attending an OutdoorLads event, you are confirming that you have read, understood and accept the content of this statement.
_________________________________________________________________________________________________
The following wording will appear on all event pages for events taking place in Wales, and all people attending an event in Wales will be asked to confirm they agree with all points of the below statement at the start of the event:
I do not currently have symptoms of COVID-19 (new persistent dry cough, fever, loss of taste or smell)
I have not had a positive test for COVID-19 or onset of symptoms of COVID-19 in the last 10 days. (Individuals who have completed their period of isolation (10 days) and have no remaining symptoms (other than a dry cough or loss of taste or smell which can last for some time) may return to normal activities)
No member of my household has had symptoms of COVID-19 or has tested positive for COVID-19 in the last 14 days
I have not been contacted by a contact tracer from the Test, Trace and Protect Programme and told to isolate in the last 14 days as a contact of someone with confirmed COVID-19
Please note: People living in English Tier 1 and Tier 2 areas must NOT travel to any part of Wales to attend events.