COVID-19: Current Situation
The below is an overview on the current situation for OutdoorLads events in relation to the coronavirus pandemic. We have also includes our most recent statement on the issue below that. 
 For our previously issued statements, please visit our Archive Page.
Wales - "Firebreak" lockdown 23 October - 9 November 2020
Due to the firebreak lockdown in Wales, OutdoorLads will not run events in Wales from 23 October until 9 November 2020. This overrides the table of event numbers shown below. 
Event Sizes Table - Updated 15th October 2020
The below provides an overview of the permitted event sizes in England, Wales and Scotland at a glance. This will be updated as and when changes to government guidance makes it necessary.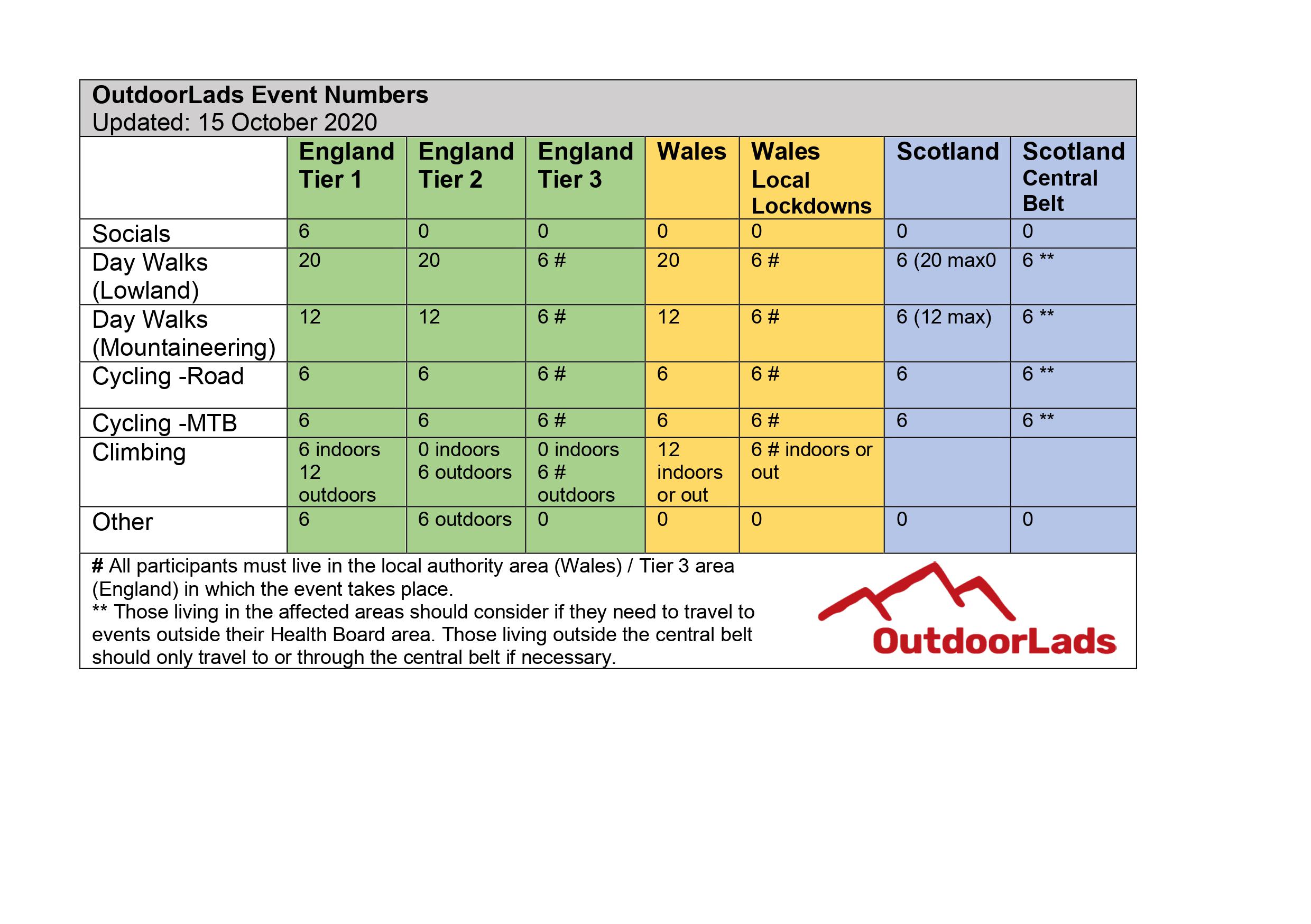 OutdoorLads Coronavirus Statement - updated 19 October 2020
In light of evolving government guidance related to the coronavirus pandemic, we wanted to provide an update for members and leaders on how this affects OutdoorLads events.
In particular, this update is about the impact upon our events in Scotland, events in England in the Medium, High and Very High risk categories, and the use of NHS Covid-19 QR codes on our events. We've also got an update on climbing events re-starting and a recap on the situation in Wales.
The headlines are below, with more detail available further down for those that want it. The table above summarises the national picture.
Events in Scotland
Walking and cycling events have now resumed in group sizes of six across the nation.
Outside the central belt area which is subject to additional restrictions, there is a sports exemption which enables us to lead walking groups of up to twenty, should the leader wish to lead a larger group.
Events in England
 Our walking events can continue with a maximum number of twenty people in Tier 1 (medium risk) and Tier 2 (high risk) areas, and for cycling in groups of six.
In Tier 3 (very high risk) areas, events will be allowed with a maximum group size of six and only available to those living in the same Tier 3 area as the event takes place in. Those living in Tier 3 are asked not to attend events in other areas, because government advice is against travel to other areas.

Members living in Tier 2 and 3 areas should not travel to Wales to participate in events.
Events in Wales
Due to the Firebreak lockdown, there will be no events in Wales from 23 October until 9 November 2020. 
Outside, those dates, our walking events can continue with a maximum number of twenty people, or for cycling in groups of six, in areas not subject to local lockdowns.
In areas subject to local lockdowns, groups are limited to six and must only be attended by people living in the same local authority area as which the event takes place.

Members living in Tier 2 and 3 areas in England should not travel to Wales to participate in events.
Indoor Climbing
We'll soon restart some indoor climbing events in some parts of England (Tier 1, medium risk areas) for establish climbers, but would ask that only those signed up attend on the night, please. Groups will be limited to six people.
Regretfully, we are unable to restart indoor climbing events in Tier 2 and Tier 3 areas due to the current restrictions.
QR Codes for Events (track and trace)
On English and Welsh events, we will start implementing the standard track and trace QR codes to be scanned using the NHS Covid-19 app. This is entirely optional, both for the leader wishing to make it available and for members attending events, but we hope it will inspire confidence in helping us all to #GetOutMore.
When an equivalent system becomes available in Scotland we will also look at implementing such a system there.
Now, more details on our update of 15th October 2020, for those who like to know more:
Climbing Events
Climbing is a bit of a different case to our cycling and walking events, because of the element of close proximity and shared equipment involved with climbing – and also because indoor climbing is, well, indoors! The outdoor climbing season is all but over for this year now, too.
Indoor climbing is subject to the Rule of Six in England, with no exemption available. In Tier 2 (high risk) and Tier 3 (very high risk) areas, it's one household.
We do know our climbing events often attract more people than signed up on the event, and we do need to consider the reputational risk that puts both OutdoorLads and our ongoing relationship with the climbing centre under. This is one of the key reasons why we've not as yet been able to restart indoor climbing.
However, we will soon be looking to start some six-person indoor climbing events for established climbers in some parts of England – only those areas in a Tier 1 (medium risk) area will be able to put on these events, due to the guidance.
 We'd ask that only those signed up to the event attend, and unfortunately for now, these will be for established climbers only – as assisting someone new to climbing to get started means being in close proximity to them.
Climbing centres are having different experiences in different parts of the country, especially in relation to their new, reduced capacity. In London for example, they are finding they're operating at full capacity most of the time and struggling to take an OutdoorLads booking right now, whereas in some other areas, climbing centres are operating well below capacity and are eager for us to come back! So whilst we ease ourselves back into climbing with these trial events, there may well be different capacity in different areas. Rest assured however that we'll continue to review the situation and the guidance as it evolves with a view to enabling our members to climb again with us wherever that's possible, and always with everyone's safety in mind.
Scottish events
Scottish events will generally be limited to six people.
We are able to operate walking events with more people (and from more households) through the sports exemption, however. Should a leader wish to run a walking event with more people than six outside an area with additional restrictions then they may do so up to a maximum of twenty. Cycling remains at six across Scotland.
Those in the central belt are encouraged to consider if they really do need to travel outside their health board area to attend our events, in line with advice from the Scottish Government.
English events
Again, we are operating under the sports exemption in England. We have a limit of twenty people on events, but six for cycling (for insurance rather than just Covid reasons.) These limits apply in Tier 1 (medium risk) and Tier 2 (high risk) areas.
In Tier 3 (high risk) areas, we want to support the local efforts to stay safe and reduce transmission, which also supporting our members in the area to #GetOutMore. Accordingly, if we have leaders in those areas, we will look to offer some events limited to six in number, and open only to people from that local area, to reduce unnecessary journeys. We'll also ask our members in that area not to travel outside it to attend events elsewhere.
Welsh events
We've previously updated on the position in Wales. This remains as per the table above, with events in local lockdown areas to be limited to six and attended only by those living in the same local authority area in which the event takes place. Those living in local lockdown areas should not travel to events outside the local authority in which they reside.
People living in English Tier 2 and Tier 3 areas must NOT travel to any part of Wales to attend events.
QR Codes on English and Welsh Events
We will start generating event specific QR codes for use with the NHSX Test & Trace application in England and Wales to enable attendees of Cycling & Walking events to Check-In via the app.
The event leader will receive a website message 2 days before the event which contains a link to the PDF of the QR code for that event, which can be printed out OR shown at arm's length on the phone screen to any attendee who wishes to check in using the app on their phone.
There is no requirement for any leader or member to use these codes though initial testing has had a positive response from both Leaders and Members. No member data is sent to the UK government through the use of this system as all IDs are anonymised. This is an optional "add-on" as we already hold details of event attendees via the website.
In the event of a positive test for a member who checked-in on the app, other members who were checked-in on the app on that event will be notified to self-isolate via the app. OutdoorLads will be contacted by Test & Trace and informed that someone on the specific event (but not who) has tested positive, which will enable us to notify everyone on that event of the exposure, irrespective of if they used the app.
Anyone with COVID-19 symptoms, even if they are extremely mild, or who lives or is in a support bubble with someone showing symptoms, is asked not to attend. This is in line with the 

government's coronavirus advice.

You must also immediately self-isolate and not attend the event if you or someone in your household or support bubble shows coronavirus symptoms or tests positive. You can find the

NHS self-isolation guidance here.

The main symptoms of COVID-19 are a high temperature, a new continuous cough, and a loss or change to your sense of taste and/or smell.

You may be subject to local lockdown restrictions, which you must fully comply with. Details of the location of these restrictions can be found here for

England,

Scotland

,

Wales,

and

Northern Ireland. 

 

We do not encourage car sharing to events during the pandemic. Please comply with the safety travel guidance for

England

,

Wales

, and

Scotland.

Face coverings should be worn on public transport.

All are required to practice social distancing – staying 2m (not 1m) apart at all times, including the lunch stop. Remember: Face, Hands, Space.

Unfortunately, there won't be any planned pub / café stops en route or at the end, and please don't share sweets or snacks with others – we're sorry!

Please bring your own hand sanitising gel for your own use throughout the day. Use of face coverings is at your own choice, but please bring one with you just in case it's needed. Please bring any other PPE items required. Bring a disposable bag for any used PPE.

Members are advised to bring their own small first aid kit for personal use.

On walks, one person to hold open gates etc and allow everyone to walk through – so minimising surfaces that multiple people touch. Please avoid sharing equipment.

Be aware that opportunities for toilet stops may be minimal if facilities are closed.

Please, please cancel at your earliest opportunity if you are unable to attend or are unwell, so that we can allow others to take up these valuable event spaces.

Much as it's difficult - no handshakes or hugs!
COVID-19: Events Participation Statement
OutdoorLads draws your attention to the fact that travelling and being away from home increases the risk of receiving and transmitting Coronavirus, whilst it is present in the UK. You are likely to choose not to participate in OutdoorLads events whilst there is a risk of Coronavirus transmission. However, should you choose to participate in OutdoorLads events whilst the risk is present, you must be aware of and follow the law and government guidelines, both when travelling to and from events as well as when participating in events.
Please note that every person participating should be aware of (and accept) that those members perceived as 'in charge' or leading the event are not experts,  do not need to be experts, and are not regarded by OutdoorLads, or themselves as experts, but are amateurs with some experience in the event type and who are happy to impart their knowledge.  Any advice given should be considered with this in mind by the recipient.
By signing up to and attending an OutdoorLads event, you are confirming that you have read, understood and accept the content of this statement.
_________________________________________________________________________________________________
The following wording will appear on all event pages for events taking place in Wales, and all people attending an event in Wales will be asked to confirm they agree with all points of the below statement at the start of the event:
I do not currently have symptoms of COVID-19 (new persistent dry cough, fever, loss of taste or smell)
I have not had a positive test for COVID-19 or onset of symptoms of COVID-19 in the last 10 days. (Individuals who have completed their period of isolation (10 days) and have no remaining symptoms (other than a dry cough or loss of taste or smell which can last for some time) may return to normal activities)
No member of my household has had symptoms of COVID-19 or has tested positive for COVID-19 in the last 14 days
I have not been contacted by a contact tracer from the Test, Trace and Protect Programme and told to isolate in the last 14 days as a contact of someone with confirmed COVID-19
Please note: People living in English Tier 1 and Tier 2 areas must NOT travel to any part of Wales to attend events.