COVID-19 and OutdoorLads Response
Coronavirus Update - 3 November 2020
There have been a number of changes to government guidance over recent days and so we wanted to update with the current situation with OutdoorLads events. The brief situation is that we are currently only able to run outdoor events in Scotland.
Needless to say, things are not moving in a direction conducive to what we do best – getting together in the outdoors! – and so we're busy making plans to keep OutdoorLads everywhere entertained, engaged and connected together, through a revival of our popular virtual events that we ran throughout the Spring and Summer. Keep an eye out on our website for virtual events coming up, and if you have other ideas and / or you want to get involved in running some online events, drop us a line on support@outdoorlads.com
Here's a roundup of the current situation with our regular outdoors events:
England
England is entering a national lockdown on Thursday 5th November which lasts until Wednesday 2nd December. Accordingly, OutdoorLads will not be able to run events until the national lockdown has ended. Members living in England must not travel to events taking place in Wales and Scotland during this time.
Wales
Wales is on a firebreak lockdown until 9th November. Precise details of what happens after 9th November are not yet known, but we are hopeful that we will be able to run events in Wales for people who live in Wales. We'll update this page again when we know any more.
Scotland
People living in England and Wales should not attend our events in Scotland, which under current guidelines are for those living in Scotland only.
Scotland now operates a Levels system, with Levels 0 – 4. Currently, all of Scotland is in Levels 1, 2, or 3. You can check which Level a place is in here: https://www.gov.scot/check-local-covid-level/
Those living in Level 3, which is in the main the "central belt" should not travel out of their area, and others should not travel into the area. In Level, we will be able to run some outdoors events but these will be restricted to six people maximum, and should be attended only by those living locally, and also in a Level 3 area.
In Levels 2 and Level 1, we will run events of six people. However, if a leader wishes there is an exemption for outdoor sport which allows us to have up to twenty people on an event. Events in Levels 1 and 2 should not be attended by people living in Level 3, or England or Wales.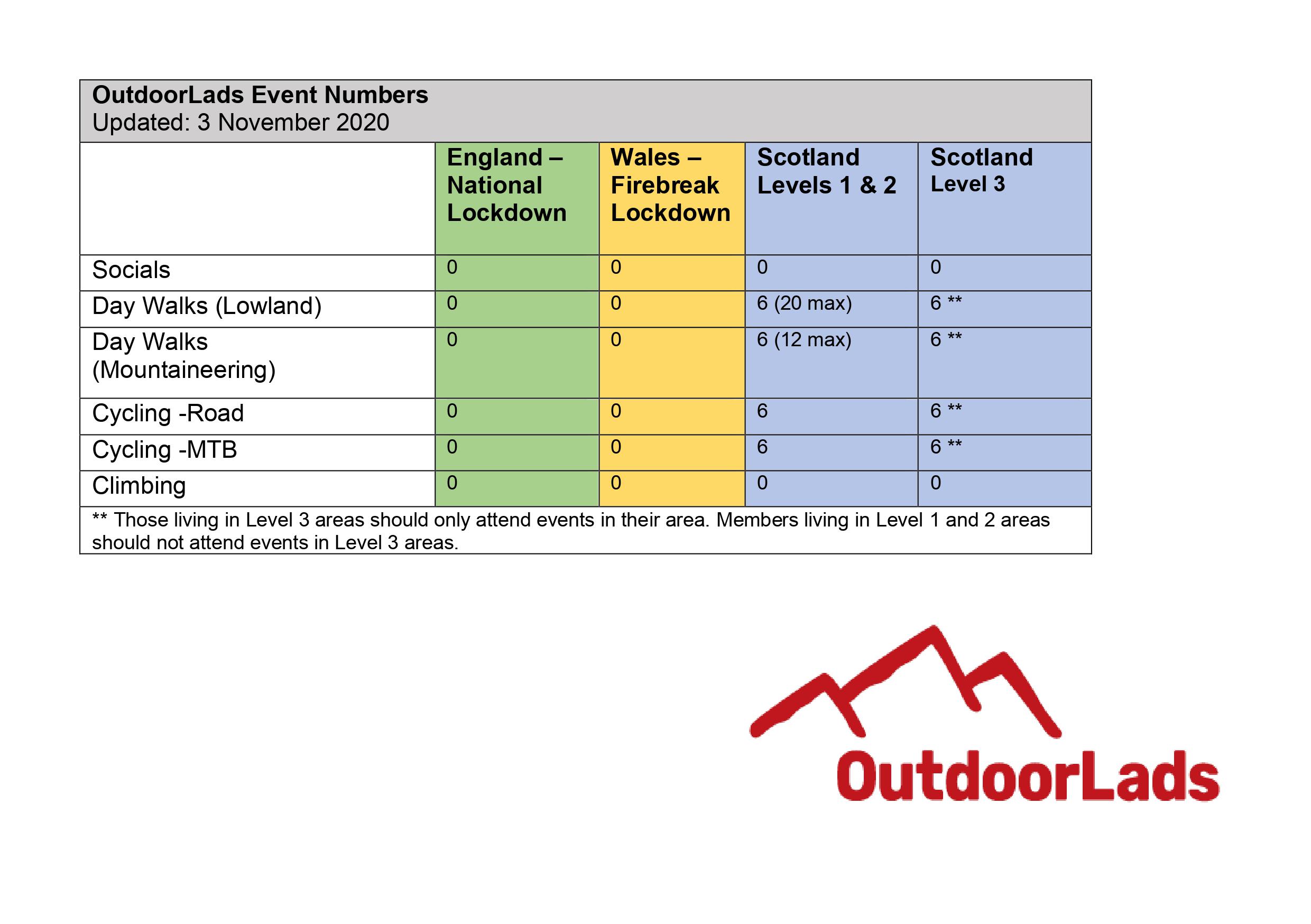 Wales - "Firebreak" lockdown 23 October - 9 November 2020
Due to the firebreak lockdown in Wales, OutdoorLads will not run events in Wales from 23 October until 9 November 2020. This overrides the table of event numbers shown below. 
OutdoorLads Coronavirus Statement - updated 19 October 2020
In light of evolving government guidance related to the coronavirus pandemic, we wanted to provide an update for members and leaders on how this affects OutdoorLads events.
In particular, this update is about the impact upon our events in Scotland, events in England in the Medium, High and Very High risk categories, and the use of NHS Covid-19 QR codes on our events. We've also got an update on climbing events re-starting and a recap on the situation in Wales.
The headlines are below, with more detail available further down for those that want it. The table above summarises the national picture.
Events in Scotland
Walking and cycling events have now resumed in group sizes of six across the nation.
Outside the central belt area which is subject to additional restrictions, there is a sports exemption which enables us to lead walking groups of up to twenty, should the leader wish to lead a larger group.
Events in England
 Our walking events can continue with a maximum number of twenty people in Tier 1 (medium risk) and Tier 2 (high risk) areas, and for cycling in groups of six.
In Tier 3 (very high risk) areas, events will be allowed with a maximum group size of six and only available to those living in the same Tier 3 area as the event takes place in. Those living in Tier 3 are asked not to attend events in other areas, because government advice is against travel to other areas.
Members living in Tier 2 and 3 areas should not travel to Wales to participate in events.
Events in Wales
Due to the Firebreak lockdown, there will be no events in Wales from 23 October until 9 November 2020. 
Outside, those dates, our walking events can continue with a maximum number of twenty people, or for cycling in groups of six, in areas not subject to local lockdowns.
In areas subject to local lockdowns, groups are limited to six and must only be attended by people living in the same local authority area as which the event takes place.
Members living in Tier 2 and 3 areas in England should not travel to Wales to participate in events.
Indoor Climbing
We'll soon restart some indoor climbing events in some parts of England (Tier 1, medium risk areas) for establish climbers, but would ask that only those signed up attend on the night, please. Groups will be limited to six people.
Regretfully, we are unable to restart indoor climbing events in Tier 2 and Tier 3 areas due to the current restrictions.
QR Codes for Events (track and trace)
On English and Welsh events, we will start implementing the standard track and trace QR codes to be scanned using the NHS Covid-19 app. This is entirely optional, both for the leader wishing to make it available and for members attending events, but we hope it will inspire confidence in helping us all to #GetOutMore.
When an equivalent system becomes available in Scotland we will also look at implementing such a system there.
Now, more details on our update of 15th October 2020, for those who like to know more:
Climbing Events
Climbing is a bit of a different case to our cycling and walking events, because of the element of close proximity and shared equipment involved with climbing – and also because indoor climbing is, well, indoors! The outdoor climbing season is all but over for this year now, too.
Indoor climbing is subject to the Rule of Six in England, with no exemption available. In Tier 2 (high risk) and Tier 3 (very high risk) areas, it's one household.
We do know our climbing events often attract more people than signed up on the event, and we do need to consider the reputational risk that puts both OutdoorLads and our ongoing relationship with the climbing centre under. This is one of the key reasons why we've not as yet been able to restart indoor climbing.
However, we will soon be looking to start some six-person indoor climbing events for established climbers in some parts of England – only those areas in a Tier 1 (medium risk) area will be able to put on these events, due to the guidance.
 We'd ask that only those signed up to the event attend, and unfortunately for now, these will be for established climbers only – as assisting someone new to climbing to get started means being in close proximity to them.
Climbing centres are having different experiences in different parts of the country, especially in relation to their new, reduced capacity. In London for example, they are finding they're operating at full capacity most of the time and struggling to take an OutdoorLads booking right now, whereas in some other areas, climbing centres are operating well below capacity and are eager for us to come back! So whilst we ease ourselves back into climbing with these trial events, there may well be different capacity in different areas. Rest assured however that we'll continue to review the situation and the guidance as it evolves with a view to enabling our members to climb again with us wherever that's possible, and always with everyone's safety in mind.
Scottish events
Scottish events will generally be limited to six people.
We are able to operate walking events with more people (and from more households) through the sports exemption, however. Should a leader wish to run a walking event with more people than six outside an area with additional restrictions then they may do so up to a maximum of twenty. Cycling remains at six across Scotland.
Those in the central belt are encouraged to consider if they really do need to travel outside their health board area to attend our events, in line with advice from the Scottish Government.
English events
Again, we are operating under the sports exemption in England. We have a limit of twenty people on events, but six for cycling (for insurance rather than just Covid reasons.) These limits apply in Tier 1 (medium risk) and Tier 2 (high risk) areas.
In Tier 3 (high risk) areas, we want to support the local efforts to stay safe and reduce transmission, which also supporting our members in the area to #GetOutMore. Accordingly, if we have leaders in those areas, we will look to offer some events limited to six in number, and open only to people from that local area, to reduce unnecessary journeys. We'll also ask our members in that area not to travel outside it to attend events elsewhere.
Welsh events
We've previously updated on the position in Wales. This remains as per the table above, with events in local lockdown areas to be limited to six and attended only by those living in the same local authority area in which the event takes place. Those living in local lockdown areas should not travel to events outside the local authority in which they reside.
People living in English Tier 2 and Tier 3 areas must NOT travel to any part of Wales to attend events.
QR Codes on English and Welsh Events
We will start generating event specific QR codes for use with the NHSX Test & Trace application in England and Wales to enable attendees of Cycling & Walking events to Check-In via the app.
The event leader will receive a website message 2 days before the event which contains a link to the PDF of the QR code for that event, which can be printed out OR shown at arm's length on the phone screen to any attendee who wishes to check in using the app on their phone.
There is no requirement for any leader or member to use these codes though initial testing has had a positive response from both Leaders and Members. No member data is sent to the UK government through the use of this system as all IDs are anonymised. This is an optional "add-on" as we already hold details of event attendees via the website.
In the event of a positive test for a member who checked-in on the app, other members who were checked-in on the app on that event will be notified to self-isolate via the app. OutdoorLads will be contacted by Test & Trace and informed that someone on the specific event (but not who) has tested positive, which will enable us to notify everyone on that event of the exposure, irrespective of if they used the app.
Event Sizes Table - Updated 15th October 2020
This table provides an overview of the permitted event sizes in England, Wales and Scotland at a glance. This will be updated as and when changes to government guidance makes it necessary. 
Coronavirus Update - 30th September 2020
If you're anything like us, you've probably been finding the question of what activities you can do, where, and with how many people, pretty confusing..
We've drawn up a handy little table which hopefully goes some way to helping us all to decipher this. 
Worth noting, that these are our MAXIMUM group sizes at present, and we do know that some leaders and members will prefer to continue with smaller sized events, and that's fine. That way, there's something for everyone!
We're working behind the scenes on a way to re-start our climbing events, which we hope to be able to do shortly. In the meantime, the figures below for climbing are what we expect to be able to have on climbing events once they re-start, but may be subject to further revision.
Our Covid-19 Master Plan document is available here.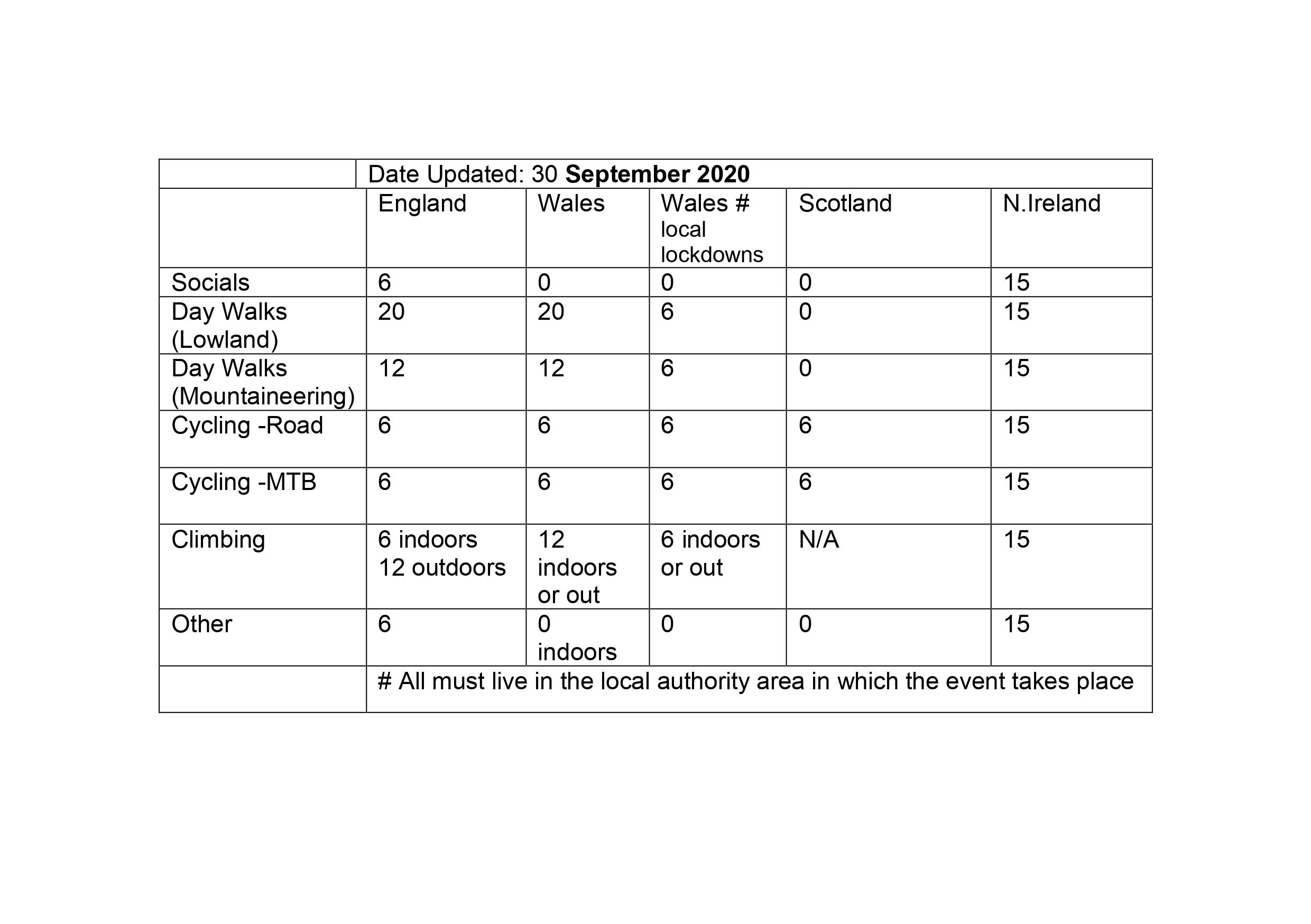 Cycling update - 17th September 2020
Given the new 'rule of six' implemented this week in England, Cycling UK have advised that group cycling events should not exceed a maximum capacity of six attendees. You can view their up to date advice page for affiliated groups here.
We are therefore limiting the capacity of cycling events to six attendees (including the leader). Multiple groups of six are permissible, providing the groups do not come in to contact with one another.
Our other events remain unchanged since our last update. Advice from the BMC and Sport England remains largely unchanged.
Coronavirus Update - 10th September 2020
New rules and regulations for Covid-19 in England and gatherings of groups of 6 come into force on Monday 14th Seotember.
Your board of trustees have assessed this latest update. We have also stayed very close to our peers and their updates - national organisations such as the BMC (British Mountaineering Council) the Ramblers and Sport England.   
 Sport England have gained clarity from government and they've advised that from 14 September, people can continue to: 
- take part in organised sports and activities  
- take part in organised outdoor sports and physical activity events 
- use leisure facilities, including gyms and pools 
Therefore, we will be making the following changes: 
 

Day walks (Lowland and Mountain) – no change to current guidelines.  Maximum 20 attendees (including the Leader) 

Cycling – no change to current guidelines

. Maximum 12 people including the leader.

Camping events – as this not is a sport, despite the best of intent our leaders, we will need to postpone or cancel events with six or more attendees 

Team and social events - #StayinMore virtual events only

All other events – as per previous guidelines 
This is possible as there is an exemption for such activities in groups of up to thirty, although we are capping it at lower numbers. We know that these larger groups are not for everyone, and that's fine – there is still very much a place for micro events of six people, and we'd welcome leaders who wish to put on micro events and encourage members to attend them. 
In Scotland, from Monday 14th there is also changed guidance, with a maximum number of six people from two households allowed to meet. We've not yet been able to determine if there is an exemption for organised activities, and so the assumption for now must be that events will not be able to take place, unfortunately. In Wales, we can run the same events as we can in England (although currently camping also remains feasible!)
It goes without saying that coronavirus is still with us, and we should all continue to take all the precautions including social distancing, regular hand washing, not sharing equipment / food / snacks. Most importantly, leaders and members MUST NOT attend an event if they or anyone they live with or are in a support bubble with, shows any symptoms of Covid-19.
We are, as you are, disappointed with how this all seems to be going backwards.  However, as an organisation we have to put the wellbeing of our member and our leaders first.
Although we don't know when it will be, OutdoorLads WILL, eventually, be back to full capacity – great events, great days out, great weekends away with amazing volunteers making that all happen!  We are doing everything we can as an organisation to ensure there is a bright future for OutdoorLads.  Next year will be our 15th year as an organisation and charity and we hope in our hearts that we can celebrate that with you all, knowing we got through all of this. 
Coronavirus Update - Micro Events - 17th July 2020
Our micro events in England have gone very well so far, and members have asked quite a few questions! Today, we've put together a short FAQ on the four most common questions - so have a watch! 
For those of you who like it in writing - the answers are below as well: 
Can we have micro events in Scotland now? 
The great news is that yes, we can! Scottish micro events will be a maximum of five people from five households. If two people from the same household are on the event, the maximum overall can be lifted to six, and so on, up to an absolute maximum of 15 people from five households. 
 Why can't we go to the pub/cafe during or after a micro event?
Unfortunately, the rules in England allow 6 people from up to 6 different households to exercise outside but whilst 6 may go to the pub they can only come from 2 different households. So , sadly, we cannot include the pub on an official OutdoorLads event.
In Wales the guidance is also 2 households only (and we're so far unable to run micro events outdoors.) In Scotland up to 5 households may meet outdoors but just 3 households indoors. We will continue to monitor the situation as government guidance evolves.
 I've heard that groups of 30 can now meet outdoors, why aren't OutdoorLads doing so?
This new rule , coming into effect in England and Wales (in Scotland it is initially for children and young people), is aimed specifically at team sports and gym classes. They have to be run under Covid 19 safety guidance agreed with the Government by the individual sports governing body or led by a responsible adult I.e. the gym class instructor. This therefore doesn't cover our activities. We continue to monitor the situation. 
We are also in alignment with other organisations, such as The Ramblers, and the BMC who are allowing groups of 6 and no social events ( pubs or cafes) in England.
When can we walk above 500m?
Walks above 500m can now take place, which is great news! Initially these should be of the mountain trail type rather than the more challenging events. Our mountain leaders are working on risk assessments that will be completed before each event. This will enable safe walking micro events in England and Scotland to begin with, and Wales when we're allowed.
Coronavirus Update - 23 June 2020
We wanted to update you with where we are with our organisation's activities and the impact of coronavirus – and we have some good news.
We have been working on a plan for managing how we get back to the outdoors, which we have all missed terribly over recent months.
We've consulted with our volunteer leaders, considered government advice and as a result are today announcing that from Saturday 27 June 2020, we'll be able to restart some small events again.
We have decided to do this to support the wellbeing of our members, and especially those who have felt particularly isolated during the lockdown. Our Micro events - which is what we are calling them - will operate in line with the government guidance in place at the point the event takes place. That means that initially, these events will be in England only, with group numbers limited to six, including the leader.
Unfortunately, this isn't simply back to smaller versions of our regular programme of events. It is though, a small, modest way of enabling our members who wish to, to get back outdoors with their OutdoorLads peers in as safe a way as possible. For that reason, to start with these events will be on the "easier" side of things – lowland and hill walks, but not up mountains, and bike rides at the slower, "leisure ride" side.
We had planned, with our leaders support, a programme of over 200 events for when we were back which we were calling "Back with a Bang." This certainly isn't that, as it's become clear as the pandemic continues that there isn't going to be a date on which it's all over and normal life resumes. But we still have those "Back with a Bang" events in our back pocket for when the time is right!
We realise that there will be members and leaders who do not wish to participate in OutdoorLads events again yet, and we absolutely respect that. There's no pressure on anyone to lead or attend any events until and unless they are comfortable doing so, of course.
What we would say is that with numbers restricted for now, if you do choose to sign up, please either attend or if you need to cancel your place , please do so as soon as you know you can't attend. This will enable others on the waiting list to attend in your place, and means more OutdoorLads will be able to #GetOutMore in the coming weeks,
We've provided some further information and guidance for leaders and members on our website. FAQ's are here. 
But for now, we are pleased to be able to support the wellbeing of our members within current government guidelines and to make a small and modest return to running outdoors events for gay, bi and trans men.
Stay safe.
OutdoorLads
Coronavirus Update - 3 June 2020
Today, we've released a video from our Board of Trustees giving an update on the situation with OutdoorLads and coronavirus. It's below, and well worth a watch!
The key messages in it are:
Our usual events have been postponed, but we have had loads of amazing virtual #StayinMore events put on by our leaders, which is really appreciated.
BIG Spring Camp 2020 has been postponed until 2021, which we are disappointed about, but feel it's the safest option
Those who had bought a place on BSC 2020 automatically have a place at the 2021 event!
We've been busy planning a host of events for when we can put events on again and #GetOutMore again - now's a great time for leaders to plan even more great events!
A huge thank you for your support during this period to our members, leaders, co-ordinators, who together make up OutdoorLads. 
Coronavirus Update - 22 April 2020
The situation with coronavirus generally remains unchanged and OutdoorLads have postponed all events in April, May and June 2020. See the update below, dated 31 March 2020, for more information on events. 
However, we are pleased to announce the introduction of a new category of  concession membership on a temporary basis for those whose income has been negatively affected by coronavirus. 
We know that the unprecedented situation we all find ourselves in is having an impact on all of our members, but some more than others. We want all of our members to continue to be engaged with the organisation and so we are introducing, on a temporary basis, a new category of membership for those impacted financially by the coronavirus. This new membership category reduces the immediate financial burden on members whose membership renewal is due soon, but retains all other benefits and features of full membership.  
With immediate effect, full members with a membership renewal due in the following two months (and on a rolling basis) can apply for a one year reduction in their membership rate from £65 to £13. This is available to:
Those who have been furloughed at 80% of their usual salary

Those who have had hours reduced or a salary cut as a direct result of coronavirus situation.

Those are self-employed and have been unable to work as a direct result of the coronavirus situation.

 

Those who have become unemployed as a result of coronavirus
If one of the above circumstances applies to you, and you wish to take advantage of this offer for your membership renewal which is due within the next two months, please e-mail support@outdoorlads.com to request it, enclosing (where possible) a letter from your employer as evidence (feel free to blank out any salary amounts or other sensitive information, etc.)
We'll then adjust your direct debit just for the next payment to £13, and confirm this to you. Your direct debit for the following year will revert to the standard membership fee in place at the time, currently £65.
This offer is for a temporary period only, and will cease at an appropriate point in time in the future.
Coronavirus Update - 31 March 2020
Dear OutdoorLads members, volunteers and leaders,
Like most areas of life at the moment, the coronavirus situation is profoundly affecting OutdoorLads. It has not been easy to plan for, in these unprecedented times, and we have been overwhelmed by the support and positivity of our members. You have offered us donations, and you have given up so much of your time to lead or take part in some of our #StayinMore events. Thank you all for your continued support.
What this means for our upcoming events
However, we must take a bit of a reality check on the potential impact this will have on OutdoorLads, and what it will mean for our short- and long-term future. 
Last week, we were in touch with you to inform you that we were postponing three weeks worth of events to allow us time to consider various scenarios. It is now clear we cannot run events for at least the next few weeks, and as the situation is ever-changing, we have taken the decision now to postpone ALL events in April, May and June.  
We hope that this will remove any uncertainty for our members tentatively still looking forward to their next weekend away or day event with us. Where overnight events are being postponed, we're working with our external providers to provide alternative dates, and we'll release these as soon as we know ourselves.
While we may be postponing events now, if things change, we are both flexible and dynamic. We're developing a whole program of events to roll out as soon as we can be released into the outdoors. We're so grateful to our event leaders who've displayed such enthusiasm in this process. 
Big Spring Camp
We're also looking at alternative options for BIG Spring Camp. This is the greatest event in our calendar, and is one big celebration of all things OutdoorLads. As soon as we have confirmation of when this will be, we'll get it released. In the meantime, we suggest that you refrain from cancelling your attendance on the event to ensure your place is reserved - and instead wait to see if you can make the new date.
How you can help
With our usual activities affected so severely, we're going to struggle over the next few months as an organisation. We want to continue to be here for you, our members, and there are many ways you can help us get through this: 
Waiting for postponed events to be rescheduled and see if you can make the new date.
If you're due a refund, accepting this as a voucher off a future event rather than in cash.
Donating any cancelled event payments back to the charity, if you can afford it.
Continuing to renew your membership if it's due.
Nominating OutdoorLads as your chosen charity on Amazon Smile.
Leading a #StayInMore event to help keep members engaged and entertained! (you don't need to be a leader to do this!)
If you are a leader - planning new outdoors events for later in the year when we can all #GetOutMore again.
Most importantly - staying safe at home whenever possible!
Thank you!
Again, we would like to say a massive THANK YOU to all those who've led a #StayInMore event. We're so grateful for the effort you have gone through to come up with innovative ways to keep us all entertained while we're all isolated from one another. We have shown that OutdoorLads really is a community of friends with a love of the outdoors and being together (even if just virtually).
#stayinmore (for now....) 
OutdoorLads
The full and current NHS guidance can be found here: https://www.nhs.uk/conditions/coronavirus-covid-19/ 
This page will be updated periodically.